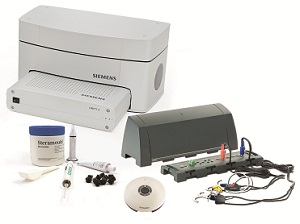 IMPACT Pro, Life 501, Unity 2, Primus AUD & REM
Siemens Hearing Instruments will showcase a range of audiology workflow solutions, the IMPACT Pro family and Life products at this year's British Academy of Audiology (BAA) Conference, from 12th - 13th November 2012 in Manchester. Solutions designed to streamline workflow include AutoFit, UNITY 2 and Primus integrated fitting systems. The IMPACT Pro range of products and Life 501, a discreet combination hearing instrument and noise generator suitable for managing tinnitus, will also be available for demonstrations at the Siemens stand.
Siemens audiology workflow solutions are designed to provide more time for patient care. Unity® 2 is a PC-controlled diagnostic fitting and measurement system that offers modularity and mobility. When used with AutoFit, it simplifies and speeds up daily fitting processes saving both time and money.
The Primus fitting system is a portable solution ideal for community based or fixed location fittings. It is a PC-based audiometry module providing a wide range of options within pure tone, bone conduction and speech audiometry. Primus REM offers classic Real Ear Measurements as well as comprehensive speech mapping measurements. Demonstrations will take place on the stand showing the flow of process steps from testing through fitting of the IMPACT Pro family.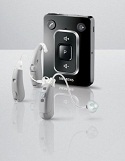 The Life 501 is a discreet, elegant tinnitus solution and uses Siemens innovative BestSound technology. The device offers a flexible approach in managing tinnitus using four different noise therapy options. Available in a range of colours, the instruments offers fully automatic functions for discretion and ease of use.
Suited to all listening situations from quiet conversation to enjoying music, the recently upgraded IMPACT Pro product family features several new innovations including FeedbackStopper, SoundBrilliance, new miniReceivers and Click Domes. The new FeedbackStopper functionality ensures feedback is quickly eliminated, without any sound distortion, due to a faster feedback management system. The new range also offers SoundBrilliance to enhance the perception of high quality sounds by artificially extending high frequency output.
Both IMPACT Pro and Life products are compatible with the miniTek™ and Tek™ wireless enhancement systems, allowing Bluetooth streaming directly into hearing instruments from a multitude of audio sources.
"We're really looking forward to demonstrating our latest audiology solutions at BAA this year," said Wendy Davies, National Sales and Audiology Manager at Siemens Hearing Instruments. "Our workflow solutions assist audiologists by speeding up process steps and help them to free up time to spend with patients on quality matters such as talking through fittings and answering concerns."
For further information visit www.siemens.co.uk/hearing or the Siemens Expo Page on AudiologyOnline.