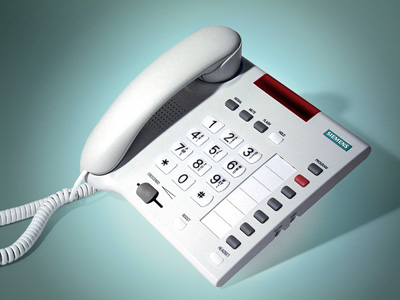 Even before their official release, Siemens new Crescendo™ amplified telephones won a bronze award for function and aesthetics of design from the American Society on Aging in the 13th Annual Universal Design Competition.
The hearing aid-compatible Crescendo phones, which debuted at the American Academy of Audiology convention in San Diego, California in April, will be available in two models with state-of-the-art technology to assist with mild and moderate hearing loss, respectively. Each model is equipped with the Magic Coneä, an innovative accessory that fits over the handset to virtually eliminate hearing aid feedback.
The Crescendo SHI 350 model provides 25dB amplification while the SHI 450 provides 33dB gain. Both models deliver a broad frequency range, with an accentuate button that can be activated to change the slopes to increase high frequencies for clearer speech. The amplification is automatically deactivated when the phone is hung up, allowing the entire family to use it comfortably.
Crescendo phones feature a volume slider that programs the adjustable gain of the boost button. Some of the other special features available are ringer volume, pitch and warble controls, six memory redial buttons, and a unique night light dial pad that increases its illumination when the handset is picked up.
The Crescendo phones will be available by Spring 2001. More information can be obtained from Siemens Professional Products Division at 1-800-333-9083.
Click here
to visit the Siemens Hearing Instruments website.