Visit Sonic Exhibit (#1213) To Learn How Everyday Sounds Better with Sonic
SOMERSET, NJ March 25 – On March 27 – 29, audiologists from around the world will gather in Columbus, Ohio for the 2019 American Academy of Audiology Conference. Sounds in the massive exhibit hall will create an ideal setting for conference participants to experience Sonic Captivate™, the groundbreaking new hearing aid family that provides a personalized hearing experience with better feedback and background noise control. The advanced processing power of the SoundDNA platform powers innovative new technologies that allow patients to hear their own voices naturally and experience more comfort in noise compared to previous technology.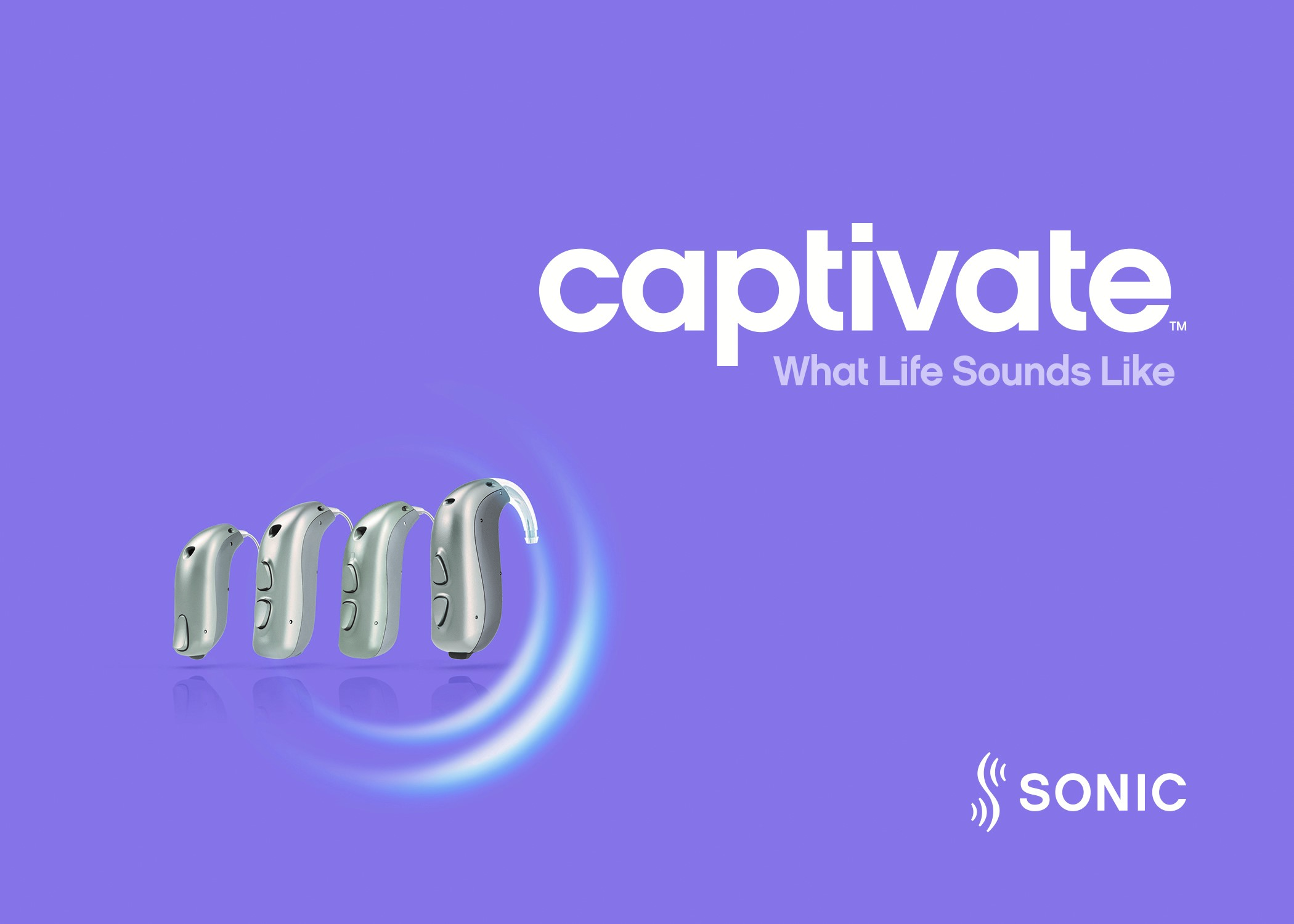 Conference participants can also discover how Captivate miniRITE T R, the newest rechargeable style on the SoundDNA platform, keeps life moving without interruption. The sleek new rechargeable solution, with an integrated lithium-ion battery and dedicated charging system, lets patients enjoy a full day of power, even when connecting to their accessories.
With Captivate, Sonic introduces Adaptive Feedback Pro, Sonic's new advanced feedback cancellation technology. The Sonic team will demonstrate the breakthrough technology that combines two systems to minimize distractions from feedback in both stable and challenging conditions and enable more open fittings for a natural own-voice sound.
"From clarifying conversations to streaming online entertainment, Captivate immerses patients in the sounds of life," says Joseph A. Lugara, Sonic President & Chief Operating Officer. "Captivate's innovative technology and patient-pleasing features make it a stand out in a comprehensive portfolio of Sonic hearing solutions, all focused on our 4S Foundation: Sound that's natural, Speech understanding in noise, Simplicity in all we do and Style that stands out. We encourage everyone to stop by the Sonic exhibit to see how Captivate and other Sonic products and services can make Everyday Sounds Better."
Visitors to the Sonic exhibit (#1213) can also enter a drawing for a Ring Video Doorbell that connects to home Wi-Fi networks and sends real-time notifications when someone is at the door. The Ring Doorbell is one of many smart digital devices patients can connect to Captivate via the Sonic SoundLink 2 app. Captivate is also compatible with the full line of updated 2.4 GHz Bluetooth® Low Energy (BLE) wireless accessories from Sonic.
For more information on the entire Captivate family, including Captivate100, Captivate80 and Captivate60 and popular styles, visit www.sonici.com.
ABOUT SONIC
Sonic Innovations, Inc. is a U.S.-based manufacturer of hearing care solutions that envisions a world where all people can enjoy the sounds that enrich everyday life and where lives are improved through enhanced hearing. Since 1998, Sonic employees and distributor partners have provided quality products with a proven benefit track record. Today, Sonic has a global sales network represented in more than 45 countries. Sonic focuses its product development on its 4S Foundation (Sound that's natural, Speech understanding in noise, Simplicity in everything we do and Style that stands out) to ensure that with Sonic, Everyday Sounds Better. Visit www.sonici.com for more information.