SOMERSET, NJ June 15 – Sonic introduces a new entry-level addition to the popular Cheer family, Cheer20 miniRITE. With a winning combination of technology, convenience and value, Cheer20 creates opportunities for more consumers to experience outstanding natural sound - plus features you might not expect in an entry-level model. The small, discreet miniRITE provides wireless Bluetooth streaming for easy connectivity to cell phones, music players, PCs and more, and a convenient push button for simple, easy volume adjustments. Like all Cheer models, Cheer 20 is built on Sonic's legendary Speech Variable Processing platform to make everyday sounds better.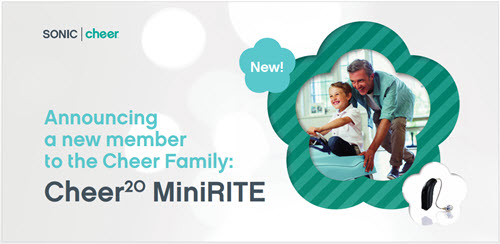 The Cheer family accommodates a broad range of hearing loss needs in three technology levels featuring winning sound performance on Sonic's Speech Variable Processing platform. All Cheer models provide convenient fitting with ExpressFit 2016.2.
ABOUT SONIC
Sonic is a U.S.-based manufacturer of hearing care solutions that envisions a world where all people can enjoy the sounds that enrich everyday life and where lives are improved through enhanced hearing. Since 1998, Sonic employees and distributor partners have provided quality products with a proven benefit track record. Today Sonic has a global sales network represented in more than 25 countries. Sonic focuses its product development on its 4S Foundation (Sound that is natural, Speech intelligibility, Simplicity in usage and Stylish design) to ensure that with Sonic, Everyday Sounds Better. Visit www.sonici.us or the Sonic Expo Page on AudiologyOnline for more information.