Introducing New miniRITE Power Speaker and Smaller Custom Solutions.
SOMERSET, NJ November 1– Sonic introduces three new fit options that extend the range of patients who can benefit from Sonic's legendary Speech Variable Processing platform. The new options are available in the Celebrate and Cheer product lines.
New 105 Power Speaker for miniRITE
A brand new power speaker for the popular Sonic miniRITE hearing aid gives hearing care professionals the ability to fit even more patients with a wider range of hearing losses with the small, attractive and comfortable receiver-in-the-ear design. Patients with severe-to-profound hearing loss who need additional power can now choose the 105 Power Speaker in a broad range of products, including the Celebrate miniRITE 100 and 80 Technology Levels and the Cheer miniRITE 60, 40, and 20 Technology Levels.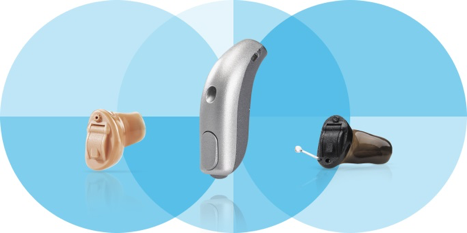 With the new 105 Power Speaker, Sonic extends to four the number of speakers that complement the miniRITE model. In addition to the new 105 Power Speaker, Sonic offers 60, 85 and 100 Speaker options. The 105 Speaker for both Celebrate and Cheer boasts up to 127 dB SPL MPO and 67 dB Full-on Gain. For convenience, the new speaker comes pre-attached to a custom Power Mold that fits the ear canal. A speaker wire attaches separately to the mold for easy replacement. The Power Mold also features the ProWax filter, a user-replaceable wax guard that acts as a front-line of defense for effective protection from wax and debris.
The robust Sonic miniRITE carries an outstanding Ingress Protection (IP) rating of IP58 for dust and moisture protection, making it an excellent option for reliability.
New Smaller Custom Hearing Aids
New smaller custom hearing aids from Sonic allow more patients to benefit from the ultimate in discretion with invisible IIC/CIC styles. Available in non-wireless IIC and CIC models, the new and smaller faceplate and newly designed battery door enable smaller IICs and CICs for an increased fit rate. A new battery-like Programming Adapter Mini for the new faceplate can be used with a standard programming cable.
New 5 mm Open Dome
Sonic offers a comfortable fitting for very narrow ear canals with the introduction of a new 5 mm open dome to the existing dome lineup. The 5 mm open dome fits on the convenient miniFIT Thin Tube and on the miniRITE 60 Speaker option only.
For more information about the new 105 Power Speaker, smaller IIC and CIC hearing aids, or 5 mm dome option, visit http://www.sonici.com/Sonic/Sonic-products/Whats-New/Individualized-solutions.aspx.
ABOUT SONIC
Sonic is a U.S.-based manufacturer of hearing care solutions that envisions a world where all people can enjoy the sounds that enrich everyday life and where lives are improved through enhanced hearing. Since 1998, Sonic employees and distributor partners have provided quality products with a proven benefit track record. Today Sonic has a global sales network represented in more than 25 countries. Sonic focuses its product development on its 4S Foundation (Sound that's natural, Speech understanding in noise, Simplicity in everything we do and Style that stands out) to ensure that with Sonic, Everyday Sounds Better. Visit www.sonici.com or the Sonic Expo Page on AudiologyOnline for more information.