SOMERSET, NJ January 12 -- Sonic introduces Radiant™, the first hearing aid built on the powerful new Extend technology platform. With more memory and greater processing power, Radiant offers next-level technology to find, filter and fine-tune the sounds users want to hear. New compression and noise management strategies allow Radiant to deliver clear, brilliant sound to improve the user experience, even in noisy environments. Radiant's three performance levels, lithium-ion rechargeability, 2.4 GHz Bluetooth® Low Energy wireless capabilities and remote fittings empower hearing care professionals to deliver a truly personalized solution for patients with mild-to-profound hearing loss.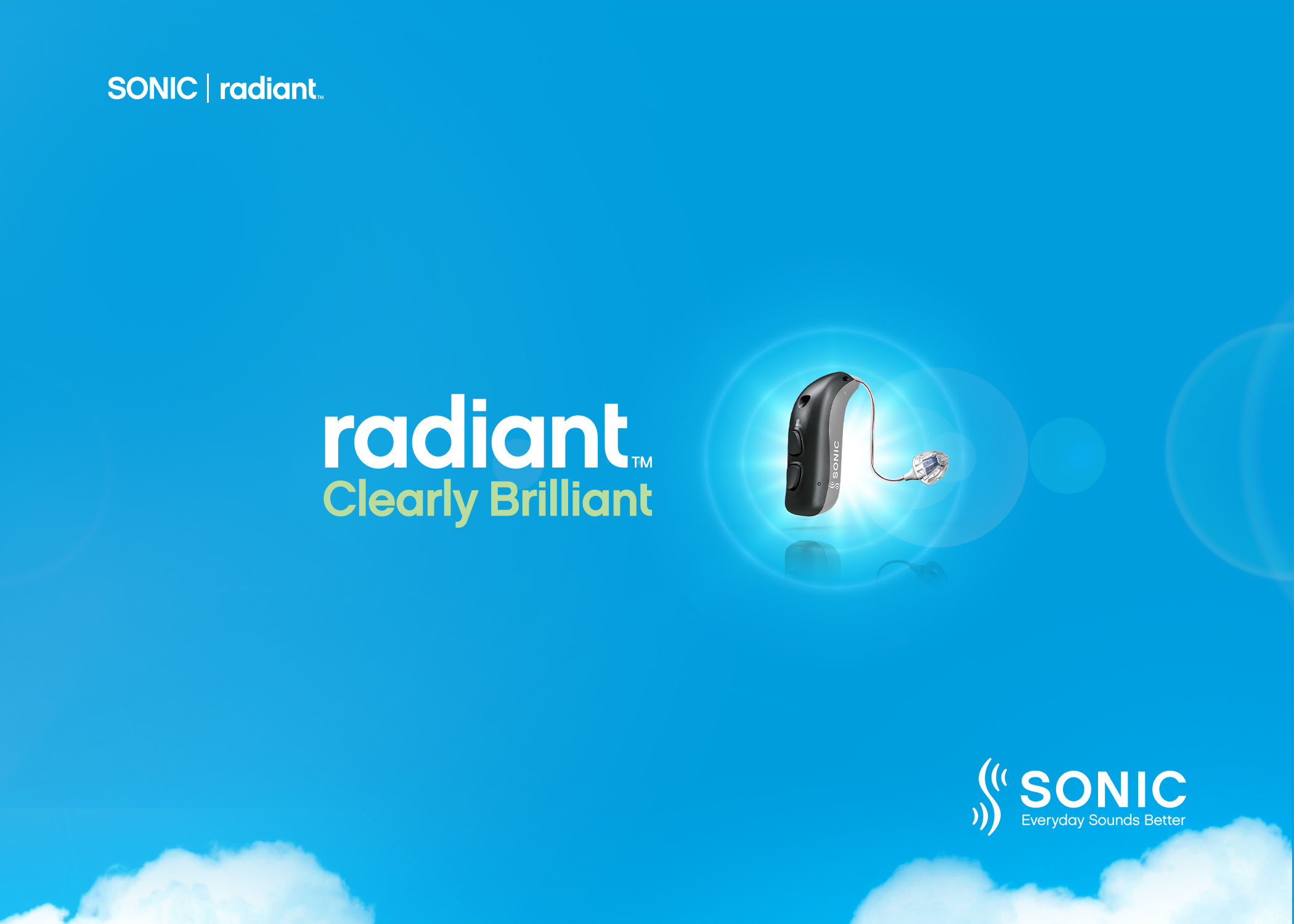 "Platforms don't change frequently, but when they do, it's the result of a carefully planned paradigm shift in sound strategy," explains Carolyn Valentine, Sonic Vice President/General Manager. "Our powerful Extend platform combines forward-thinking innovation with trusted technologies and user-friendly features to build a personalized solution that focuses on what matters most to patients - sound that's natural, speech understanding in noise, simplicity and style that stands out."
New Core DSP
Radiant's core digital signal processing (DSP) streamlines new noise management and compression systems to enhance sound quality, listening comfort and speech intelligibility for listeners with hearing loss. New RADIAN-technologies perform rapidly, responding to speech and noise where and when they emerge in the listening landscape. Working together, Radian Noise Management and Radian Speech Processing actively find, filter and fine-tune sound from the optimum angle within a listening environment using intelligent, integrated systems. Everyday sounds are enriched and intrusive sounds are reduced, so users can hear what's important and enjoy better sound all around.
User-Friendly Features for Patients and Professionals
Radiant is Made for iPhone® and is the first Sonic device to support direct audio streaming from compatible AndroidTM devices. The SoundLink 2 App allows users to discreetly control their Radiant hearing aids, making it easy to monitor battery charge, adjust volume and stream directly from Bluetooth-enabled devices. The wireless Radiant miniRITE T R rechargeable hearing solution with built-in lithium-ion battery technology provides a full day of use, including streaming activity.
With Sonic's EXPRESSfit® Pro, hearing care professionals can easily set preferences, connect the instruments with Noahlink Wireless, and follow the fitting flow for the best fit, fast. The new Personalization tool optimizes patients' sound preferences right from the start, while 24 fitting bands in Radiant100 allow more precise fine-tuning adjustments.
For more information on the entire Radiant family, including Radiant100, Radiant80 and Radiant60 on the new Extend technology platform, visit www.sonici.com.
Bluetooth is a registered trademark owned by Bluetooth SIG, Inc., USA.
Apple, the Apple logo, and iPhone are trademarks of Apple Inc., registered in the U.S. and other countries.
Android, Google Play, and the Google Play logo are trademarks of Google LLC.