Visit the Sonic Exhibit (#1423) at AudiologyNOW! 2017.
SOMERSET, NJ March 31 – What does it take to become the fastest-growing hearing aid brand in the world? That's a question that Sonic will proudly answer for visitors to the Sonic Exhibit (#1423) at this year's AudiologyNOW! Conference. Listening demonstrations, technology animations and expert staff to discuss Sonic's focus on quality products and positive experiences will allow visitors to experience first-hand why Sonic - and Sonic professional partners – are winning in the marketplace.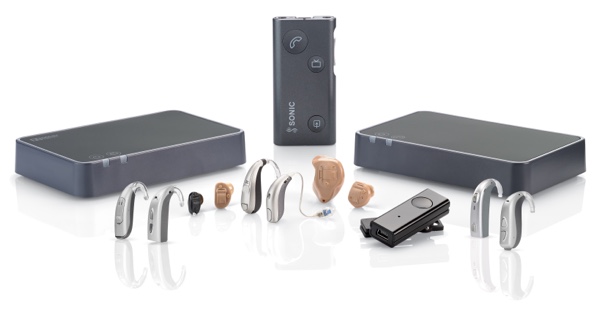 "We give our partners a clear advantage in today's highly competitive market and people are taking notice," says Joseph A. Lugara, Sonic President & Chief Operating Officer. "Our complete portfolio of impressive hearing technologies and innovative programs at attractive price points deliver exactly what our customers need to grow their business and satisfy their clients."
The popular lineup includes Celebrate, Cheer and Journey, all built on Sonic's legendary Speech Variable Processing Platform, in features and styles that accommodate a broad range of hearing loss needs, lifestyles and budgets.
A Focus on Quality - From durable and reliable RITE solutions to incredibly small customs IICs to ITEs, Sonic's comprehensive portfolio is high on satisfaction and low on returns. The best-in-class Ingress Protection (IP) rating of IP58 for dust and moisture protection ensures a high level of reliability across all technology levels.
Service When It Counts - Sonic's dedicated account managers work to understand each customer's business and deliver support tailored to each practice including specialized live and on-demand training. The Customer Care Team is committed to "yes" and rapid turnaround time for all orders. That "can do" approach empowers the Customer Care Team to deliver the highest levels of customer satisfaction.
Sophisticated Technology, Innovative Features - Fast-acting Speech Variable Processing helps keep sound natural and speech clear. Speech Priority Noise Reduction works to separate speech from surrounding noise for better speech understanding and greater comfort. Wireless connectivity is standard in all styles from out-of-sight IICs to Super Power BTEs. For all, proprietary high-speed EXPRESSfit fitting software makes programming easy.
Sonic is a one-stop destination for hearing solutions that make everyday sounds better for people no matter what their day-to-day situation or hearing needs. "Sonic recognizes the importance of being a reliable resource for today's small business owner," says Lugara. "We focus on the little things that can make a big difference and bring smiles to both those dispensing our products and those who hear with them. Our simple and straight-forward business approach has proven to be a formula for success that has enabled Sonic to become the hearing industry's fastest growing brand."
Visit the Sonic Booth (#1423) at AudiologyNOW! 2017 in Indianapolis from Wednesday, April 5 to Friday, April 7.
Visit www.sonici.com or the Sonic Expo Page on AudiologyOnline for more information.