Somerset, NJ March 18, 2015 –Hearing care professionals interested in a hassle-free, no-cost way to grow their patient base should head for the Sonic Booth (#312) at the 2015 AudiologyNow! Conference in San Antonio, Texas. Sonic invites the more than 7,000 audiologists, students and industry representatives expected to attend the national conference to learn how the company's innovative Everyday Sounds Better Program will facilitate easy and effective connections between new patients and participating professionals. The heart of the program is a consumer-facing website (www.everydaysoundsbetter.com) designed to attract and qualify potential patients. The easy-to-use online resource sets the stage for consumer acceptance by introducing Sonic hearing solutions specifically designed to appeal to first-time, cost-sensitive patients. Sonic will work with participating hearing care professionals to schedule appointments with interested callers. Sonic will promote and maintain the website and there is no cost for practitioners to participate in the program.
"The new Everyday Sounds Better Program provides benefits for both people in need of a hearing solution and Sonic hearing care partners," says Joseph A. Lugara, Sonic President & Chief Operating Officer. "We will make it easy for our professional partners to connect with new patients, without the need to invest additional promotional dollars in the new program. Qualified patients will arrive for appointments ready to take advantage of hearing solutions built on Sonic's 4S Foundation – sound that's natural, speech understanding in noise, simplicity in everything we do, and style that stands out."
Two New Products Deliver Clear and Natural Sound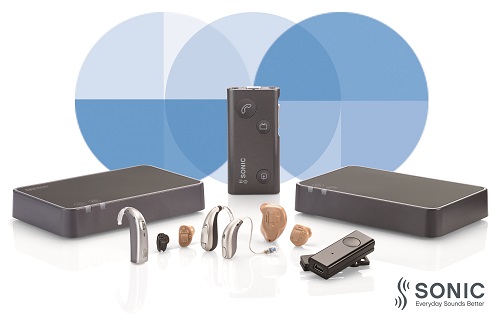 Sonic will also launch two new products at AudiologyNOW! Available in RIC, BTE and custom models, new Celebrate delivers sound that is clear and natural to help people make the most of everyday environments. The Journey Super Power BTE gives people with extreme hearing loss more confidence in day-to-day conversations. Both products are built on Sonic's robust Speech Variable Processing and include powerful new features including Frequency Transfer, Reverb Reduction and updated wireless capabilities.
Visit the Sonic Booth (#312) at AudiologyNOW! March 25 – 28 in San Antonio. For more information about Sonic and Sonic product families, visit www.sonici.com
ABOUT SONIC
Sonic is a U.S.-based manufacturer of hearing care solutions that envisions a world where all people can enjoy the sounds that enrich everyday life and where lives are improved through enhanced hearing. Since 1998, Sonic employees and distributor partners have provided quality products with a proven benefit track record. Today Sonic has a global sales network represented in more than 25 countries. Sonic focuses its product development on its 4S Foundation (Sound that is natural, Speech intelligibility, Simplicity in usage and Stylish design) to ensure that with Sonic, Everyday Sounds Better. Visit www.sonici.com or the Sonic Expo Page on AudiologyOnline for more information.