Dallas, TX.
--On Thursday, January 25, 2001, at its regular quarterly meeting, the Texas Higher Education Coordinating Board approved the application for a Doctor of Audiology (Au.D.) degree submitted by the University of Texas at Dallas/Callier Center for Communication Disorders. The degree provides post Bachelor's academic preparation for students who are seeking the Au.D. degree through a 4-year curriculum. Housed within the UTD/School of Human Development, a multidisciplinary faculty representing audiology, hearing and speech sciences, psychoacoustics, neuroscience, and psychology will provide academic preparation and clinical experiences. The UTD/Callier Center was established in 1962 and is located in a medical complex adjacent to the University of Texas Southwestern Medical Center, Children's Medical Center, Aston Ambulatory Care Center, St. Paul Hospital and Parkland Hospital. The Center provides an extensive array of diagnostic and rehabilitative services in audiology, speech-language pathology, and psychology. In 2000, over 70,000 patient visits were provided. Housed within UTD/Callier is the Advanced Hearing Research Center, which is focusing on research in cochlear implants, hearing aids, auditory electrophysiology and neural imaging, the BrainHealth Center and the Preschool Development Program for children with normal hearing and deafness. Cooperative programs have also been established with surrounding public schools, including the Dallas Public School System, as well as numerous off campus sites. UTD also has a Doctor of Philosophy Degree (Ph.D.) program for those students interested in pursuing Au.D./Ph.D degrees. Prospective students should contact Ross J. Roeser, Ph.D., Professor and Head of the Doctorate in Audiology (Au.D.) Program, UTD/Callier Center for Communication Disorders, 1966 Inwood Road, Dallas, TX 75208, or email at
roeser@callier.utdallas.edu
or view the web page at
www.callier.utdallas.edu//AUD.html
.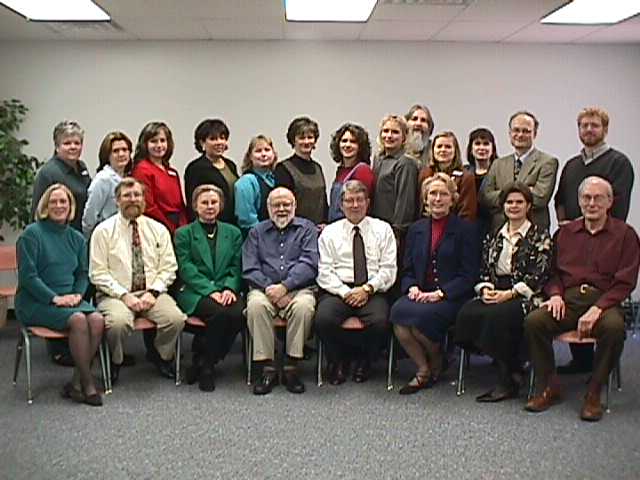 University of Texas at Dallas Au.D. faculty (seated-left to right) Emily Tobey, Lee Wilson, Susan Jerger, Jim Jerger, Ross Roeser, Carolyn Musket, Linda Thibodeau, and George Gerken. (Standing-left to right) Beth Dorsey, Jenifer Carlock, Jackie Campbell, Brisy Northrup, Anne Rasmussen, Elizabeth Gill, Jennifer Holcombe, Judy DeMorest, Tres Thompson, Jackie Clark, Angela Shoup (U.T. Southwestern Medical Center), Peter Assmann and Bill Katz. (Not shown, Aage Moller and Robert Stillman)
size=1>