London, ON, December 5, 2006
- A successful initiative to assess and fit infants with hearing aids has resulted in a national award for a London, Ontario researcher. Dr. Marlene Bagatto has been awarded a Networks of Centres of Excellence (NCE) Young Innovator Award by the federal government for her ground-breaking work in transferring research in the study of audiology into improved outcomes for children with hearing impairments.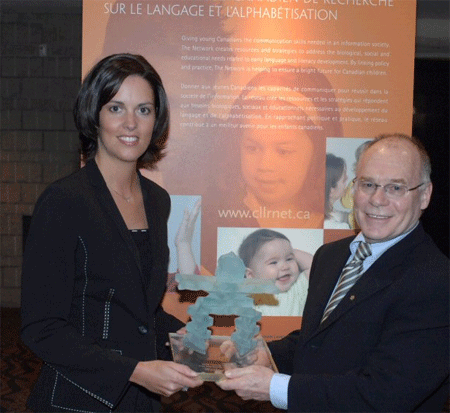 The announcement was made today by The Honourable Maxime Bernier, Minister of Industry, at the NCE annual meeting in Ottawa. "The Government of Canada is proud to recognize and support our best and brightest scientists who are at the foundation of Canada's innovative economy," said Minister Bernier. "It is a great privilege to honour the work of researchers who are contributing to Canada's role as a world science and technology leader."
Launched in 2004, the NCE Young Innovator Awards recognize Canada's young entrepreneurs by honouring outstanding individuals who, with the help of their network, have been successful in translating their innovative research into business, process, or service to benefit society at large.
A trained audiologist with support and funding from the
Canadian Language and Literacy Research Network
, Dr. Bagatto is a Research Associate of the National Centre for Audiology (NCA) at The University of Western Ontario. Her expertise has been called upon by clinicians in Ontario, across Canada and internationally. She facilitates training for the Early Hearing and Communication Development (EHCD) programs, which many jurisdictions in Canada have begun to implement. The EHCD program sees all infants born in Ontario tested for hearing impairments under the Ontario Infant Hearing Program (IHP). Dr. Bagatto has provided clinical services to infants through the Infant Hearing Program for the last four years. Through this program, infants who might otherwise be diagnosed with hearing impairments years later are assessed in their first months of life and fitted with hearing aids specifically designed to give them proper auditory levels needed for normal speech and language development.
"Research has shown that the earlier we can identify and address hearing impairments in children, the better able those children are to interact and communicate, " says Dr. Bagatto.
As a result of her work, Dr. Bagatto will now receive one of two Young Innovators Awards being presented today. Dr. Bagatto was selected based on the practical application of research as well as her contributions to the field of pediatric audiology through research, publications and presentations.
"I am honored to have been recognized by the NCE for the Young Innovators Award," mentions Dr. Bagatto. "My hope is that it will highlight the importance of providing proper audiological intervention to infants."
"Marlene's commitment to improving the accuracy with which hearing aids are fitted to young infants is providing children with the best possible early start to develop good spoken language skills" says Dr. Donald G. Jamieson, CEO and Scientific Director of the Canadian Language and Literacy Research Network. "Her ability to transfer technical information and make this easily accessible to audiologists around the world is helping to ensure that many more children have the opportunity to develop good speech, language and literacy skills, beginning at the earliest possible age."
The
Canadian Language and Literacy Research Network
brings together leading scientists, clinicians, students and educators as well as public and private partners. The Network's mandate is to generate, integrate and disseminate bias-free scientific research and knowledge that is focused on improving and sustaining children's language and literacy development in Canada. The Network is hosted by The University of Western Ontario. For more information on the Canadian Language and Literacy Research Network, visit
www.cllrnet.ca
.
Taken from cllrnet.ca/index.php?fa=News.showNewsStory&news_id=234