Question How does the Cochlear™ Osia® System utilize the Human Design™ concept? Answer
Powered by piezoelectric stimulation, the Osia® System is a first-of-its-kind hearing implant system for people with single-sided deafness (SSD), conductive or mixed hearing loss, to bypass damaged areas of the natural hearing system and send sound directly to the cochlea.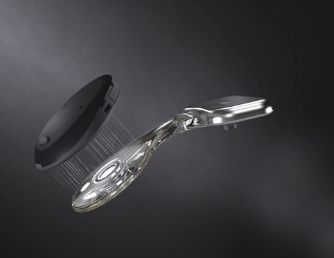 Blending hearing technology with human capacity, the Osia System uses innovative technologies specifically chosen and designed to work in and with the body, an approach called the Human Design™ concept. With no movement between parts, the technology is well-suited to deliver long-term performance and durability.1-2 The goal of the Osia System is to help people live their lives without getting in the way, while providing the performance needed to hear in noisy situations where they may struggle most.3
The slim, only 10.4 mm, off-the-ear sound processor is light and comfortable to wear. As an all-in-one magnet retained unit, patients can simply place it, adjust their hair and be ready to go. The ear/ear canal are left open and free to reduce the risk for recurring infections and irritation.4 Further, advanced signal processing helps allow users to hear what they want to hear.
For more information about the Osia System please watch this webinar series or visit our Cochlear ProNews.
References:
No movement: Preumont A, Morkani B. Electromagnetic and Piezoelectric Transducers. Springer, Vienna; 2014:213-248
Long term performance: Goh J. OSI200 Implant Accelerated Life Test Report. D1439967. Cochlear Bone Anchored Solutions AB, Sweden 2019
Data on file Windchill Document D1478473
Edward Bennett, OSIA 2 Aqua+ IP68 Tests Design Verification Report. D1638233. Cochlear Ltd, Australia 2019.
Cochlear Bone Anchored Solutions AB, Mölnlycke, Sweden. Long term stability, survival and tolerability of a (novel) Baha® implant system. In: ClinicalTrials.gov [Internet]. Bethesda (MD): National Library of Medicine (US). [Cited 2016 Jan 6]. Available from: https://clinicaltrials.gov/ct2/show/NCT02092610. NLM Identifier: NCT02092610.
Flynn, M, Cochlear Baha Attract System, Summary of clinical results and benefits, 2014 (E83112).
© Cochlear Limited 2020. All rights reserved. Hear now. And always and other trademarks and registered trademarks are the property of Cochlear Limited or Cochlear Bone Anchored Solutions AB. The names of actual companies and products mentioned herein may be the trademarks of their respective owners.
This content is meant for professional use. If you are a consumer, please seek advice from your health professional about treatments for hearing loss. Outcomes may vary, and your health professional will advise you about the factors which could affect your outcome. Always read the instructions for use. Not all products are available in all countries. Please contact your local Cochlear representative for product information. Views expressed are those of the individual. Consult your health professional to determine if you are a candidate for Cochlear technology.
In the United States, the Osia 2 System is indicated in children for ages 12 and above.
* Cochlear BI300 Implant has a demonstrated track record of being stable, safe and reliable in peer-reviewed clinical studies with Cochlear Baha implants.5,6