Question

What are the key features of the new North hearing instrument platform from Unitron?

Answer
North is a new platform for Unitron, introducing a number of industry-firsts. Beyond just a new algorithm with new features and outstanding sound quality, we also wanted to address a growing consumer trend. Today, we're seeing that consumers increasingly want to be involved in their fitting. They are better informed, have more opinions, and want to be more engaged in the whole process.
From a feature standpoint, North's SoundNav technology automatically identifies and classifies seven distinct listening environments, four of which are focused specifically on conversation. The automatic program has seven different destinations compared to four in our previous platform, and four of those seven create a new level of resolution for conversation. Now, instead of conversation being just one category of sound, we have it in four: conversation in quiet, in small groups, in large groups, and conversation in noise.
The North platform has allowed us to create detectors and classifiers that differentiate between these environments, and make optimized adjustments in noise reduction and speech enhancement, as well as other aspects of the signal processing, for each one. It offers a granularity or resolution of conversation that is ground breaking. In the end, hearing conversations is the reason why most people get hearing aids in the first place.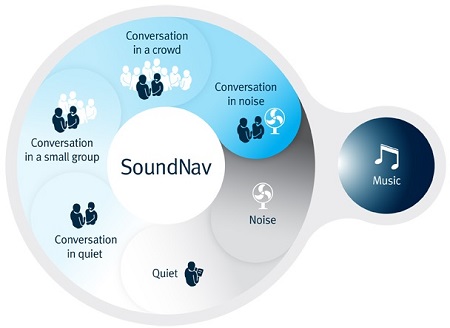 In addition, North offers Log It All, the next generation of data logging. Log it All captures and displays a consumer's experiences with their hearing instruments across seven listening environments, regardless of technology level. It enables professionals to see that what percent of the time the hearing aid has been in each of the 7 different destinations regardless of which technology level programmed into the instrument.
The difference with Log It All is that it's not tracking what the hearing aids are doing, but what environments the consumer is using them in. For example, say the consumer is spending time listening to music, but you haven't given the person a music program. Now, after the two week post fitting check up, you have evidence-based information to have a conversation and say, "The data show that you've spent a lot of your time listening to music; now I can optimize your hearing aids for music." We now have some real information to base the fitting on, and can begin a meaningful and effective dialog with the patient during their visits. This ties back to our goal of offering a more interactive and engaging experience for the consumer.
These are just a few highlights. For more information, please visit unitron.com or the Unitron Expo Page on AudiologyOnline.
This Ask the Expert is an excerpt from a full interview on the topic of Unitron North. Read the full interview here.