Question What is myPhonak Memory? Answer
The August 2021 myPhonak update introduces myPhonak Memory which is a set of new features for patient created custom programs. With these new features, there are new helpful tips and tricks for programming hearing aids in Phonak Target with the app in mind. myPhonak Memory is compatible with the Phonak Paradise family of hearing aids, which includes the Phonak Audéo™ P and Phonak Naída™ P hearing aids.
Key features of myPhonak Memory include:
Program persistency: Returns the hearing aids to the previous program after a Bluetooth® audio event
Multi-function button improvements: Access the last-used program from the hearing aid push button
Create and save custom programs: Save up to 10 custom programs that will persist across devices
Let's dive into each of these new features
Program persistency
myPhonak Memory will return the hearing aids to the last-used program, including a custom program, after a Bluetooth audio event. An audio event is any sound the phone makes through Bluetooth, such as a phone call, screen click (i.e., when turning off the screen), or streaming music through an app. Once stopping that streaming activity (hanging up the phone, pausing music, etc.), the hearing aids will remember which program they were in before streaming was started and return to that program.
Multi-function button improvements
Multi-function button accessibility is part of myPhonak Memory, which adds the last-used custom program to the multi-function button sequence. The multi-function button is the toggle switch located on top of the hearing aids. The last-used custom program in the app will now occupy the last slot in your cycle of accessible programs via the multi-function button. This is great for times when accessing a smartphone is impossible or is socially inappropriate. The app now shows which program is currently assigned to the multi-function button by tapping on the program selector drop-down then tapping "Push button."
Figure 1. "All" shows available programs to select from. "Push button" shows the last-used program that is now available from the multi-function button on the hearing aid
Create and save custom programs
With myPhonak Memory, the app will allow creation of up to four custom programs per base program with a maximum total of 10 custom programs created by the user. A base program is any program created by the Phonak Target fitting software. The app displays which base program is used for the user's fine-tuning in the app by the small text under the program name.
Figure 2. myPhonak app programs are created from a "base program", which is indicated by the small text under the program name (outlined in green).
These 10 custom programs will be stored on the Paradise hearing aid. The benefit of storing these programs on the hearing aid is that now any device connected to the hearing aids will have access to the user's custom programs.
This is useful for two reasons:
As you may know with Paradise hearing aids, the user can maintain two active connections via Bluetooth. This means they can seamlessly switch between streaming a video on a tablet to answering a phone call on a smartphone (or even Bluetooth flip phone). If both of the user's devices have the myPhonak app installed and the hearing aids are paired to the app, they will have access to their custom programs from either device.
When users get a new phone or tablet, they will still have all their custom programs within their new device. It is important to note that the 10 custom programs include the app's preset programs -- "Restaurant", "Music" and "TV" -- but those can be updated in the app or even deleted to free up additional slots. Programs that are added by the hearing care professional in Phonak Target do not count towards the 10 custom programs in the app.
All of these great new features with myPhonak Memory are enabled by the PRISM™ chip in Paradise hearing aids. This is a tangible example of how increased processing power and memory capacity directly benefits our patients.
Finally, for the eagle-eyed observer, you may be asking, "Is this the myPhonak 5.0 update I heard about earlier this year?" The answer is YES! However, we decided to change the version number to 4.0.4 instead of 5.0, but don't worry, we still kept the same great features.
Phonak Target programming with the myPhonak app in mind – tips and tricks
As hearing care professionals, we are constantly adapting to the new capabilities of hearing aids. With this latest myPhonak app update, there are some helpful Phonak Target programming tips to keep in mind.
First, for Phonak Marvel™ hearing aid wearers, who will still experience their custom programs resetting to the Automatic program after a Bluetooth sound, you can apply changes to their preset myPhonak programs in Target or create entirely new programs in Target. Programs created by the hearing care professional in Target can be remembered by the Marvel chipset and returned to after a Bluetooth sound event. Try a Phonak Remote Support appointment with your patient to install their desired custom programs.
Figure 3 shows the corresponding myPhonak preset programs to their based program pair in Phonak Target.
Figure 3. myPhonak app programs are created from a "base program." The table on the right shows the corresponding program name in Phonak Target by technology level of the hearing device.
Figure 4 Shows you how to create a new custom program from Phonak Target.
Figure 4. To add a new program in Phonak Target, open the program manager then add a new program under "Program Access."
Second, it is important to note that when the hearing care professional connects to the hearing aids via Phonak Target, the patient's programs are no longer deleted. However, if gain settings are changed on a Target base program that the patient's own custom program is based on, that custom program will be reset to default. In the event you changed something that caused the patient's custom programs to be reset, you will see a warning in Target when saving the hearing aids that this reset has occurred.
Figure 5. When a change is made to a Target base program, any custom programs made by the user based on that base program will be reset to default. The hearing care professional is reminded of this when saving the Target session.
What happens if you fill up all the additional program slots in Phonak Target? For Audéo P devices with the latest firmware update installed from Target 7.1.9, they will work normally with myPhonak Memory. If the device does not have the firmware upgrade or is a Naída P hearing device (which will receive the firmware upgrade at later time), you will get the warning in Figure 6 Saying, "All program slots are filled. Remove one program or the mobile app cannot handle client-made programs correctly." Make sure to leave a slot open or else the hearing aids will always default back to "Automatic (AutoSense OS)" after a Bluetooth sound. This means you should add no more than three additional programs in Phonak Target for those devices without the firmware upgrade.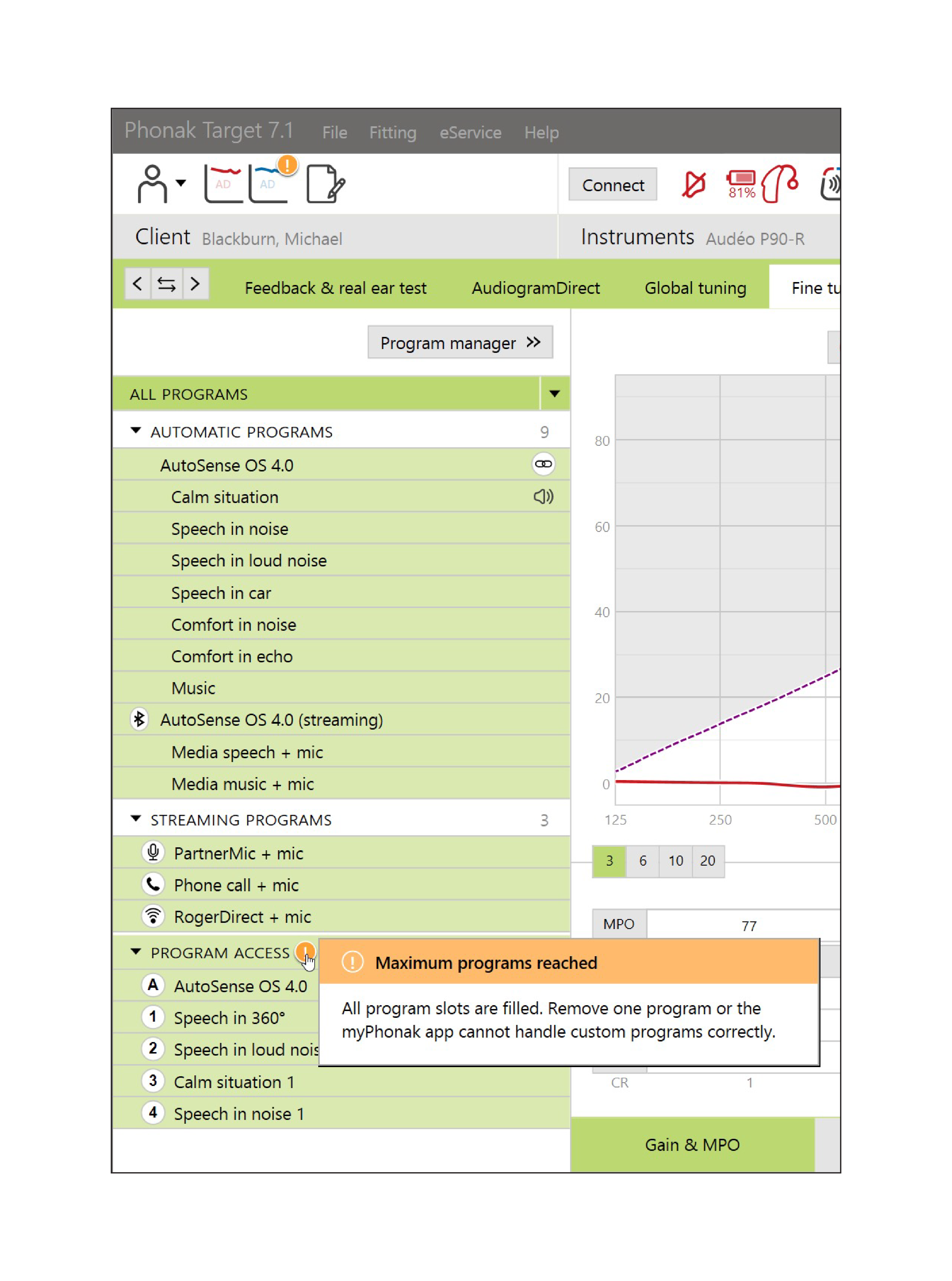 Figure 6. If the hearing care professional uses all four additional Target slots on an Audéo P or Naída P without the latest firmware, myPhonak Memory will no longer function correctly. It is recommended to only use up to three additional programs in Target if the patient is a myPhonak app user without the latest firmware.
There is a lot new in this myPhonak Memory update. You can rest assured that we are not stopping here, though. You will continue to see Phonak working hard to improve the experience with our apps.
For more information on the myPhonak app, click here.