Question What are the latest advances in hearing aid personalization and teleaudiology from ReSound? Answer
When ReSound LiNX 3D was launched in April 2017, it continued ReSound's focus on "biomimicry": an approach to innovation that seeks sustainable solutions to human challenges by emulating nature's time-tested patterns and strategies. This approach enabled ReSound to lead the hearing aid industry in adoption of Wide Dynamic Range Compression for comfort in noise, the development of "open" fit devices for reduced own-voice occlusion, the world's first "Made for iPhone" hearing aid, and directional microphones that provide improved speech understanding in noisy listening environments while preserving spatial awareness and localization. Increasingly, hearing aids have evolved from "stand-alone" devices that compensate for hearing loss to "connectivity" devices that enable hearing aid users to seamlessly connect to their devices and their world in ways that were not possible just a few years ago.
Another way that ReSound has used biomimicry to enhance the user experience with hearing aids was to allow users to self-adjust their hearing aids in "real-world" environments after the initial fitting, via the ReSound Smart app and geolocation services. This personalization feature has been available to ReSound LiNX and ReSound LiNX2 users since 2014. ReSound LiNX 3D builds on that focus on personalization, giving users the option of both minor in-app adjustments and the professional intervention their hearing care provider (HCP) can provide in the form of remote adjustments via the cloud.
The new ReSound Smart Fit™ software, developed together with audiologists, brings a more efficient and intuitive solution to the clinic, simplifying the process of achieving successful and efficient initial hearing aid fittings. We have found that, on average, users typically require four to seven return visits to their clinic in the private sector to achieve optimal benefit from their hearing aids. With ReSound Assist, managed directly in ReSound Smart Fit, hearing care professionals (HCPs) have the opportunity to streamline that process by augmenting face-to-face visits with app-based remote fine-tuning (RFT) adjustments completed in "real world" settings to offer an unprecedented level of remote follow-up services. This saves time (for both HCPs and users), improves clinical results, and enhances satisfaction and benefit. These adjustments provide secure, cloud-based (asynchronous) teleaudiology using the fully-featured ReSound Smart Fit software to provide RFT anywhere in a manner that is convenient for both users and HCPs.
This is not innovation for innovation's sake. Teleaudiology is in direct response to users' evolving expectations and HCPs' desire for improving engagement and patient outcomes. In particular, teleaudiology is a great option for busy people who want or need to remain connected to their HCP without having to take time off from work, pay for parking, or fight traffic. Teleaudiology is also a perfect solution if a user doesn't drive or has difficulty making special arrangements to travel for follow-up appointments with their HCP. For those who want the utmost in personalization, software and firmware updates help keep their hearing aids "state-of-the-art" longer. In fact, this technology provides innovation beyond the technology that fits inside the hearing aid to facilitate unparalleled innovation in hearing aid service and delivery.
Today's hearing aid users are interested in how technology can give them greater control over their hearing health, but they also trust the expertise of their HCPs to ensure that they are achieving optimal results. ReSound LiNX 3D provides increased engagement between HCPs and users via a convenient, secure, easy-to-use tool that requires only the hearing aids, smartphone, and fitting software to achieve hearing care, anywhere. But don't take our word for it; survey results from HCPs who participated in pre-launch trials with ReSound Assist and RFT overwhelmingly expressed that users achieved a better hearing experience than with the traditional fitting process, and the vast majority plan to continue to use RFT in the future.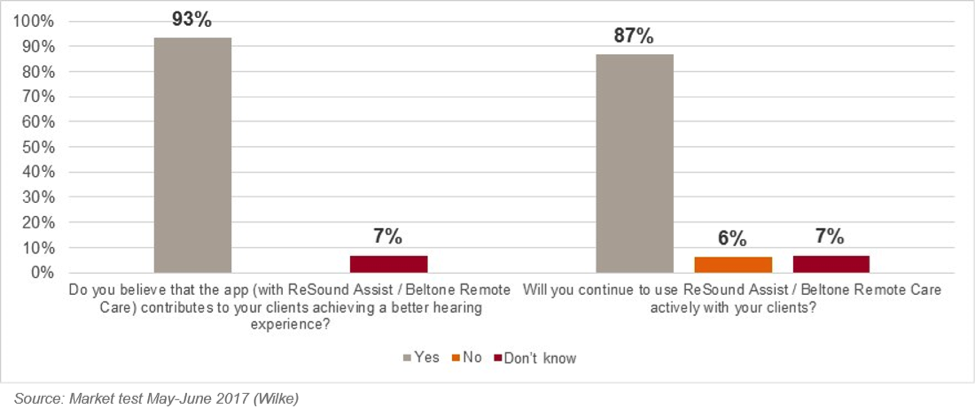 We are thrilled to introduce ReSound LiNX 3D to the market, and we don't plan to stop here. Every day we challenge ourselves to help people hear more, do more, and be more anywhere in life. For more information, please visit www.resoundpro.com or the Resound Partner Page on AudiologyOnline.