AudiologyOnline: Dr. Kim, thanks for your time today to discuss Minimally Invasive Ponto Surgery (MIPS). Before we get into the surgery, would you please tell us about your background?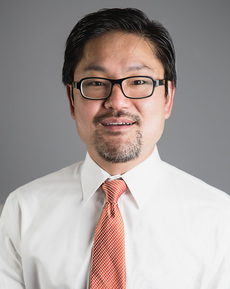 Harold Kim, MD: I am Medical Director of the Northwest Ear Institute in Portland, Oregon, a full otology and neurotology practice. Our practice devotes 100% of its time for the treatment of ear related conditions. For example, we treat people with hearing loss, people with chronic ear disease, people who need intervention such as cochlear implants, hearing aids or bone anchored hearing surgery, those who need skull base surgery. We treat people with related conditions as well such as dizziness and facial nerve dysfunction.
I did my fellowship in otology and neurotology and skull base surgery at Northwestern University. Prior to that, I did my residency and completed medical school at the Albert Einstein College of Medicine in New York City. I've been in practice since 2004.
AudiologyOnline: What is MIPS and how is it different from traditional bone anchored implant surgery?
Harold Kim, MD: Minimally Invasive Ponto Surgery is proprietary to Oticon Medical, which manufactures the Ponto bone anchored hearing system. The MIPS technique was developed to simplify and standardize a technique that some surgeons have been using for implantation of bone anchored hearing devices.
There's a long history behind the various techniques used to implant bone anchored hearing devices. Many techniques have been tried with teh difficulty being soft tissue complications. The bottom line is that the less you manipulate the surgical area, the less risk of post-operative complications there are. One of the drawbacks of traditional bone-anchored hearing implant surgery was the possibility of a post-operative skin reaction.
So, surgeons began to try to perform surgery to implant the bone anchored device by doing all the drilling through a four to six millimeter biopsy punch site. Since traditional surgery is based on visualization, this created a lot of anxiety, at least for me and many surgeons that I know. You never knew if you were going to drill too far; if you do drill too far, you're in the intracranial cavity, while if you don't drill far enough, you leave surface area on the table that would have allowed for proper integration of the implant into the bone.
MIPS takes that trepidation out of the surgical process and it also standardizes the surgery. MIPS instrumentation is constructed with a cannula that goes onto the skull, and specially coupled drills that allow you to drill through a five millimeter biopsy punch hole into the skull with minimal surrounding soft tissue manipulation. That way, you can be sure that you're drilling as far as you want, no far no less. It takes the apprehension out of the process for the surgeon, and it takes the variability out of it. It standardizes a technique that surgeons had already been using before.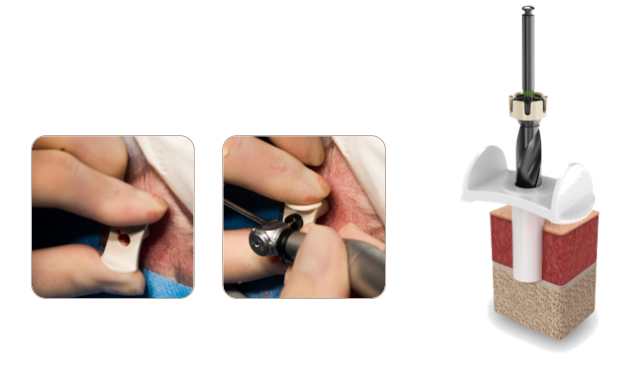 MIPS instrumentation and process standardizes the technique surgeons had been using.
AudiologyOnline: I know you've been involved with some data collection regarding MIPS with Oticon Medical.
Harold Kim, MD: Yes, the MIPS instrument set has been available for over 18 months. We currently have a US trial that comprises nine centers; that includes centers in the Pacific Northwest, California, and Midwest, as well as the East Coast, including New York and Florida. In our trial as of our last tally in May, 68 patients have been as part of the cohort. Since then more have been implanted, but I have standardized data on those 68 patients.
We isolated patients over the age of 18, so the 68 patient cohort comprises people aged 18 to 75. There's a slight bias towards women who make up 55% of the patients. For the purposes of this study, we didn't select only candidates that would be forecasted to have good outcomes. These were people who were already scheduled to undergo bone anchored hearing implant surgery, and they were given the option of undergoing the surgery with the MIPS technique or with the standard technique that was a preference to the surgeon.
AudiologyOnline: What were some of the things that stood out when you looked at the data across these 68 patients?
Harold Kim, MD: First and foremost, MIPS is safe. We didn't have instances of massive hemorrhage or any major complications. It's also a simple surgery. There's not much of a learning curve for surgeons, when we looked at outcomes related to the experience of the surgeon or how comfortable they felt with the procedure. It seems that the post-operative outcomes are very encouraging; patients overwhelmingly had good skin outcomes in the post-operative period. Keep in mind this is a limited study looking at the short term post-operative outcomes extending out to about six weeks.

Examples of MIPS post operative results.
AudiologyOnline: Is there a lot of variability in outcomes? Can you share an individual patient experience?
Harold Kim, MD: I think that's the beauty of this technique - there's not that much variability in outcomes, patients do great. In terms of an individual experience - the last MIPS surgery I performed was six days ago. I provided the patient with the typical post-operative recommendations. I perform MIPS surgery under a brief general anesthesia. The surgery was in the morning and the patient called me later on in the afternoon to ask if he could go golfing or potentially go back to work the next day. So the moniker Minimally Invasive Ponto Surgery accurately describes this procedure - it is minimally invasive and people are pretty much ready to get back to their normal routines the next day.
AudiologyOnline: Why aren't all bone anchored surgeries done with the MIPS procedure?
Harold Kim, MD: So far it is proprietary to the Oticon Medical devices. The other thing is that surgeons are a conservative group and they need to see data and a track record before they're willing to get on board with something new. The surgeons that have tried the MIPS procedure are enthusiastic supporters of it, the data looks great, and now it's just about getting the word out.
AudiologyOnline: To that end, how can surgeons or audiologists learn more about MIPS?
Harold Kim, MD: We are still collecting data, and will be submitting it for publication. The initial data from the US trial was coupled with international data and presented at the Osseo conference in Nijmegen, Netherlands in May as a poster presentation. Certainly, more information about the MIPS devices can be found at the Oticon Medical website.
AudiologyOnline: Any final thoughts?
Harold Kim, MD: I guess one final point that I would make, is that every time that I think that we have reached the limit of what we can be done with bone anchored technology, I'm surprised by another innovation that comes along. It's an exciting area of practice.
AudiologyOnline: Thank you, Dr. Kim.
Audiologists can visit www.oticonmedical.com or the Oticon Medical Expo on AudiologyOnlline for information, resources and CEU courses on MIPS, Ponto and other technology and topics from Oticon Medical.