AudiologyOnline: What is different about the new Pro Line Advanced?
Sam Peterson: Our new Pro Line Advanced is our most progressive hearing aid battery system to date, which includes a new package design as well as new technology in the battery. These innovations have made our batteries last longer than our previous formulation and made it easier for hearing aid users to handle, use and store.*
AudiologyOnline: What led Rayovac to innovate Pro Line Advanced?
Sam Peterson: Our goal was to answer the unmet needs in the hearing aid battery market. We looked at the new Pro Line as a solution to issues we have been hearing from both hearing aid wearers and hearing health professionals for years. The new Pro Line Advanced battery system design was rooted in hearing aid battery consumer research we conducted along with input from hearing health professionals.
AudiologyOnline: What were the findings of your research?
Sam Peterson: We found that the top two things hearing aid users are looking for when it comes to their hearing aid batteries are: longer battery life and an easy-to-use package.1 The new Pro Line Advanced delivers on both.
AudiologyOnline: What innovations have you made that have helped you achieve longer life in your batteries?
Sam Peterson: This was our number one priority when innovating because from our research we learned that hearing aid users ranked battery life as the MOST important factor when choosing hearing aid batteries. This led us to develop Active Core Technology, which gives users up to two days longer battery life than our previous formulation.2 With Active Core Technology we have developed our longest-lasting hearing aid battery yet.*
AudiologyOnline: What is Active Core Technology?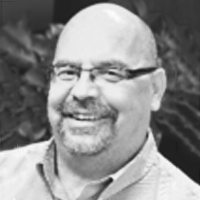 Denis Carpenter: Active Core Technology is our newest and most advanced generation of hearing aid battery technology. It is comprised of a series of innovations we made to achieve longer battery life. We optimized the can of the battery to be able to fit more critical ingredients in the battery to give users that longer life. We also improved the anode to ensure quality performance and steady voltage throughout the life of the battery. This helps eliminate low voltage beeps that users sometimes received before the battery was actually dead. Lastly, we have improved the battery seal to provide cell stability in extreme environmental conditions. This new technology is the perfect complement to our new packaging.*
AudiologyOnline: Can you tell us more about your new packaging?
Sam Peterson: We have re-invented our legacy dial-package that dates back to the mid-1990's. It was time for a change and who better to listen to than the patient. Our research revealed patients were frustrated with their hearing aid battery packaging. To address this issue, we made the package easier to handle and added several new features designed to keep the batteries clean, more secure and protected than our previous packaging.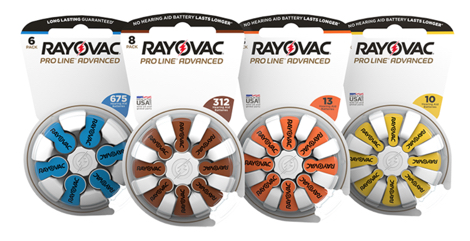 AudiologyOnline: Can you tell us more about these features?
Sam Peterson: Sure! The entire package was engineered to improve package accessibility for users with dexterity issues, which is common amongst hearing aid users. The package shape was designed to more comfortably fit in the palm of the hand than our previous square package. The top card portion of the package is perforated and can be easily removed for convenient storage in a pocket or purse. To also aid with dexterity we moved the door that accesses the batteries to the front of the pack, so the user never has to flip the package over. We implemented a locking dial that is easy to rotate and allows the user to access one battery at a time. We also improved the locking mechanism on the door so the remaining batteries left in the dial will not spill out. We are very proud of our new delivery system and have been awarded an AmeriStar Award for the package design, which was very exciting for us.
AudiologyOnline: It also looks like the tab on the battery is new?
Denis Carpenter: Yes, the tab has been updated. We wanted to optimize the tab because of patient feedback that our previous tab was too short. We found in focus groups and user studies that short tabs were difficult for the majority of users to grip and peel off. We also found that a longer tab wasn't necessarily better. When peeling off a tab, most users grip towards the base (where the tab adheres to the battery), which can make a tab that is too long a bit of a nuisance. Through these user studies, our design team has engineered an optimally sized tab that is perfectly sized for users to be able to easily handle, grip and remove the tab upon use. We created a video you can watch here that outlines all of our innovations.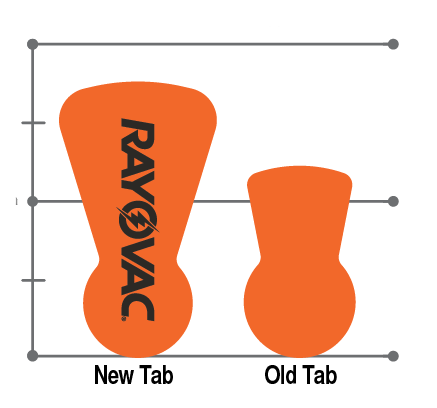 AudiologyOnline: What feedback have you received from audiologists and hearing aid battery users?
Sam Peterson: Overall the feedback has been overwhelmingly positive. Many are noticing the two days longer life with the new technology in the batteries, which was one of the most important things for us. We are also hearing great things about the package. Many users have commented on how much easier the forward facing door is and how great it is that they do not have the flip over the package. We have also had a lot of users that have dexterity issues comment on how the new tab makes putting in hearing aid batteries easier than ever! We are so far very pleased with what users are saying.
AudiologyOnline: What is next for Rayovac?
Sam Peterson: We have always strived to innovate our product to give our users the best battery experience possible and we will continue this trend, investing in research and development to ensure that no hearing aid battery last longer than Rayovac.2
For more information, visit thepowerofhearing.com or the Rayovac Partners Page on AudiologyOnline.
*versus previous Rayovac design (excludes size 675)
1Based on the results of this 2016 user study
2Based on ANSI/IEC performance tests for Size 10, 13, 312 (excludes size 675).