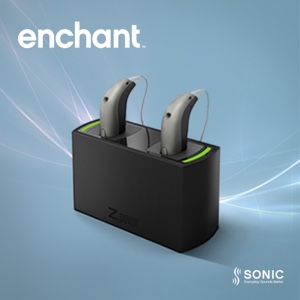 SOMERSET, NJ January 8 – Sonic introduces new Enchant miniRITE with the ZPower rechargeable battery system for all-day power without interruption or the need for regular battery changes. Enchant miniRITE with ZPower lets patients enjoy the ease and convenience of rechargeable batteries and the flexibility of the SoundDNA platform. With an overnight charge, Enchant with ZPower will perform all-day, even when using advance features like Bluetooth streaming.
"Approximately 70% of hearing aid wearers say they want rechargeables," says Joseph A. Lugara, Sonic President & Chief Operating Officer. "New Enchant miniRITE with ZPower gives users the confidence that all-day power provides and the convenience of a rechargeable battery system. This is just one more way that we continue to expand on Enchant's ability to brighten everyday hearing experiences with incredibly adaptive, flexible and automatic technologies."
Users simply place their hearing aids in the easy-to-use charging base overnight. There is no need to fumble with tiny battery discs and frequent change outs. In the event that users forget to charge their hearing aids, ZPower batteries can be interchanged with disposable zinc air batteries if needed. For existing Enchant miniRITE users, ZPower can even be retrofit: the simple swap of the battery door allows them to also enjoy the benefits of the ZPower rechargeable system.
The ZPower batteries in Enchant miniRITE hold 40% more charge than other rechargeable micro batteries and have a year-long lifespan. One non-toxic, non-flammable and 100% recyclable ZPower rechargeable battery lasts for 400 charges – as long as 100 disposable batteries.
For more information on Enchant miniRITE with ZPower and the entire Enchant family, including Enchant100, Enchant80 and Enchant60 and popular styles including the miniRITE T (with telecoil) and BTE 105, visit www.sonici.com or the Sonic Partners Page on AudiologyOnline.
ABOUT SONIC
Sonic is a U.S.-based manufacturer of hearing care solutions that envisions a world where all people can enjoy the sounds that enrich everyday life and where lives are improved through enhanced hearing. Since 1998, Sonic employees and distributor partners have provided quality products with a proven benefit track record. Today Sonic has a global sales network represented in more than 45 countries. Sonic focuses its product development on its 4S Foundation (Sound that's natural, Speech understanding in noise, Simplicity in everything we do and Style that stands out) to ensure that with Sonic, Everyday Sounds Better. Visit www.sonici.com for more information.