This item originally presented as a poster at the 7th Annual Cochlear Implant Conference - Manchester, UK, 4-6 September 2002.
Author details
Ilona Anderson
ilona.anderson@medel.com
+43-512-288889-543

Introduction
Children are being implanted at a younger age due to early hearing identification programs. We were interested in the suitability of the MED-EL TEMPO+ behind-the-ear speech processor for these young and very young children.

Methods and materials

Procedure:
Questionnaires were sent to 300 TEMPO+ users in Germany and the USA. 185 responses were received, 65 from parents of pediatric TEMPO+ users. These responses were analized for the study.

Questionnaire:
A custom made questionnaire of 50 questions was designed. Themes included: biographical information, TEMPO+ switches and controls, handling of the TEMPO+, general questions on the TEMPO+ and questions about TEMPO+ accessories. Most questions had multiple-choice options for answers, such as 'never', 'rarely', 'sometimes', 'often' and always. Some questions were open-ended. The questionnaire was available in German and English.




TEMPO+ speech processor:
All patients received the MED-EL TEMPO+ speech processor (fig. 1) and had to have a minimum of 4 weeks experience with the TEMPO+ speech processor. Hardware designs make use of the TEMPO+ suitable in children. The speech processor is modular in that there are a number of battery pack options available (pediatric, angled and straight). This allows parents to choose the most suitable method of fixing the TEMPO+ to their child's ear. The pediatric pack maybe clipped onto the collar for very young children. There are a number of moldable earhooks available to suit different size ears.

Results

From the total of 65 responses, 25 were male and 40 female. The age range was 1 year to 16 years, with a mean of 6 years 3 months. 1/3rd of responses were from families with children under 4 years. Children had been using the CI for 2 years 4 months on average, and had worn the TEMPO+ for an average of 8 months. 89.7% had used the CIS PRO+ body-worn processor previously. 94.2% wore behind-the-ear hearing aid prior to receiving their CI. None wore body-aids. Average hearing aid use was 3 1⁄2 years.

Responses to using the switches and controls of the TEMPO+ were very positive. Fig 2 details how subjects felt about using the volume and program switches. The majority found these ''very'' or ''fairly'' easy to use. Note that families with younger subjects (0 to 2 and 2 to 4) found these ''very easy'' to adjust. 62.1% found the sensitivity control ''very'' or ''fairly'' easy to adjust. There were no differences between age groups.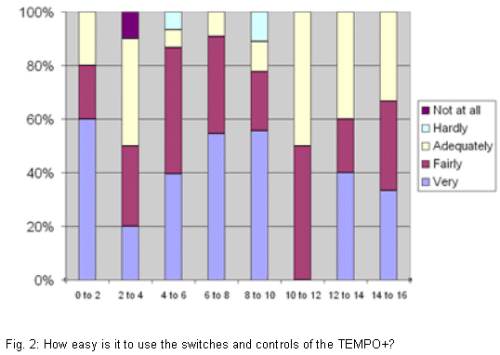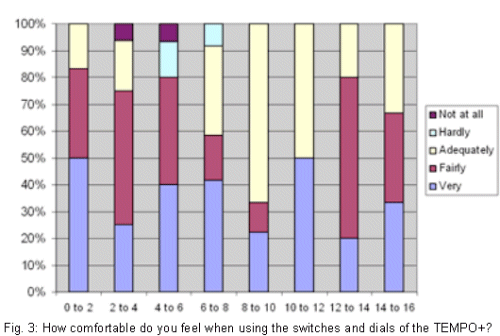 Figure 3 shows positive results to subjects' feeling comfortable with using the switches and dials of the TEMPO+. The TEMPO+ is modular in design to promote a wide variety of wearing options. 70% of parents reported having more than one battery pack. Of these, 49% rarely change the battery pack and 51% feel ''very comfortable'' when doing so. 41.2% of parents ''rarely'' change the their earhook, as most are provided with the pediatric earhook. Considering the weight and size of the TEMPO+, battery pack options and different earhooks, the majority of parents rated the TEMPO+ as ''very'' or ''fairly'' comfortable for their children to wear. (Fig 4)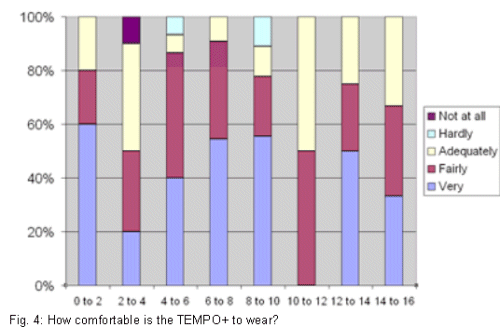 Finally, parents were asked about their overall satisfaction with the TEMPO+ (Fig 5). An overwhelming 48% reported being ''very satisfied'' with the TEMPO+ and 42.6% stating they were ''fairly satisfied''.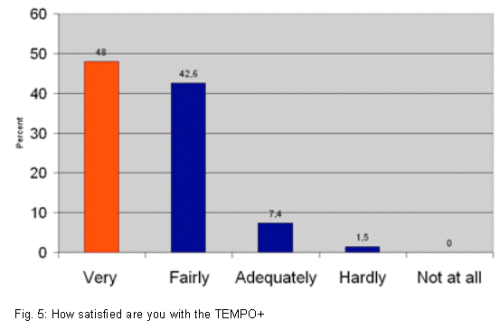 Conclusions

All results suggest that parents are satisfied with their child's TEMPO+. Positive feedback was recorded for handling, ease of manipulation and comfort. Results show the suitability of the TEMPO+ ear level speech processor for young and very young children.

For more information on MED-EL click here.

Click here to visit the MED-EL website.