Question
I am an audiologist in private practice and have enough of a hard time keeping up with hearing aid technology, let alone cochlear implants. I don't see cochlear implant patients in my practice, but would at least like to stay current on when to refer. Any suggestions?
Answer
The first step for professionals is to be familiar with FDA-approved cochlear implant criteria. Different cochlear implant manufacturers have different candidacy criteria. Cochlear America's Nucleus criteria is provided below as one reference. It can be taped up in a conspicuous place so it is in plain view and not filed away and forgotten. Also refer to the Joint Audiology Committee Statement on Cochlear Implant Assessment (see reference list). Next, identify cochlear implant centers in your area and open lines of communication with them. Discuss with them about how you can share in the care of patients you both serve. About three quarters of those people who have a cochlear implant only have one. As implant criteria expands, people with more usable hearing are being implanted. That means more are likely to benefit from also using a hearing aid in the non-implanted ear (a bimodal device fitting). Finally, become an expert in fitting of bimodal devices (Huart & Sammeth, 2008). Few clinics have the time, equipment, and inclination to fit both hearing aids and cochlear implants. The audiologist who knows about cochlear implant criteria and is also proficient in bimodal fitting will have a distinct advantage in a competitive hearing aid market.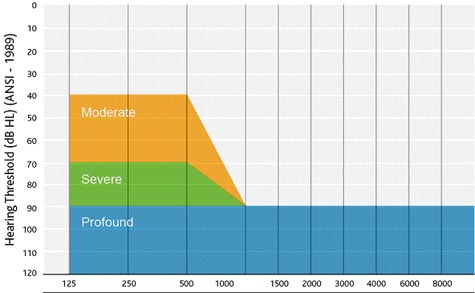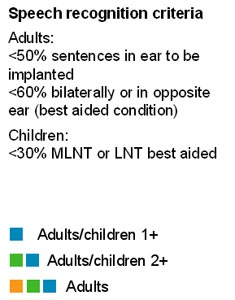 Criteria for Cochlear America's Nucleus cochlear implant. Source: Cochlear Americas.

References

Huart, S., Sammeth C. (2008). Optimizing the bi-modal fitting. Hearing Journal, 61,11,54-58.

Joint Committee on Clinical Practice Algorithms and Statements. (2000, August). Audiology clinical practice algorithms and statements. Audiology Today, Special Issue 2000.

Steven A. Huart, Au.D., has over 20 years experience in audiology and hearing aid dispensing. Most of his career has been spent in the clinic seeing patients and fitting hearing aids. Huart was an Instructor in Audiology at Mayo Clinic Arizona and Adjunct Faculty at Arizona School of Health Sciences until he became the Director of Professional Development for AmplifonUSA. He joined Cochlear Americas in 2007 where his goal is to help dispensing professionals identify and refer those patients who no longer benefit from amplification.

This Ask the Expert was based on information in the text course Unidentified and Underserved: Cochlear Implant Candidates in the Hearing Aid Dispensing Practice that can be found in the AudiologyOnline course library (Text course #14209).