Question What is MIPS and how is it different from traditional bone anchored implant surgery? Answer
Harold Kim, MD: Minimally Invasive Ponto Surgery is proprietary to Oticon Medical, which manufactures the Ponto bone anchored hearing system. The MIPS technique was developed to simplify and standardize a technique that some surgeons have been using for implantation of bone anchored hearing devices.
There's a long history behind the various techniques used to implant bone anchored hearing devices. Many techniques have been tried with teh difficulty being soft tissue complications. The bottom line is that the less you manipulate the surgical area, the less risk of post-operative complications there are. One of the drawbacks of traditional bone-anchored hearing implant surgery was the possibility of a post-operative skin reaction.
So, surgeons began to try to perform surgery to implant the bone anchored device by doing all the drilling through a four to six millimeter biopsy punch site. Since traditional surgery is based on visualization, this created a lot of anxiety, at least for me and many surgeons that I know. You never knew if you were going to drill too far; if you do drill too far, you're in the intracranial cavity, while if you don't drill far enough, you leave surface area on the table that would have allowed for proper integration of the implant into the bone.
MIPS takes that trepidation out of the surgical process and it also standardizes the surgery. MIPS instrumentation is constructed with a cannula that goes onto the skull, and specially coupled drills that allow you to drill through a five millimeter biopsy punch hole into the skull with minimal surrounding soft tissue manipulation. That way, you can be sure that you're drilling as far as you want, no far no less. It takes the apprehension out of the process for the surgeon, and it takes the variability out of it. It standardizes a technique that surgeons had already been using before.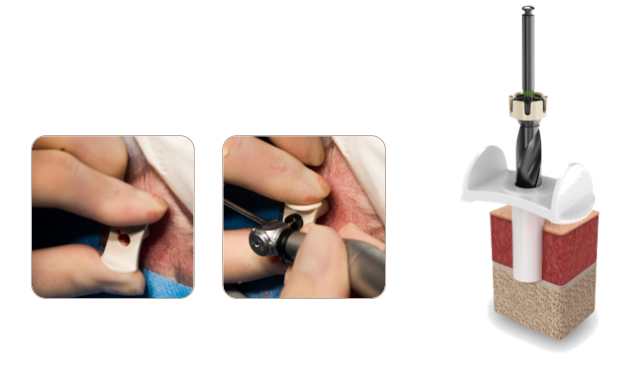 MIPS instrumentation and process standardizes the technique surgeons had been using.
This Ask the Expert is an excerpt of an interview on this topic - read the full interview here. For more information, visit http://www.oticonmedical.com/us or the Oticon Medical Expo Page on AudiologyOnline.