Oticon Medical
Oticon Medical
Taking ideas further
Oticon Medical believes in doing what you do best and teaming with experienced experts to bring forth the very best solutions.
By combining world leading pioneers in osseointegration, with Oticon – the leading innovator in sound processing – great advancements in bone anchored hearing systems are about to take place.
Based in Gothenburg, Sweden, Oticon Medical is at the epicenter of developing and improving upon existing and new technologies within the field of osseointegration.
Our philosophy is based on working with the best – and letting people be their best. By integrating the most recent hearing care technology and the most advanced audiological concepts in a bone anchored hearing system you, the healthcare professionals, can individualize and match the patient's hearing needs in more ways. With the launch of Ponto, Oticon Medical is introducing superior sound quality and new possibilities to the field of bone anchored hearing systems.
---
Oticon Medical isn't out to re-invent the category, only to make it significantly better by offering exactly what audiologists and surgeons have been asking for:
1 More knowledge
Oticon Medical is a collaboration and partnership of the best minds and experience in the hearing implant sector with Oticon's 100 plus years of producing the very best sound processing – bar none. Our commitment is long term for two reasons:
*the knowledge and expertise are in place to really help patients that cannot benefit from traditional hearing aids.
*the industry as a whole can only benefit from an additional player with our reach, experience and expertise.
2 Better service
The team at Oticon Medical is committed to better serving you. We have designed an extensive system based on sales and research support. Locally and globally,online as well as offline. Even though we are not truly 24/7 (yet) we are poised to demonstrate some impressive turnaround times.
3 An improved product
Our century-long reputation for producing not only the best sounding hearing aids but also producing the most reliable instruments has created an eye for detail – a skill set put to use when developing innovative software features, advanced audiology and beautiful design. Moving into bone anchored hearing systems Oticon Medical markets a complete package based on superior safety, sound quality, product reliability, ease of handling, ease of use and design.
Contact Information
Oticon Medical
580 Howard Avenue
Somerset, NJ 08873
US
Phone: 1-888-277-8014
Fax: 1-732-868-6949
---
Have a question? Contact us!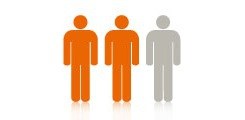 2 out of 3 patients prefer Ponto