AudiologyOnline: What inspired you to start Sycle?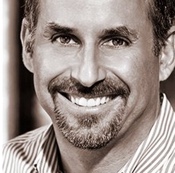 Ridge Sampson: I saw there was a need in the market. That's how all great businesses and products begin. They solve problems. Hearing professionals needed a more robust solution that would not only allow them to collect data but would help grow their practices while allowing them more time to see patients. I had an idea for a software that could help do this and ultimately help facilitate the delivery of better hearing to the world - and that became our mission.
AudiologyOnline: What is the biggest hurdle the company has faced?
Ridge: Some might think the economic recession of 2008, but that was actually not it. In fact, Sycle grew faster throughout the recession in strong part because hearing care practices realized they needed a solid reporting and marketing system in order to get a handle on their business and compete. I'd say the biggest hurdle we faced was in the very early years, when cloud based software was new. We spent a lot of time educating and informing people that the cloud is in fact the safest place to keep your data.
AudiologyOnline: What has impressed you most about the hearing care industry?
Ridge: The passion and dedication of hearing care professionals. I still enjoy travelling to conferences. After almost 15 years in the industry I've had so many frank, open conversations with our customers. When we ask them what they want from Sycle next, it always comes back to helping them deliver the best service and treatment possible to their patients. That's why so many of our new products and features are geared toward optimizing the patient experience.
AudiologyOnline: What is your favorite feature within Sycle?
Ridge: Sycle Patient Financing is just incredible. It's innovative, easy to use, boasts the lowest rates in the industry at 3.5%, and is helping providers fit patients with the devices best suited for their hearing loss.
AudiologyOnline: Why is company culture so important to you?
Ridge: Company culture is important to me because we spend so much of our daily lives at work and with our coworkers. If you don't have a happy, healthy, fun culture then how can you expect to be successful? Very early on I committed to having dog-friendly offices - perhaps selfishly because I had a new puppy. But that's an example of one piece of our company culture that has really helped shape the mood and emotion in our office. It's just great fun to have dogs around! When days get stressful and people are feeling a little overworked, dogs help get you through the day.
AudiologyOnline: What has building Sycle taught you about business?
Ridge: That people come first, no questions asked. From customers to partners to employees - it's all about people and relationships. That's why Sycle has been so successful. We value each other and those we work with - both within Sycle and the industry.
AudiologyOnline: What do you do to ensure Sycle continues to innovate?
Ridge: I listen to our customers. I attend industry events. I read a lot. I look at other businesses in other industries and commit business arbitrage - taking a innovative idea from one business and applying it to ours. Like our Patient Financing pre-screen feature - that was inspired by retail checkout processes. All of these things inspire me to think about where we can go next as a company.
AudiologyOnline: What's the first thing you do in the morning?
Ridge: Make my son's breakfast and check email.
AudiologyOnline: What is the best part about your job?
Ridge: I love to travel, especially with my team. When we get to visit fun places for work - like Nashville or Maui or London - that's just the best. We work so hard when we're on the road and we always try to take in local events, like the Grand Ole Opry, surfing / whale watching and the theatre respectively. We like to add a day to longer trips to take in local sights.
AudiologyOnline: What's next for Sycle?
That's a very fun question to think about. New verticals? New products? We've got so much going on right now it's hard to pick just one. Our developers are building some incredible new tools that will have a huge impact on the industry in the coming years.
For more information, visit Sycle.net