In today's era of economic uncertainty, there are an abundance of challenges facing many hearing aid dispensing practices. Regardless of your particular business model, these challenges are likely to include keeping pace with new hearing aid technology, hiring the right staff and maintaining a profitable business. Among the major obstacles many practices face on a daily basis is the finite number of prospects willing to consider your product and service offerings.

For various reasons the industry has been plagued with an inability to convert qualified leads into loyal patients. First, there is the relatively small number of people interested in hearing aids. Consider that about 10% of adults have enough hearing loss to warrant the use of amplification. Also, consider that many of these hearing impaired adults with acquired hearing loss already own hearing aids, especially those with moderate to severe hearing loss. Among the non-owners of amplification some will be in denial for the proverbial 7 to 10 years, while others in this group refuse to try hearing aids because of stigma or because they simple cannot afford them. In short, a practice often attracts less than 100 motivated hearing impaired individuals over a 120 to 150 day window of time. Second, once a motivated hearing impaired prospect inquires about your product and services many practices are faced with a litany of potential landmines that can diminish the overall productivity of their business, not to mention the final outcome of the fitting. Among these landmines are:


An inability to schedule appointments for prospects inquiring about services

An inability to convert qualified prospects into hearing aid users (Taylor, 2009)

A combined hearing aid in-the-drawer, return for credit and low daily use rate of 30% (Kochkin 2009)

Lower than expected hearing aid benefit from patients who experience a minimalist clinical protocol (Kochkin et al., 2010) as shown in Figure 1
Figure 1.
Data adapted from Kochkin et al. (2010) showing overall consumer success (mean = 5, SD = 2) by level of composite best practices ranking scored in percentiles. As the number of best practices employed increases, so do the chances of satisfying the customer. Figure from Taylor & Rogin, 2011, reprinted with permission of
Hearing Review
.
Over the past five to ten years two gradual societal transformations, one involving technology and the other relating to consumer behavior, have occurred. These slow moving societal transformations have occurred largely beyond the purview of the audiology community. It is only recently that have both begun to have a growing presence within our own industry.
The first transformation is related to the increasing availability of over-the-counter personal sound amplification products (PSAPs). Although PSAPs have been available for quite some time, it is relatively recently that they have become available through third party insurance providers and big box electronic outlets.
The Age of Disruptive Innovation
PSAPs represent a growing trend in disruptive innovation that has challenged virtually every industry at one time or another since the Industrial Revolution. Recently, however, the combination of low cost electronics combined with the Internet has enabled disruptive innovations to challenge many elective medical procedure markets, including hearing aids.
According to Christensen (2003) there are two types of disruptive innovations. Low-end disruptions target customers who do not need or desire to have the full performance valued by customers already using the product or technology. Low-end disruption commonly overtakes a traditional product or technology when the rate at which product improvement exceeds the rate at which customers can adopt to new performance features. Low cost cameras and laptop computers with limited features are two prime examples of low-end disruptive technology.
The second type of disruptive innovation is new market disruption. This occurs when the needs of a specific group of customers go under served for a prolonged period of time. Thus, a new and often less experience technology can capture untapped sectors of the market. One example of a new market disruption is he Sony pocket radio, which introduced a large group of teenagers who could not afford or lacked the space for a table top radio to the pleasures of rock and roll in the late 1950s.
Over-the-counter PSAPs represent both low-end and new market disruptions. Given the relative low market penetration rates of hearing aid adaptation, 30% "failure rate" and cost barriers associated with hearing aid use for some individuals, audiologists need to understand and potentially find ways to unleash the power of disruptive technology in their practices to grow their business without cannibalizing their existing core patient base.
Audiologists may begin the process of embracing disruptive innovations through a better understanding of market segmentation. Traditionally, market segmentation involves compartmentalizing patients based on age, degree of hearing loss or income. Once segmented along age, hearing loss or income, audiologists can devise marketing strategies to reach various segments of the market. To leverage the concept of disruptive innovation, however, audiologists must segment their patients in a different way. By asking the question, "What jobs do hearing impaired patients hire me to do?" audiologists can begin to better understand the role disruptive innovations might have in their practice. The answer to this important question - what jobs do hearing impaired patients hire me to do - often leads to one of two possible unexpected answers:
Provide a no-frills product without service support

Provide expert advice, outstanding service and emotional engagement wrapped around a product; in other words, enter into a relationship
Both of these unexpected answers may lead audiologists to offer products, services and experiences to an underserved segment of their market. In the case of a no-frills product, it may lead audiologists to offer an over-the-counter device as a sort of starter hearing aid. A relationship may lead audiologists to try and improve the overall quality of the experience provided to patients during their journey through the clinic.
The Challenge of Limited Capacity: The One Question You Must Ask Yourself
Time is the most precious resource for all of us. With a finite number of working hours in a day, audiologists must prioritize how they allocate their time. Although it would be advantageous to attract all segments of the hearing aid market to your clinic, the reality is we cannot meet the needs of all segments of the market, especially new markets that disruptive innovations may open.
You can build your business around one segment of the market by asking one simple question, "What do I want to be known for in my marketplace?" The answer to this question will enable you to build a business around one tangible characteristic of a product or service that appeals to consumers. Being known as the leader in one of these segments often gives you the distinct privilege of commanding a higher average selling price or garnering more free word-of-mouth advertising. Here are the four possible answers to this question:
Price - Like Wal-Mart you are known for charging the lowest prices. The segment of the market looking for no-frills and low quality will seek you. Before embracing this model, remember low prices can be easily matched.


Convenience - Like McDonalds you are known for easy access and predictability. Like low price leaders, convenience leaders offer no-frills and this can be easily matched by tools like the Internet.


Technology - Like Apple you are known for offering innovative and cool gadgets. The downside to adapting this model in the hearing aid business is that everyone is offering essentially the same products. Additionally, consumers expect that technology will continue to evolve and improve.


The Experience - The rules of the "progression of economic value" shown in Figure 2 (Pine & Gilmore, 2011) suggest that when you move beyond price, convenience, and technology to provide a memorable and emotionally engaging experience you can attract consumers to your practice that are willing to pay a premium for the opportunity to be transformed. From a consumer segmentation point of view the audiologist's ability to provide this memorable and remarkable experience has tremendous potential to drive the overall productivity of any audiology practice willing to put the business model into place. Next, let's build a case for why practices must embrace the experience-based business model.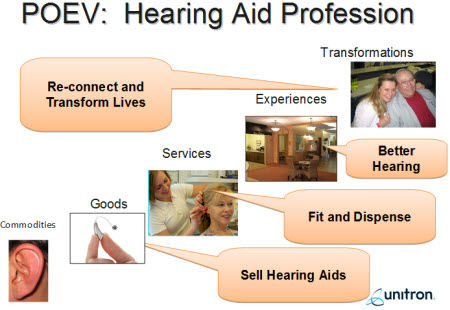 Figure 2.
The Progression of Economic Value (POEV).
The New Consumer in the Age of Uncertainty
Over the past five years or so the American economy has undergone upheaval on a seismic scale, unlike any time since the Great Depression. There is evidence suggesting that the current economic uncertainty is the new normal and that it has begun to systematically change the buying habits and priorities of many consumers (Benett & O'Reilly, 2010). These authors present evidence gathered from more than 7000 individuals that consumer buying habits are undergoing a shift away from gratuitous consumption to more mindful spending. This paradigm shift in consumer behavior, which is probably just beginning to be felt in the hearing aid market, can be broken down into the following four distinct ways that the "new consumer" is approaching the market.
Embracing Substance. A growing number of consumers are disenchanted with the buying transaction. They are looking for a reason to connect with a product or service. The "new consumer" is craving real, authentic experiences and they are willing to hang on to their cash until they feel a sense of engagement with a product, service or business.


Rightsizing. Many consumers feel paralyzed with the sheer number of choices for any given product. They are seeking a move toward simplification in which a trusted family member, friend or other influencer is able to help them make an intelligent decision.


Growing Up. Nearly everyone has been personally touched by unemployment from the recent economic malaise or family upheaval resulting from a decade of low intensity war in the Middle East. The result is a movement beyond immediate gratification and a trend toward establishing a sense of community with others, including businesses.


Seeking Pleasure with a Purpose. Impulse shopping is losing its sense of appeal with the "new consumer." People are still willing to spend money, but the trend is toward a more conscientious form of consumption in which shoppers do their homework, seek to connect and establish a long term relationship with businesses that have the same set of values they possess.
The Audiologist's Role in the Emerging Experience-based Economy
Most audiologists would agree that the way patients interact with your practice has undergone as remarkable transition over the past 3 to 5 years. Gone are the days when you could post an occasional promotional offer in your local newspaper and generate immediate sales.
The key to overcoming the uncertainty of disruptive technology and alternative distribution models is through differentiation of your practice. One way to stand out is to make the patient's interaction with your practice so memorable and enjoyable that individuals flock to your door seeking a transformative, life-changing event delivered by you. By enhancing the patient's interaction with your practice at these six critical areas of interaction (see Figure 3) you can begin to unlock the secrets of a truly transformative experience for your patient, while commanding a higher average selling price.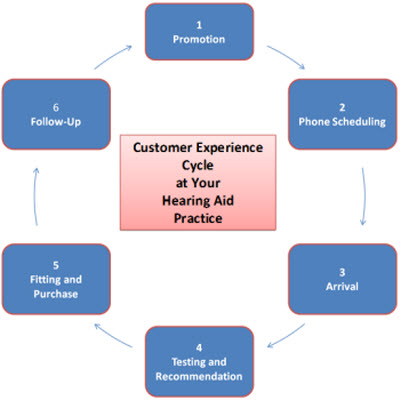 Figure 3.
The six patient-provider interaction stations based on the insights of Shareef Mahdavi of the Premium Experience Network.
By embracing the experience-driven economy model, audiologists have the unique opportunity to differentiate their practice in the face of disruptive innovations, and effectively address the changing buying needs of consumer in these uncertain economic times. The remainder of this article will introduce the reader to specific tactics used for promoting a practice as well as managing the patient's arrival to the practice in the experience-based economy model.
Promotion
Let's consider the waning effectiveness of traditional marketing tactics, such as newspaper ads and direct mail. Once a staple of many practices, we can no longer rely on a consistent pull of new prospects from these traditional marketing mediums. Given these demographic and socioeconomic constraints, hearing aid dispensing practices and audiology clinics must redefine their marketing plans.
As 2012 begins there are five distinct marketing tactics that every practice needs to execute on a monthly basis. We fondly refer to these five tactics as the CORUS of essential marketing services. Although the core fundamentals of an effective marketing plan are unchanged (e.g. presence in the 5 pathways, tracking ROI, a specific allocation of resources devoted to marketing, etc.), modernization of your marketing efforts requires a CORUS of new and emerging services. Here is a summary of these CORUS services.
C -
Captivating website. It's no longer enough to simply have a website. Your practice's website must have patient testimonials videos, downloaded educational content and other interactive material that captivates the attention of your prospects and current patients.
O -
Online reputation manager An online reputation manager is a tab or link on an existing website that archives patient testimonials about your practice. The purpose of the online reputation manager is to post these testimonials prominently so that prospects read them. You can think on a of online reputation manager as an electronic version of the pencil and paper patient comment card. The course,
Testimonials Demystified - How to Harness the Power of Positive Reviews
, provides some guidance of how to get started with your own on-line reputation manager.
R -
Relationship and medical marketing programs. Building essential referral networks with physicians and other influencers is no longer a luxury. Physician marketing programs have been available for decades but many of them fail because the audiologist doesn't methodically execute the program over a long period of time. Today, building relationships for physicians and other influencers requires that audiologists have a good understanding of co-morbidity and disease state marketing. These two courses will provide some insights into how disease state marketing works in an audiology practice:
The Diabetes and Hearing Loss Link
and the
Smoking and Hearing Loss Link
.
U -
Upstanding member of your community through public relations. Like relationship marketing efforts, public relations require the audiologist to have a presence in the community. Taking a few hours each month to conduct community outreach centered on the installation and use of loop systems, hearing screenings for nursing homes or other types of service related to hearing loss is a great way to brand your practice as a pillar of your community.
S -
Social media. Data suggests that more and more people over the age of 70 are using Facebook and other forms of social media to stay in touch with family and friends. Every week we hear reports from clinics that are capturing more business due to their presence on Facebook. Social media is an electronic billboard that allows you to reach an expansive number of current patients and prospects. The key to successful use of social media is your ability to seed your Facebook and Twitter feeds with fresh and informative content. There are a growing number of organizations that do that for you. To help you get started with social media in your practice, refer to the recent course
Demystifying Social Media
.
Although it doesn't quite fit under the CORUS of modern marketing services, mining your existing database never goes out of style. To learn more about how you can get more mileage out of your existing database, view the course,
Where Do Your 'Tested Not Sold' Go? Avoiding the Black Hole.
Arrival
We are all familiar with the adage that you never get a second chance to make a good first impression. That certainly holds true for the patient's arrival in your waiting area. Using the five senses, audiologists are encouraged to turn the waiting room into an event, rather than drudgery (Mahdavi, 2011). An inviting reception area and a friendly greeting by office staff are the pillars of the arrival interaction station.
An emerging technology that warrants further attention for any audiologist interested in modernizing the reception area is Direct out of Home Marketing. Direct out of Home Marketing (or DOOH) is the use of signage (e.g. billboards) displayed in areas where people tend to congregate to promote a product or service. With the advent of high speed Internet connections, DOOH has become a very popular educational and advertising delivery vehicle for public and private venues such as retail stores, doctors' offices and corporate buildings. Recent surveys indicate that DOOH is a useful tool for driving office traffic and consumer buying decisions. In addition to contributing to a modern looking clinic, there may be some business reasons surrounding the use of DOOH. Cotterill (2011) conducted a digital signage study comparing DOOH to more traditional forms of out of home marketing. Results of this survey showed that digital signage displays have a 47.7% effectiveness on brand awareness, increased the average purchase amount by 29.5%, created a 31.8% upswing in overall sales volumes and generated a 32.8% growth in repeat buyers.
According to Dodson (2011) the core to DOOH marketing is the use of digital signage, which is displayed in the reception area on a flat screen television. The content of the digital signage displayed on the flat screen television is usually controlled using basic personal computers, by way of proprietary software programs. This keeps the costs of DOOH manageable by avoiding any large capital outlays for the controller equipment. Most systems automatically update themselves using a high speed Internet connection, which reduces clinic staff involvement and keeps fresh content in front of your patients. The audiologist or clinic manager simply has to inform the DOOH service of changes and updates in content that is displayed on the flat screen TV. Figure 4 is an example of a DOOH flat screen television.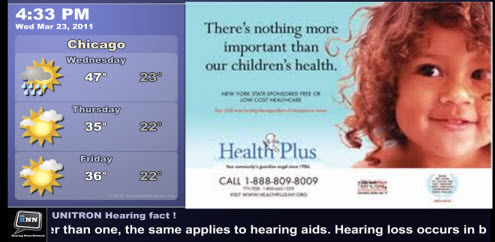 Figure 4.
There are three sections to the DOOH screen. The main theatre, the bottom news/sports ticker and the left margin information window.
The Banality of Effective Management
Even though a comprehensive practice modernization program is needed to overcome the demands of the ever-changing market, effective implementation requires old-fashioned management vigilance. There are seven actions all effective managers must engage in with their staff in order to implement a clinic modernization program. When you get right down to it, however, the action required to move a business ahead needs to come from the manager. The essence of effective management is summarized in the diagram Figure 5. These are the seven actions needed to move any new initiative ahead in an organization. The key words are focus and action. Without taking some type of action your business is doomed to fail. And without the proper focus, your actions will be wasted. There are really no special or unique talents required to run a good business or to be a good manager; following the steps on the wheel will help you focus and take action and lead to great results.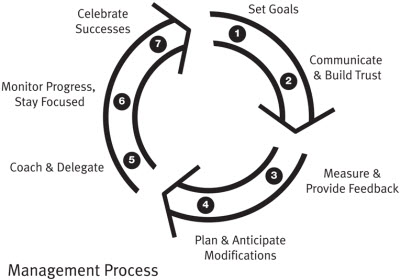 Figure 5.
The 7-point management wheel based on the work of Kraig Kramers of CEO Tools, Inc.
Part 2 of this series will examine phone scheduling, testing and the recommendation phases of the patient experience.
References
Bennett, A. & O'Reilly, A. (2010).
Consumed: Rethinking business in the era of mindful spending
. New York, NY: Palgrave MacMillan.
Christensen, C. (2003).
The innovators dilemma
. New York, NY: Harper's Business.
Cotterill, A. (2010, January 29). In-store TV works: so say we all! Daily DOOH.com blog. Retrieved from
www.dailydooh.com/archives/21585
Dodson, B. (2011). Just DOOH it: How a digital reception area can enhance your practice.
Audiology Practices, 3
(2), 8-13.
Kramers, Kraig. (2011). Business tools for more profits right now. Retrieved January 20, 2012 from
www.ceotools.com/highlights.php
Mahdavi, S. (2011). We hate to wait.
Audiology Practices, 3
(4), 16-18.
Pine, J. & Gilmore, J. (2011).
The experience economy
. Cambridge, MA: HBS Press.
Kochkin, S. (2009). MarkeTrak VIII: 25-Year trends in the hearing health market.
The Hearing Review, 16
(11), 12 - 31,
Kochkin, S., Beck, D.L., Christensen, L.A., Compton-Conley, C., Kricos, P.B., Fligor, B.J., et al. (2010). MarkeTrak VIII: The Impact of the hearing healthcare professional on hearing aid user success.
The Hearing Review. 17
(4), 12-34.
Taylor, B. (2009). Survey of current business practices reveals opportunities for improvement.
The Hearing Journal, 62
(9), 25-31.
Taylor, B. & Rogin, C. (2011). The top 10 ways to create consumer delight with hearing aids.
Hearing Review, 18
(7), 10 - 23.
Acknowledgements
The author would like to acknowledge Shareef Mahdavi of the Premium Experience Network and Robert Oswald of the Hearing News Network for their contributions to concepts presented in this article.