Learning Outcomes
After this course learners will be able to:
Identify 3 Compass GPS features available in WIDEX REMOTE CARE.
List 3 requirements for REMOTE CARE use.
List 3 benefits of WIDEX REMOTE CARE.
Describe the additional apps Widex offers for patients to optimize their listening in real-world environments.
Introduction
Welcome everyone and thank you for joining for today's course. This presentation will be an introduction to WIDEX's new telehealth feature, WIDEX REMOTE CARE. During our time together today, we are going to demonstrate how you can elevate your business using REMOTE CARE, the requirements and candidacy for REMOTE CARE, as well as setup instructions for your REMOTE CARE sessions. To conclude, we will examine different business models for integrating REMOTE CARE into your practice.
Before we discuss the benefits of WIDEX REMOTE CARE, let's first consider why our clients seek our help in the first place. The bottom line is that they want to regain their hearing in order to make their lives easier and better. What is the most important hearing aid feature for both hearing care providers and end-users? Based on surveys conducted by WIDEX and further supported by surveys on user sites like Hearing Tracker, the number one features are those that will help the client hear speech better in noisy settings. Sound quality, better hearing in noise, and being able to fine-tune their own devices for individual hearing preferences are priorities for our clients. Starting with WIDEX EVOKE (which does have proven speech in noise performance) and empowering the client with the use of SoundSense Learn (the real-time machine learning feature in the EVOKE app) are great first steps to meeting these needs and priorities.
SoundSense Learn assists the client in tuning their listening experience to their own preference in that moment, right when they need it. It does this by offering simple sound comparisons (the A to B comparison) and learning from the choices made. Within a few seconds, the client is improving their own listening experience.
As a reminder, the EVOKE FUSION 2 (which is Bluetooth enabled) in the 440, 330 and 220 technology level works with the EVOKE app, which features SoundSense Learn. For clients using an EVOKE style that is not Bluetooth enabled (i.e., the PASSION 10 RIC, a standard FUSION RIC, one of the FASHION BTEs or CUSTOM ITE aids), WIDEX provides the easy to use TONELINK app which gives control of volume, program selection, directional focus and mute. SoundSense Learn is specific to the EVOKE app and EVOKE FUSION 2.
Studies
With these needs in mind, a recent study was designed to evaluate user satisfaction with EVOKE. This was an international study covering nine countries and 118 participants. Participants switched back and forth between their own hearing aids and WIDEX EVOKE and then answered parallel questions about their hearing satisfaction. The study reveals real-life benefits with WIDEX EVOKE, as 94% preferred EVOKE over their own hearing aids for conversations in noise, conversations in large groups and in restaurants. In fact, there was a median advantage for EVOKE over their own hearing aids by at least two points on a seven-point satisfaction scale.
In addition, studies of clients' use of SoundSense Learn as a means of further fine-tuning their hearing aids to their own listening preference also revealed significant improvements in their satisfaction and listening situations by 74%. Furthermore, 82% of SoundSense Learn users stated that they would recommend the use of SoundSense Learn to their friends. Not only do these findings indicate that the use of SoundSense Learn promotes happier patients, but it also means that those happy patients are potentially going to refer their friends and family to your clinic.
Why WIDEX REMOTE CARE?
Today's technology consumers (including hearing technology consumers) demand ease of access and convenience. Consumer expectations are high, not only for the product and its performance but also for a convenient way to get what they need. That's where WIDEX REMOTE CARE comes in to play.
Let's discuss why REMOTE CARE services deserve your consideration. Recent headlines reveal the expanding scope and elevated priority of telehealth. From the website HealthDataManagement.com, there were two particularly pertinent articles. The first article, published in April 2019 by the Center for Medicare and Medicaid Services discussed CMS setting a rule to expand telehealth services to Medicare Advantage. The article also stated that CMS is broadening the spectrum of telehealth services with reimbursement.
Another article from HealthDataManagement.com was published in March of 2019. It was titled "VA Requests 1.1 Billion for Telehealth Services in Fiscal Year 2020". This was an increase of 10.5% over 2019. The VA already has the largest telemedicine program nationally. In fact, the VA's goal is to increase the number of veterans receiving at least some care through telehealth services from 13% to 20% in 2020.
In addition to HealthDataManagement.com, other resources for trends in telehealth and telemedicine include CMS.gov and the Center for Connected Health Policy (which is found at CCHPCA.org). This latter organization listed three noteworthy goals for telehealth practice. These goals include:
Compliance to standards of practice
Confidence in the quality of care
Efficiency in service delivery
This industry-wide engagement in telehealth is timely, considering the fact that 75 million Baby Boomers will be entering the Medicare arena between now and 2027. Matures and Baby Boomers rated time-saving elements as one of their top priorities when it comes to hearing services. Their Gen X and Millennial sons and daughters (the adult children who are now assisting parents and grandparents with decision-making processes) also prefer quick and efficient transactions, as their own time is of high value to them. Consumers who come to us for help with their hearing will probably assume that, as with other health care services, we should be able to make use of telehealth options in supporting their hearing treatment and care.
The desired result for introducing any new value-added service within your practice is to grow your business, to attract new clients, retain the clients you have, and to reduce the number of returns. Incorporating REMOTE CARE will serve to help you do just that. It will increase the loyalty for "snowbird" patients and other active patients who travel frequently, as well as for those with transportation or mobility issues, and the patient who is simply a busy professional. Being able to offer REMOTE CARE will help to attract new business, as you'll be able to advertise new convenient service options to your patients and prospective patients. You'll be able to offer service package upgrades, up selling the added value service plan and options to do so for your patients. With REMOTE CARE, you will see sales increase and returns decrease by offering convenient and effective follow-up options, even helping to fix their specific hearing issues in their own real-life environments. All of this will help you to save time and costs, optimizing your own professional resources and time.
REMOTE CARE Advantage
What does WIDEX REMOTE CARE uniquely offer as an advantage to you and your clients? It is flexible and efficient, offering new and easier ways of getting closer to improved real-life hearing, and is designed to enhance your fine-tuning and follow-up visits. It's a tool for clinicians to offer high-end high-quality services to their clients via a virtual home visit. You will be able to solve issues during the fine-tuning period in a quicker and more accessible way. The new system will benefit end-users that live busy lives or have difficulties getting to the clinic due to work or medical reasons. WIDEX REMOTE CARE will also help to serve those patients concerned with traffic or parking issues, or patients who live in rural areas. WIDEX REMOTE CARE offers convenience for everyone and is an efficient and modern way to maintain your business and patient loyalty.
WIDEX REMOTE CARE also offers unlimited compatibility with Compass GPS. Except for the CIC Micro (which is not wireless), WIDEX REMOTE CARE embraces all styles and features of wireless hearing aids in Compass GPS. WIDEX REMOTE CARE includes all product families. Even for those patients that you're currently fitting or have fit in the recent past, EVOKE, BEYOND, UNIQUE, and DREAM are compatible with this REMOTE CARE option. Compass GPS also allows access to all of the GPS features while programming the hearing aids and does so in real-time. In other words, there is no lost fine-tuning if the connection is interrupted or if you forget to hit the Save button. Just like in your office, you'll be able to run features like quality assurance with ServiceTracker, which lets you assess microphone and receiver function before you do your fine-tuning. You also have full software capabilities, including the feedback test, sensogram and more. A virtual visit through WIDEX REMOTE CARE includes everything that a patient would normally receive during an in-person, onsite visit in your clinic. Your face to face counseling is still possible while allowing the client to be in their own environment.
WIDEX REMOTE CARE is enabled through the REMOTE LINK and the REMOTE LINK app, which is downloaded on the client's smartphone or tablet. The REMOTE LINK is registered to the client's personal NOAH file while they are in your office for their initial fitting. This keeps the client connected to you specifically for their follow up care and gives you full access to fine-tuning through Compass GPS. It does so also in real-time to their hearing aids. We'll discuss some options for loaning the REMOTE LINK or incorporating it into the hearing aid product accessory service package in just a few minutes.
The REMOTE LINK can be registered to up to five individual NOAH files. This would allow the use of one REMOTE LINK per household for families who have multiple hearing aid users. It would also benefit facility-based users, as you may have several patients at a specific retirement center or assisted care facility, for example. REMOTE LINK keeps you connected to your patient, as only you can connect their hearing aids with a REMOTE LINK to start the process. Maintaining a connection through a true virtual appointment with video offers a great way to stay connected without having to come to the office. The REMOTE LINK is also a way for you to continue to be the patient's number one point of contact, regardless of where they are.
REMOTE CARE is a comprehensive tool with full fitting capabilities plus video, which allows for that true virtual visit. Fine-tuning can be done in the patient's own sound environment, allowing the clinician greater insight into the actual acoustics occurring in that environment and possibly eliminating some assumptions about the client's personal listening issues. REMOTE CARE will provide a greater impact on programming changes and video counseling, resulting in the reduced need for multiple office visits. The assessments and recommendations made through WIDEX REMOTE CARE are as efficient and as accurate as your face-to-face office visit and allow you to follow the goals of the telehealth experience: ensuring compliance to standards of practice, confidence in the quality of care provided and efficiency in that service delivery.
REMOTE CARE Overview & Requirements
Next, let's review the details of how WIDEX REMOTE CARE works, what's required to implement REMOTE CARE, and the steps to the actual REMOTE visit. WIDEX REMOTE CARE consists of:
The REMOTE LINK device
The REMOTE CARE app (downloaded on the client's smartphone or tablet)
Compass GPS 3.3 with REMOTE CARE
GPS communicates with the smartphone or tablet connecting via the app, much like FaceTime or WhatsApp features connect. The REMOTE CARE app sends the changes via Bluetooth connection to the REMOTE LINK and then following the REMOTE LINK via WIDEX connection to the client's hearing aids. It is important to have good WiFi connectivity (3G to 4G) in the patient's location, for strength and continuity of the connection.
After the initial hearing aid fitting is done in your office, the intended use of REMOTE CARE is as a follow up fine-tuning tool to offer end-users multiple ways of continuously staying in contact with you during the trial period, or even as a long term follow up process. Again, it is ideal for people living far away, those that want to avoid transportation issues, people with mobility issues, as well as for working people who want to avoid having to take time off. WIDEX REMOTE CARE raises the standard in hearing telecare by providing a service that connects all hearing aid models to all GPS features.
Figure 1. REMOTE LINK
Recommended Patients
Let's consider the types of patients that would be appropriate for REMOTE CARE based on their hearing and other factors. For patients fit with the S or M-receiver, they're in a fitting range that should easily be able to communicate through REMOTE CARE. I would also consider those fit with P and HP-receivers if they could successfully carry on a telephone conversation listening through their hearing aids through the audio speaker portion of their phone. It's helpful if they're able to use a smartphone and can manage the REMOTE LINK app (which is simple and straightforward). Or, maybe they have a family member or a caregiver that would be able to assist with those remote visits. As I mentioned before, there needs to be sufficient internet bandwidth in the end user's location. It is also helpful if they're already familiar with using applications such as Skype or FaceTime for video conferencing.
REMOTE CARE Requirements
In your clinic, you will be required to have Compass GPS 3.3, available on my WIDEX PRO or through your updater. You will need a charged REMOTE LINK. Just as with any accessory, it's good practice to charge the REMOTE LINK ahead of the fitting visit so that you can go ahead and do the registration and get the client set up for their first remote visit. The REMOTE LINK will be paired to the client's file in GPS, whether that's through NOAH or through standalone. The REMOTE LINK app will be downloaded on the client's phone or tablet and the REMOTE LINK device will be paired to their phone via the app. The clinician will need access to a webcam and microphone. WIDEX can help with recommendations for good quality systems if you need to install one. Installing REMOTE CARE may require admin rights. In that case, as you're installing, you'll right-click on that file to select "Install as Administrator".
Steps to Prepare for the First REMOTE CARE Meeting
There are a few preparatory steps needed to get ready for the first WIDEX REMOTE CARE meeting:
Step 1: Set up the client in the NOAH database or Compass GPS standalone.
Step 2: Perform the first initial fit, with a traditional in-clinic visit.
Step 3: When the fitting is done, or if the system is being set up at a later stage, register the REMOTE LINK by connecting it to the computer with the USB-cable that follows in the package. Remember, the hearing aids do not need to be connected to GPS at this point.
Step 4: Help the client to download and install the WIDEX REMOTE CARE app and pair it to the REMOTE LINK. I think it's a good idea to briefly run through a REMOTE CARE session to show the client how quick and easy the steps are. Keep in mind that if you're doing this in the same room with a programming computer and their phone, there may be a little bit of an echo if the smartphone and computer are too close to each other in that same room. You may want to turn down the audio volume for a quick in-office demo.
Step 5: Schedule a time for the REMOTE meeting. Note that there will be no alerts from the app to remind the client when it's time for the meeting. Have your PCC call to confirm the day before, just as you would for an in-office appointment. You'll be able to find resources on widex.com and mywidexpro.com to assist with reminders and instructions to the client.
For additional information and details, refer to the "REMOTE CARE Professional Guide", which is available in the handouts for this course.
Figure 1 shows a screenshot of the signup page in GPS. You will sign up the REMOTE CARE solution for that specific end-user by clicking on the button REMOTE CARE sign up (highlighted in yellow). Remember that the hearing aids do not need to be connected at this point.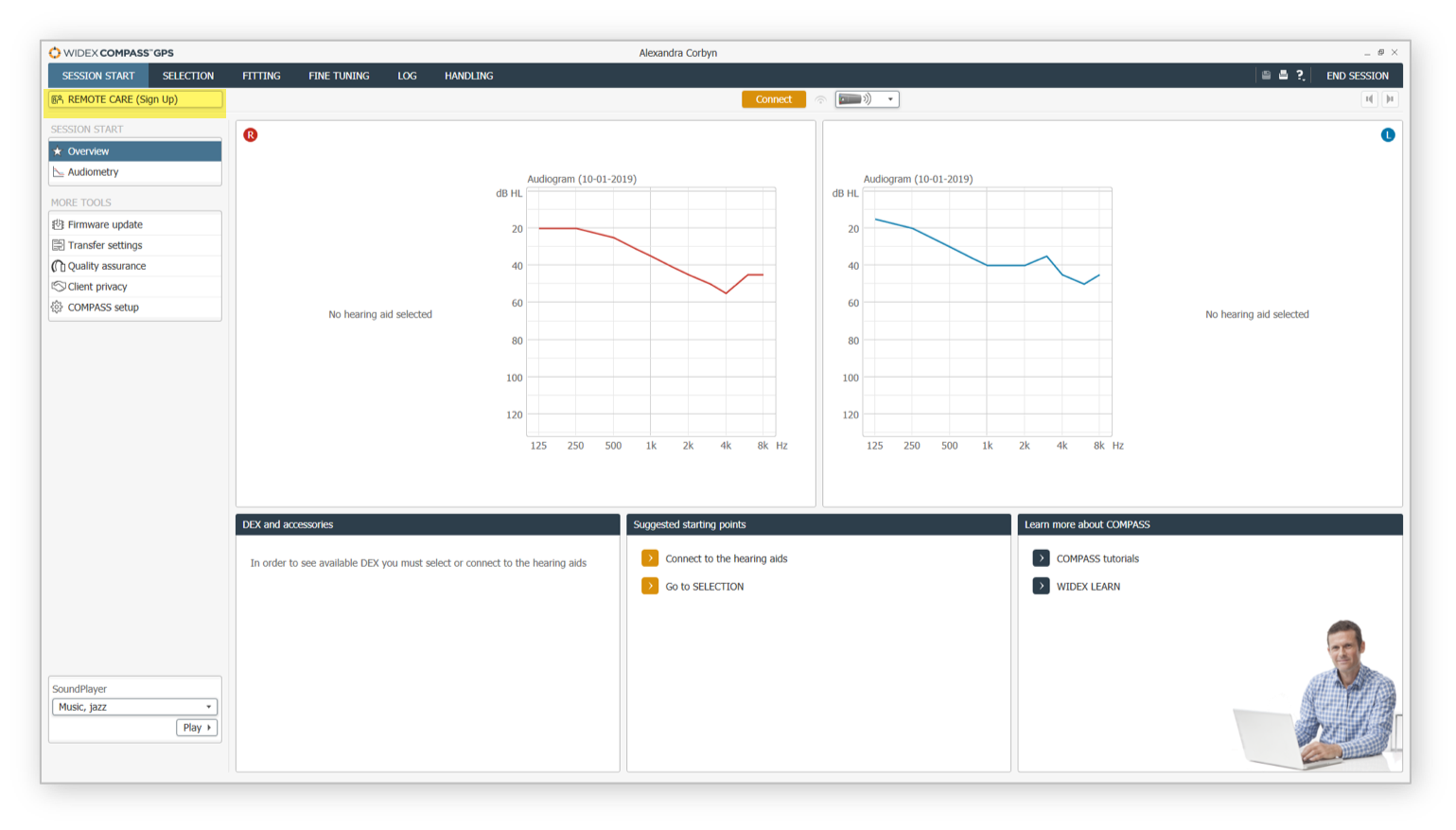 Figure 2. REMOTE CARE sign up page.
When the REMOTE CARE app is signed up, the next step will be to connect the REMOTE LINK to the computer with the cable (Figure 3). Then you'll click on Register REMOTE LINK (highlighted in yellow).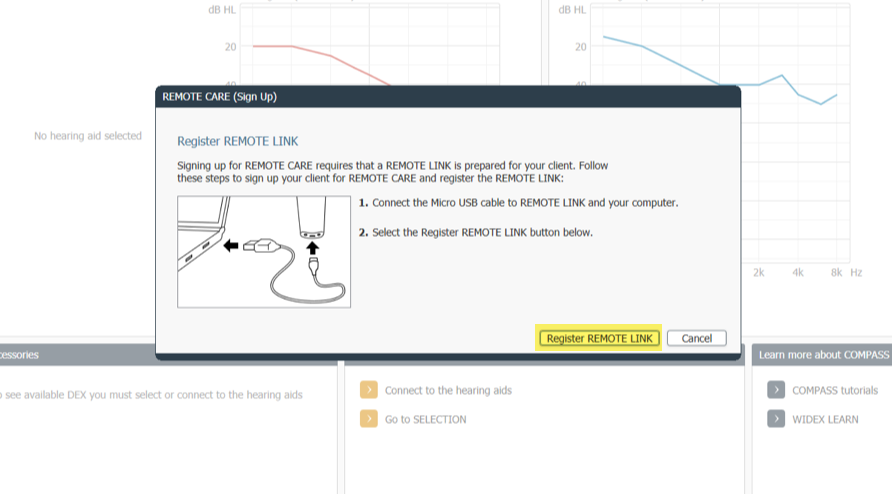 Figure 3. Register REMOTE LINK.
When you have successfully registered, you will see a popup window informing you that your sign up was successful. This screen also shows you a reminder to pair the REMOTE LINK to the patient's WiFi-connected phone or tablet.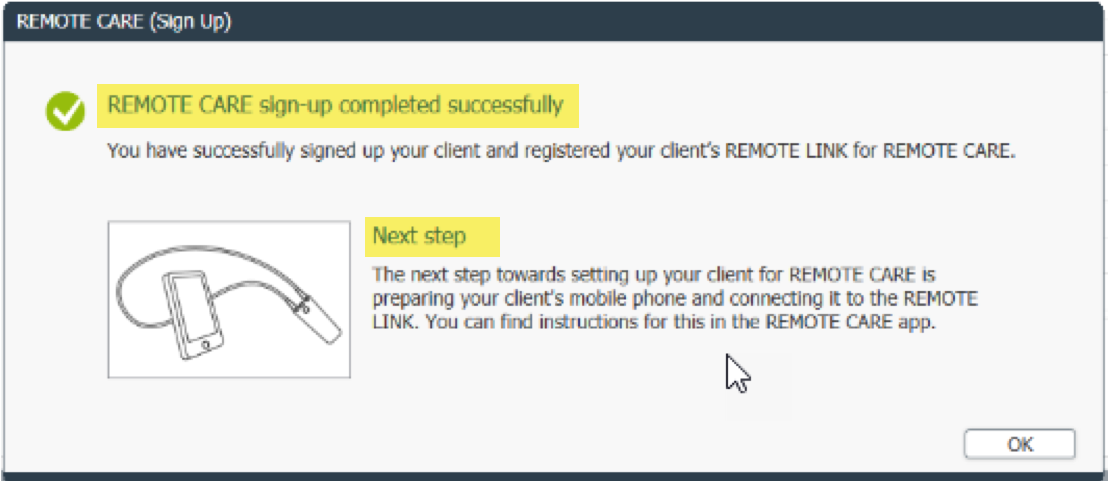 Figure 4. REMOTE CARE sign up successful.
Then you'll download the REMOTE CARE app. Once you've downloaded the app, you will see a series of screens that will help walk you through the process (Figure 5). As you get started, it will give you a guide for pairing, as well as a reminder to make sure that Bluetooth is enabled on the client's phone. It will ask to grant location access as apps using Bluetooth are required to have location access enabled while you have the app connected.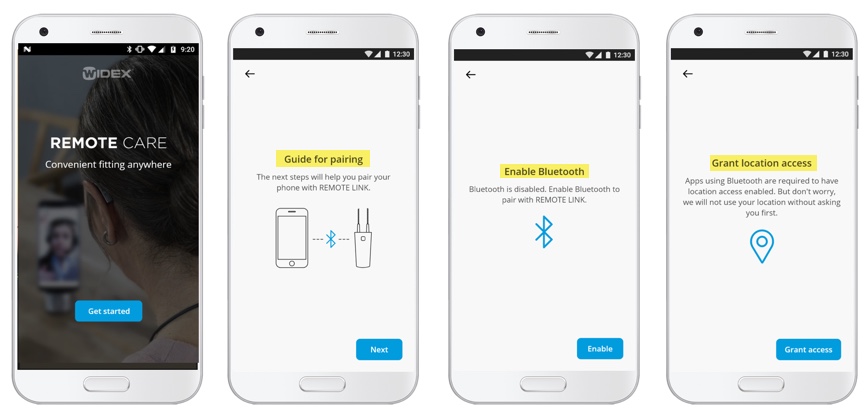 Figure 5. Screens to guide you through REMOTE CARE setup.
The next screen will show you how to put the REMOTE LINK app into pairing mode (Figure 6). From the "off" setting, you press and hold the button for five seconds and the light will begin to flash blue. Then, the phone and the REMOTE LINK will look for each other and you'll see a successful setup notification. At this point, select "OK". After all these steps are complete, when the patient opens their REMOTE LINK app, they will see a welcome page. It is on this page where they will join their REMOTE CARE appointment with you.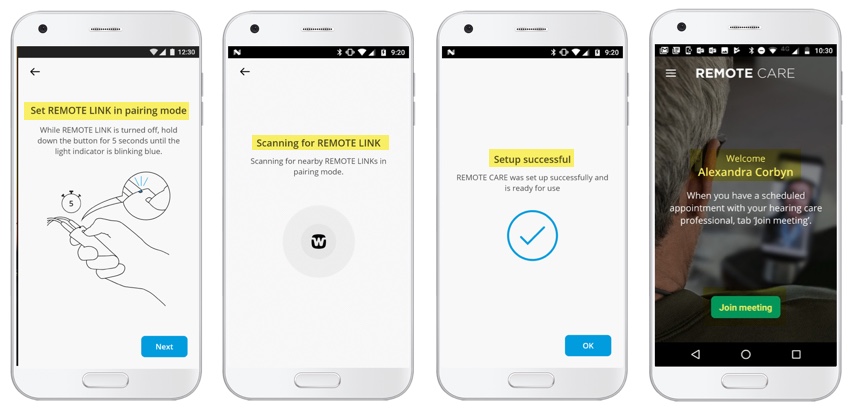 Figure 6. Additional screens for setting up REMOTE CARE.
There are a few other slightly different instructions if the client is using an Android smartphone, for example. These instructions are all detailed in the REMOTE CARE Professional Guide.
Starting the REMOTE CARE Session
When you are ready to initiate the remote visit, you'll open the patient's Compass GPS file. In the upper left-hand corner of the screen (as shown in Figure 7), you'll see the REMOTE CARE button that allows you to join the video conference. When you're ready to initiate that meeting, click on REMOTE CARE and then click on Join Meeting. When you have successfully initiated the session, you will see your picture from your own webcam on the left side of the screen, and you'll hear audio from your microphone.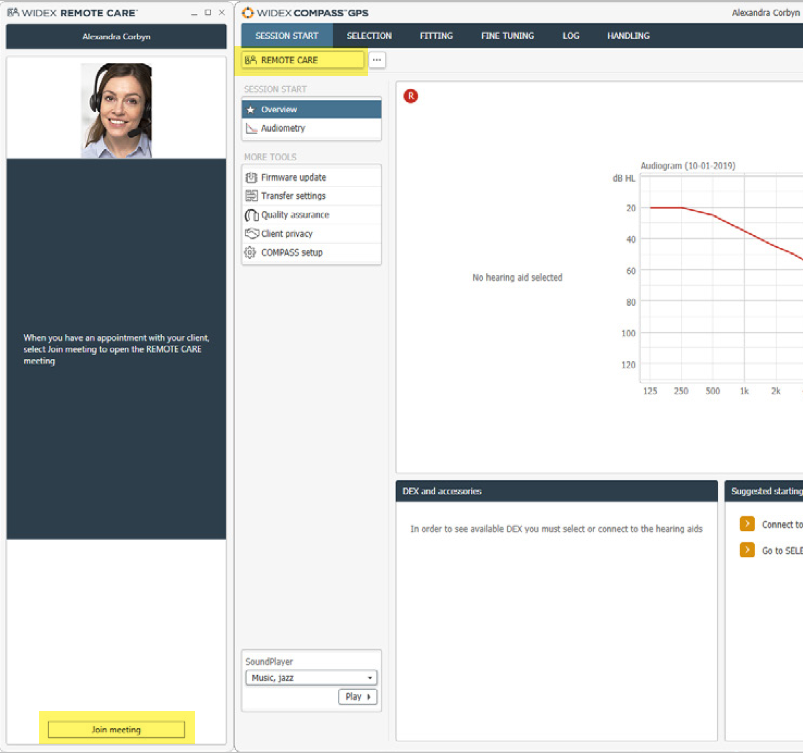 Figure 7. Initiating the REMOTE CARE meeting.
When the client's video connection starts, you will see them in the REMOTE CARE window. When you can see each other, you're ready to proceed. At that point, you're going to select Connect to connect to the hearing aids. When the screen opens, the hearing aids are found through REMOTE LINK and REMOTE CARE, and you will be able to verify right and left (Figure 8). In the lower left-hand corner, you'll see that there is a hearing aid symbol that shows that the hearing aid connection is active and ongoing. I would alert the client that as the session is connecting, the sound in their hearing aids will be muted for several seconds. This is also true when they're in the office and you're connecting to GPS software. Through this virtual connection, there is just a slightly longer disconnection period than when they're in the office with GPS. Then, once everything is on an active again, you'll be able to proceed as usual with your fine-tuning and GPS.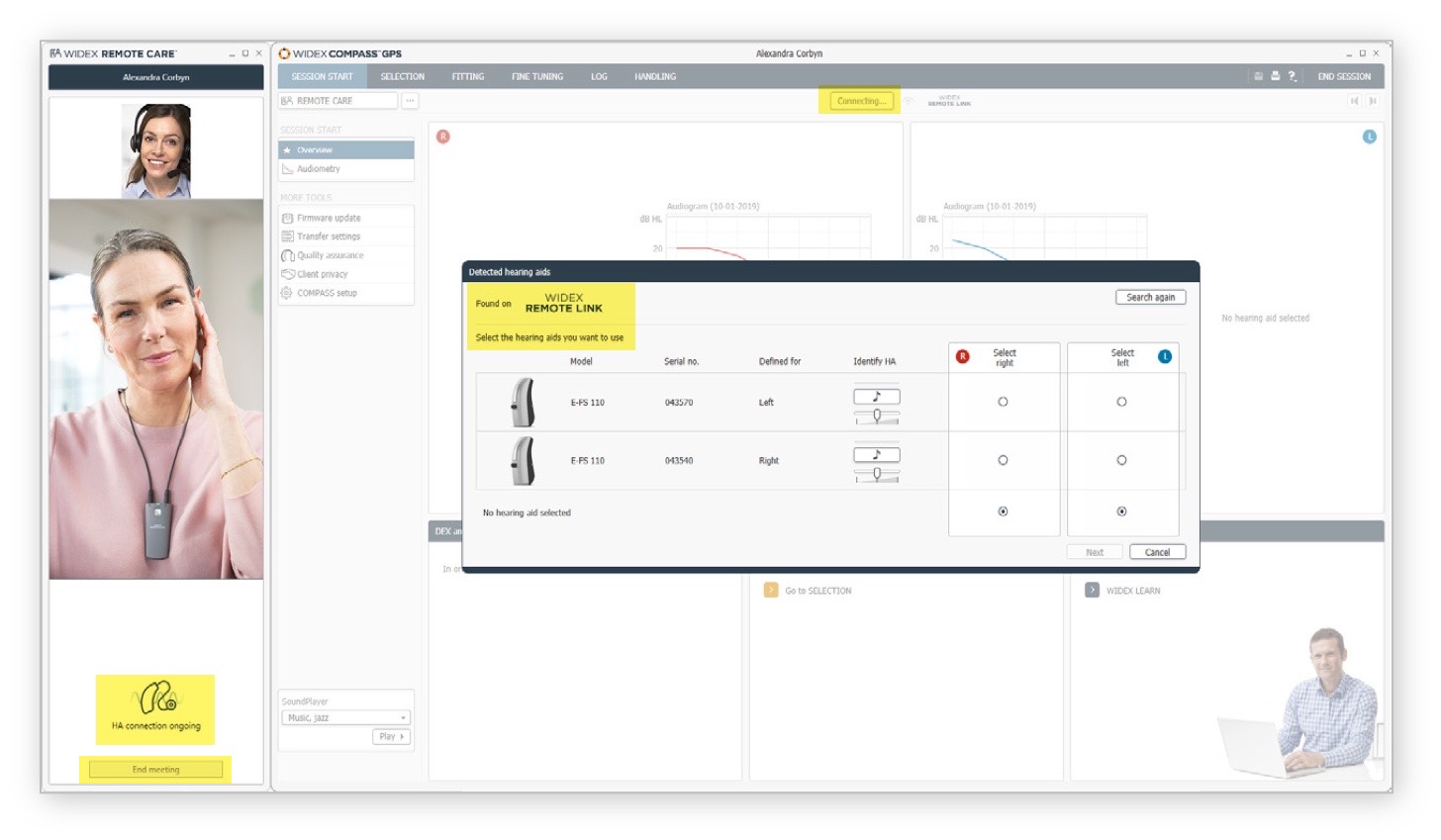 Figure 8. Active client video connection.
On the bottom left of Figure 8, this is where you will seen the option to end the meeting when that time comes. When you do finish the fine-tuning, just as you would in the office, you'll disconnect the hearing aids by hitting End Session and you'll close GPS as usual. Everything else will close out, but the video chat window will be left open for final discussions and scheduling the next appointment. This is a great time to remind the client to use their SoundSense Learn feature in the EVOKE app because it provides them with real-time fine-tuning, at their fingertips when they need help. At the end of the session, the client will click "Leave" on their app and you'll see that their video picture will disappear and turn black. When you click "End Meeting" it will close that video chat window as well.
Compass GPS: Live Demo
As a reminder, in the Quality Assurance tab, there is the ServiceTracker which provides quality assessment of the microphone and receiver. Not only can you use ServiceTracker when the patient is in your office to assess a hearing aid for functionality, but it is also a great tool to use when you are doing REMOTE CARE. ServiceTracker is used to ensure proper hearing aid function before you get into fine-tuning. There is a helpful PDF document included in the handouts for this course titled "REMOTE CARE ServiceTracker Guide" which can guide you through the process of using ServiceTracker during a REMOTE CARE session.
When the hearing aid wearer shares specific reports about his or her hearing aids, it can sometimes be difficult to determine if these reports are related to possible maintenance issues with the hearing aid (e.g., there may be debris covering a microphone). To determine the actual cause quickly and easily, use this WIDEX patented ServiceTracker in GPS with any WIDEX hearing aid (apart from a CIC MICRO because it's not wireless).
Remember that ServiceTracker is done with the hearing aids out of the client's ears. It's done on the desktop, and there are step-by-step instructions in GPS that will walk you through. You get started by going to Session Start, Quality Assurance and ServiceTracker.
Let me go now to GPS Live. I'm going to share my screen.
Live Demo: When I conduct a follow-up visit, I always come to the Log screen first. There are several tabs that contain helpful information to guide me as to what fine-tuning changes I might need to make. It's interesting to look at the patient's average use per day and see of all the environments they've been in, and what percentage are environments with speech versus without speech. It also will give you a little window into the use of the programs that you've given them. In this case, the individual was spending almost 70-75% of their time in the Universal program. You can also see the use of their Preference Control, whether that's their onboard volume or they're using the app or maybe the RC Dex. You can see what they have been doing in that Universal program. By hovering it over, you can also see the percentage of time where they left it at the default setting. In this case, for a fair percentage of the time, the individual was turning the volume up in just the right ear. I know they're doing that through their app. When they went to a specific Comfort program, they were bumping up just that right side. Keep that in mind for a moment.
In the Environment tab, in the Universal program, you can see what percentage of the time the hearing instruments were identifying different kinds of acoustic environments (e.g., party type environments, multi-talker babble). It breaks down what percentage of the time was with speech and without speech. For this user, we can see why they rarely access the Music program, because the hearing aids aren't detecting music very much during the time of that use. You can also see the preference control use as accessed through the onboard button on RC Dex or the app. You can look at the types of situations when the patient is using that Comfort program. They're in a Quiet listening environment here. In this instance, it may be that they don't need to hear as much distance of sound when they're using that Comfort program. All this information, including the last tab here about input level, gives you information to ask further detailed questions which is important on those follow-up visits. We want to make sure we have good reasons for doing the fine-tuning that we are deciding to do.
I find the Input Level screen interesting because quite often, I have patients that will claim to have a very quiet lifestyle. However, when I look at what the hearing aids have detected as input level in this logging time period, sometimes I'll see that they are detecting some very loud environments. Then I know I need to ask some further questions, such as "Tell me about where you have been since I saw you last? What kind of environments? Were there any loud, noisy places?" You may find out that the patient is eating in a dining room every day with 150 people and it is fairly loud. They might have live music playing and lots of things going on. It is useful and interesting to have access to the actual detected input levels for those environments, as well as the time spent in those environments, particularly in the Universal program.
As I stated earlier, this patient was just turning up the right aid. That would lead me to ask the patient some questions about why that may be the case. The patient may respond and say, "Yeah, the right aid just doesn't seem as strong as the left aid. I'm always trying to balance them out a little bit more." In that case, before I do any other fine-tuning, I may want to run ServiceTracker. Let me show you where you would go to do that. You'll move over to Session Start and go to Quality Assurance. As I mentioned, it's going to walk you through the steps. Remember that when running ServiceTracker, the hearing aids are not in the client's ears. They're typically placed on the tabletop and the PRO LINK or REMOTE LINK link is just wrapped around so they're within the neck loop of that. At that point, you're going to run a test and it takes about seven to 10 seconds for a test run. The noise meters here will just let you know if it's quiet enough. I'm going to stop talking and let's run a test on the left. Good, so the left aid passed, no problems. Let's go ahead and close that. This way at this virtual appointment, I'm able to detect and demonstrate whether this is a fine-tuning issue, a software/programming issue or whether it's a functionality issue. Let me go ahead and run the right one. This time, it tells me to check the sound outlet or hook for wax and dirt. This is a FUSION 2, so it's a RIC. This would suggest to me that maybe there's a plugged wax guard or a plugged dome. In that case, I might want to walk the client through how to do that. Following that, I will re-run it. If the client cleans everything the receiver is still somewhat weak or non-responsive following the repeat test, you may need the client to drop off their hearing aids to be sent in for service. In that case, the ServiceTracker report can be printed and attached to your service order.
On this particular hearing aid, I'm going to remove the wax guard (which I knew was plugged) and let's see what happens when we run the test again. It passed, so that took care of the problem. Remember, you can use ServiceTracker with patients in your office, testing hearing instruments that might be dropped off. Certainly, you have this as an important tool for assessing the function of the hearing aid before you go in with any other fine-tuning. This ensures that you are not using programming changes to overcome what is an issue with the hearing aid function.
Now that we have both hearing instruments working, at this point I would say to the client, "Let's go ahead and put your hearing instruments back on and put the REMOTE LINK back around your neck." In the event of a disconnection during that part, you can just hit "connect" again. At that point, remember that you are seeing on your screen in GPS a live functionality of the hearing aids. Your Sound Tracker is fully functional here. If the patient is reporting some occasional feedback issues, you can run a feedback test. That is sometimes helpful because the patient doesn't always put the hearing aid in their ear in the same fashion that you would. You could even have the patient hold their phone's camera to show you the placement in the ear. It might be that you need to re-instruct them on how to get the hearing aid in You also have access to a Sensogram, as well as access to setting and/or changing your Adaptation Level.
For many of your follow up appointments, if everything else has gone well, you'll likely be talking to the patient about specific listening situations and you'll want to go into fine-tuning. Remember, in most cases, they're in that Universal program so you may want to fine tune the Universal program (rather than fine tune gain handles directly) and then you can link so that those programming adjustments will follow through to other programs that you've assigned. You'll do the majority of your fine-tuning in your Sound Classes. You do have access to Gain and Compression but remember the benefit to fine-tuning in the Sound Classes. It's easier to see if we go up to Demo View and pick Feature View.
Now that I'm in Feature view, you can see that the color of the sliders corresponds to the color of the situations, both with and without speech (dark purple and light purple). Let's say for instance that the client reported to me that in the restaurant situation, they need to hear the conversation more readily. Maybe I see that that's what they're doing within that sound class or within that program on their own Preference Control. In the "Party with Speech" sound class, I can make that conversation stand out and be a little more accessible. If I move the Party with Speech sliders, notice that the dark purple sliders across the top will move somewhat simultaneously. There will be subtle changes not only in gain but across all the other advanced features (e.g., speech enhancement, sound level contrast, noise reduction), which help the client to hear better.
By the same token, if the client is in a restaurant not in conversation with anyone (i.e., "party without speech") and they prefer to be more comfortable, you can move the light purple slider on the bottom toward "Comfort", you can see that on the sliders up above, noise reduction is increased and overall loudness is reduced. This gives you much more control and it's at the patient's fingertips. When they change their volume control, it is a Preference Control change and it's accessing the coordination of all of these advanced features.
You will probably spend most of your time in the fine-tuning section. You can add, remove or change programs in the Program Manager. You can even reorder the sequence of programs. If you need to go to a specific program, you have the fine-tuning capability here, plus you have access to feature settings within that program. You've got a lot of access and availability in this section.
I'll briefly mention the Feedback Manager screen. Once you've run your feedback test and on a follow-up visit, the patient may say "every now and again, I'm just getting that little chirp of feedback." Through some very subtle steps, you can go in and decrease the risk of feedback for one ear or the other. You do need a completed feedback test to have access to the screen. This does a nice job without just reducing gain. Instead,it's also adjusting the feedback limiting and phase cancellation's attack and release times to decrease the risk of feedback occurring from those kinds of situations.
At this point, if we are finished and had everything fine-tuned the way that we needed, that's when I'll end the session. As I click "end session", it will then ask if I want to save the session and it will go ahead close me out of GPS.
Once you have ended your session, you will still have your video chat on the screen. You can still talk with the patient and summarize things, give them homework for the next time period, and perhaps schedule their next in-office visit or remote session. This is also a good time to remind them about SoundSense Learn and other app functionality to allow them real-time control to adjust their hearing aids. When the patient has signed off, the video-sharing REMOTE CARE link will turn black so you know that they've stopped transmitting. That's where you'll select "End Meeting". In your handouts, I've made screenshots as reminders of things that you can do at those follow up visits.
Implementing Remote Care Into Your Service Model
To conclude the presentation, we will review some of the different ways that REMOTE CARE can be implemented into the service model of your practice.
Option 1:
REMOTE LINK Loaner Program
First, you might consider a REMOTE LINK loaner program (Figure 9). This is good first step to incorporating REMOTE CARE services. This option might be appropriate for a patient that has tried hearing aids before (or perhaps have returned hearing aids), and they may be hesitant about trying new hearing devices. A loaner program is also good to consider for some of those more difficult hearing losses where fine-tuning in the patient's home or in their actual environment where they are having challenges might be beneficial, or for patients who have difficulty getting back for that first follow-up visit in the necessary time frame.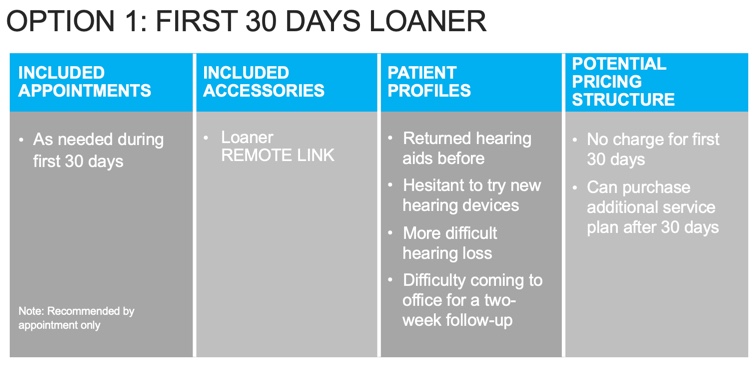 Figure 9. Loaner Program option.
With a loaner program, you would use remote sessions as needed within first 30 days. We strongly recommend that you make your patients aware that these are by-appointment visits because obviously, you and they need to be seated in front of your software. In this case, you might just loan the REMOTE LINK to that patient. You may decide not to charge anything for the first 30 days, with the option to purchase an additional service plan after 30 days. If it's a feature that they like - and many will greatly appreciate the convenience - and if it's going to influence them to persist with their hearing aids, they could purchase additional services and even their own REMOTE LINK after that 30 day period. The loaner option might be a good introduction for both you and for certain clients.
Option 2: Pay-As-You-Go
The second option is a pay-as-you-go plan (Figure 9). This option may be appropriate for patients that travel a lot and find that they have a difficult time hearing in situations away from home. They may not need it all the time but in certain circumstances, it might be helpful. It also may be a good choice for the skeptical patient that's not quite convinced or not interested in a bundle package at this point. As you fit the hearing aid for them, you would, of course, include all your regular in-office visits, your standard of care, and the REMOTE CARE could be something that would be done as requested. You might include the REMOTE LINK as a rental for each session. If the patient were going on a trip and you were concerned about it being early in their trial period, you might suggest a rental to make sure that you have access to them if they need assistance. I would suggest charging them a deposit ($150, for example), giving the patient an incentive to bring it back to you. If they don't return that REMOTE LINK, you would keep the deposit. If they were going to be taking a trip, you could provide that REMOTE LINK and include shipping and return labels so they could send it back to you if they weren't going to be back in a short order of time. Potentially, you would charge per session because this is a pay-as-you-go. That would be dependent on your own pricing structure and whether you're spending 15 minutes, 30 minutes, or an hour. I do recommend that you verify with your own individual state laws and licensing regulations to see if there are any considerations for services that are provided out of state.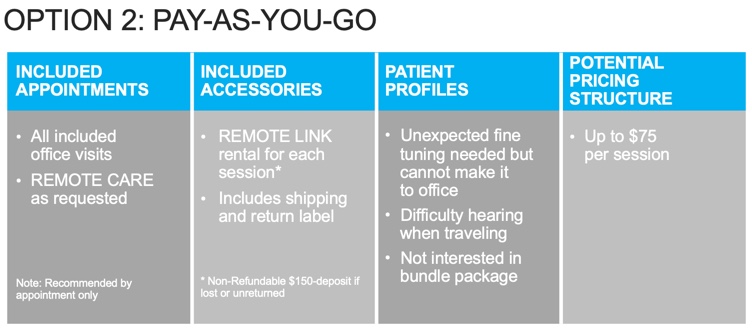 Figure 10. Pay-as-you-go option.
Option 3: Partial Remote Service Plan
Another option you might consider is a partial remote service plan (Figure 11). This would be good for patients that rely on caretakers to get them to and from appointments, or for anyone who has difficulty in traveling to the office. This also might be good for people who find it difficult to take time away from work during your business hours, and anyone who desires a convenient service option they are away or unable to get into your office.
In the case of a partial remote service plan, your package is going to include all of your normal in-office visits, but you might state that there would be four REMOTE CARE sessions per year. This would include the purchase of a personal REMOTE LINK (a $150 value). You might incorporate a package for those four REMOTE CARE sessions, maybe a total of charge of $250, for example. These are just potential prices, but you would need to look at your own practice pricing. You might charge a fee by the amount of time or the type of activity that you're providing during those visits.
Figure 11. Partial remote service plan.
Option 4: Full Remote Service Plan
You may have patients looking for more of a full service, concierge-type of care. These patients might be good candidates for a full remote service plan (Figure 12). These individuals may travel frequently or be out of town a lot. They may have mobility or transportation issues. They may be busy professionals who have difficulty getting to follow up appointments.
Again, include all your own office visits. There should be at least one in-person visit annually but with the full remote service plan, you may offer unlimited REMOTE CARE services. The patient will have their own personal REMOTE LINK. You could decide the pricing structure based on the number of visits that you would anticipate, whether it is a one-time fee for the lifetime of the hearing device, or if it was for one to two years, maybe during the warranty period of the hearing device.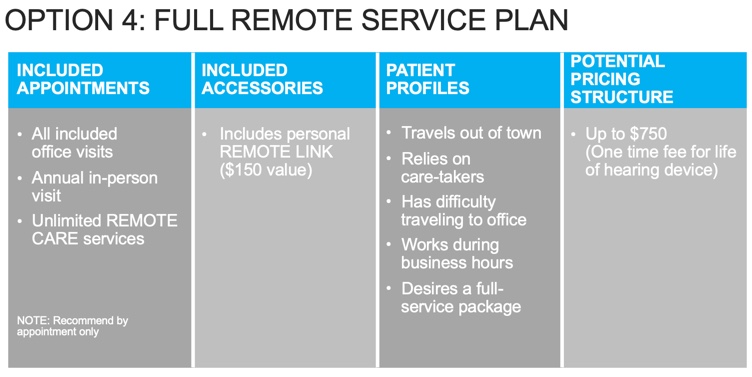 Figure 12. Full remote service plan.
Option 5: Fully Unbundled
Finally, there is the option of fully unbundling everything (Figure 13). Sometimes, we need to consider these options for clients that might be price shopping or doing some comparisons to online options. Of course, in a fully unbundled service plan, you're breaking down your service into individual components: evaluation, consultation, fitting, in-office visits, and remote sessions.
The price of the REMOTE LINK itself would be separated. For your potential pricing structure, you'll probably have an evaluation, consultation and fitting fee. You may have a fee for the hearing aid device itself, as well as fees for your in-office visits. The personal REMOTE LINK plus four remote sessions might be packaged at a specific price level. Additional remote sessions might be available on an as-needed basis (with a pre-set fee) where you could charge independently, depending on the duration of the session.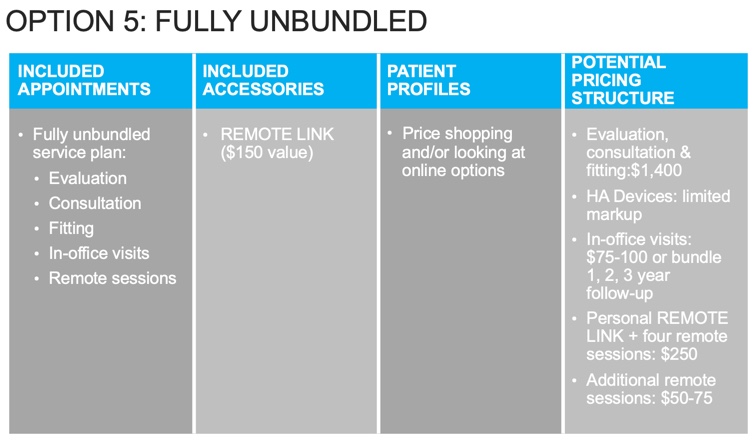 Figure 13. Fully unbundled option.
Additional Uses for REMOTE CARE
There are a few other additional uses to consider for REMOTE CARE. You may have satellite offices where you're only in that office one day a week, and it is quite a distance away from your primary office. REMOTE LINK gives you an opportunity to maintain that contact and level of care with those patients who visit the satellite office. As stated earlier, you may have multiple patients in the same nursing home or assisted living location. With the help of a care provider or nurse practitioner, you might be able to facilitate REMOTE CARE sessions with those patients. A single REMOTE LINK device can be registered to up to 5 Noah files, so some of the patients could share one device, or they may choose to each get their own REMOTE LINK. Also, if you have a tinnitus management protocol within your office and you're following up with tinnitus patients, you could use REMOTE CARE to conduct remote counseling and follow up care. Remember, you've got access to everything available in Compass GPS when you are connected through REMOTE LINK and that gives you access to all of the Zen programming and fine-tuning that you might need to do, just as if the patient were in your office.
Summary and Conclusion
Before we wrap up, I'd like to draw your attention to a recent article published in Hearing Review titled "Right at Home: REMOTE CARE in Real Life" (a copy is included in your handouts). In order to understand how REMOTE CARE works for real users and clinicians, we conducted a survey to evaluate their reaction and satisfaction level after participating in a trial period that involved two REMOTE CARE sessions (following their first fit in the office). Both hearing care providers and users alike rated high levels of satisfaction with their overall experience. In fact, 88% responded that they were satisfied to very satisfied. Interestingly, half of the hearing care providers were apprehensive about the ease of use before the trial. Upon completion of the trial, all of them assessed the system to be easy to use. They also conveyed that they felt they were able to quickly achieve their goals for the remote session, without feeling as though they were compromising anything on patient care. The majority of clients found the system easy to use and felt that the app itself was easy and straightforward. Moreover, 88% of clients thought it was "important to very important" to have access to a solution such as REMOTE CARE. A handful of clients (12%) even considered this as a factor that would have an impact on their decision when choosing a clinic and a hearing aid brand.
In summary, the goals for WIDEX EVOKE, the EVOKE app with SoundSense Learn and WIDEX REMOTE CARE are twofold. The first goal is to provide the best sound quality for any listening situation, the best hearing possible for conversation in noisy environments, and the flexibility to personalize sound to the individual personal listening preference right in the moment. The second goal is to provide a precise but convenient way for the end-user to obtain the right technology and to receive the benefit of your expertise and services in order to meet their own needs and ensure success. The EVOKE, the SoundSense Learn feature, and WIDEX REMOTE CARE, coupled with your expertise, meet all these important goals.
If you're interested in offering WIDEX REMOTE CARE within your practice, please reach out to your Widex Sales Manager or your trainer to get started. After today's session, if you think of a question or you have a comment, please contact us through AOInquiry@widex.com. We will respond promptly to provide answers to your questions and to offer resources that can help you proceed. I hope you'll consider giving this a try. Thank you for spending time with us today.
Citation
de Bondt, S. (2019). Widex remote care: comprehensive follow-up and fine-tuning solutions. AudiologyOnline, Article 25243. Retrieved from http://www.audiologyonline.com