AudiologyOnline: MED-EL recently launched the ADHEAR system. Why are you calling ADHEAR a revolution in non-surgical bone conduction technology?
Patrik Westerkull: Conventional bone conductors have been around for more than 50 years. They are based on a retention arrangement worn around the head such as headbands, softbands or spectacles and include a vibrator that is constantly pressing against the head. The drawbacks of discomfort and poor esthetics with these concepts have been and remain obvious. Numerous attempts have been made over decades to try to find an acceptable bone conduction solution. No one was able to solve this challenge, and only solutions requiring implant surgery were able to address these drawbacks. Implant surgery adds complexity to the treatment and is not accepted by all patients, and some cases are not suitable for it. The revolutionary progress with ADHEAR is that it addresses both drawbacks without requiring any surgery, and it is the first practical user-friendly bone conduction concept to do so. It is a breakthrough in the field and a completely new type of concept that will offer an invaluable acceptable treatment option for these patients. Although it is so easy to use, ADHEAR includes fundamental non-obvious technological achievements on two major aspects: the ability to efficiently transfer vibrations through the skin without applying any pressure and a secure, safe and well-functioning adhesive device worn on the same area of the skin year after year.
AudiologyOnline: Now that I know it is an adhesive non-surgical bone conduction system, can you tell me the basics about the system and how the adhesive is used?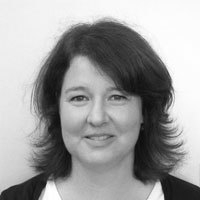 Kim Twitchell: The ADHEAR consists of two parts: the adhesive adapter and the audio processor. The adhesive adapter, which is inconspicuously placed on the mastoid bone behind the ear, has a plastic snap coupler on it that we are able to couple the audio processor to. This unique but straight forward system applies no pressure to the skin and provides the user with high wearing comfort.
AudiologyOnline: Can this adhesive adapter be used in the same position every day, and how long does it last?
Kim Twitchell: The adhesive adapter is designed to be worn in the same optimal position every day, even while bathing, swimming and other water related activities. This single use adhesive adapter can be worn for 3 to 7 days, offering consistent access to sound.
AudiologyOnline: How does the ADHEAR system by MED-EL compare to other conventional, non-surgical bone conduction systems such as those using a soft-band?
Patrik Westerkull: Conventional bone conductors have been shown to be efficient in compensating for pure conductive losses, but less so for mixed hearing losses. The ADHEAR device, which is an ear level device, has shown very similar performance compared to conventional bone conduction arrangements, as well as passive semi-implantable bone conductors that are magnetically attached. ADHEAR is an efficient device for patients as long as the cochlear function [bone conduction] is still fairly normal, and it is ideal for patients with unilateral or bilateral conductive hearing loss. The big difference with ADHEAR is in the wearing comfort esthetics and patient acceptance of the device, where it is worn without any discomfort and where no bulky retention arrangements are required. Due to the drawbacks of conventional bone conductors, many patients refuse them or really struggle with them, and since conductive hearing losses are quite common among children, the lack of acceptable treatment often meant that children were lagging behind in school and in social development.
AudiologyOnline: What is the candidacy for the ADHEAR?
ADHEAR is available to anyone with a unilateral or bilateral conductive hearing loss that is either chronic or temporary in nature with thresholds in the normal range of -10 to 25 dB HL. In people with single sided deafness, candidates should have normal hearing on the contralateral side.
AudiologyOnline: How can I go about getting more information, support and training if I want to offer this to my patients?
Kim Twitchell: There are five different ways to get more information, support or training for ADHEAR:
Contact our In-House Audiology team at 1-888-633-3524
Participate in our CEU training courses here at Audiology Online
Join us at our regional training events. Register at www.stickclickhear.com
Contact your local MED-EL representative for more information about ADHEAR