Carolyn Smaka: Thanks for your time, Vinaya. Can you tell me about your background, and how the non-profit Audiology India got started?

Vinaya Manchaiah: I am an audiologist by training and background (MSc Audiology and AuD). However, I also have education in business administration (MBA) and disability research (PhD). I currently hold the Jo Mayo Endowed Professor position at Department of Speech and Hearing Sciences, Lamar University, Beaumont, Texas. I also serve as President of Audiology India (NGO) based in Mysore, India.
I originally come from Southern India. I have lived, studied and worked in various countries including India, United Kingdom and Sweden. I have also travelled extensively across Europe and Asia and hope to go around the globe.
In 2009, a close friend and colleague, Dr. Srikanth Chundu, and I jointly started a website www.audiologyindia.org, which had various resources for audiologists. However, we soon started receiving communications from people with hearing loss and their family members from all over the world. The nature of the communications and requests varied greatly, although most frequently people were asking for independent professional advice about hearing healthcare. Many were also asking about where to get services. So, we changed our focus to serve people who are in need to hearing healthcare services. We registered as a non-profit and non-governmental organization (NGO), Audiology India, in January 2011.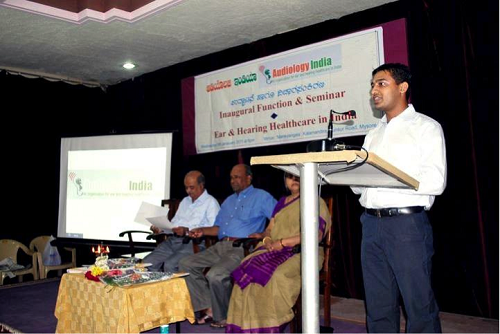 Inaugural function of Audiology India (NGO) at Mysore, India in January 2011.
Carolyn: Tell me about Audiology India's mission and the people behind it.
Vinaya: Audiology India is a relatively new organization with a small but very committed group of team members and volunteers. Our aim is to promote hearing healthcare in India and to provide audiological services to underserved and financially deprived individuals. We are involved in various activities including: provision of community-based hearing healthcare services, training and education about hearing healthcare to various professional groups (e.g., teachers, doctors, etc.), organization of public health campaigns, and conducting research to better understand audiology practice in India.
Carolyn: Why is there a need for such an organization?
Vinaya: The World Health Organization (WHO) suggests that over 80% of people with disabling hearing loss live in low- and middle-income countries. India has one of the highest prevalence of hearing loss. The government statistics suggest that 6 to 16% of the Indian population suffer from disabling hearing loss. However, estimates suggest only 1 to 2% of those people in India who need hearing healthcare services have access. Also, hearing healthcare services are available only in tertiary hospitals (i.e., specialist hospitals) and also private hearing dispensing clinics, most of which are based in the cities. As there are very limited hearing healthcare services in the small towns and villages, it brings enormous need and opportunities to conduct community-based rehabilitation work as suggested by the WHO. Hence, there is tremendous need for charities and social businesses to function in India.
Carolyn: What has Audiology India accomplished so far?
Vinaya: Much work remains in this area and we have only played a small role. However, we are surprised and pleased by what we have accomplished over the last few years.
We have so far conducted over 1,500 hearing assessments and fitted over 600 hearing aids in various parts of Southern India. We have provided training and education to various professional groups to help identify hearing loss early. In addition, individuals and families we have served report great benefits from our services. We have done some basic survey studies to understand audiology practice in India. Through our work, we have learned a great deal in terms of how to provide community-based hearing healthcare services effectively in rural India and how to continually improve the way such services are offered. We are continuing to build our team and to expand this work further.
We are really proud of the fact that we have not undertaken any external donations or fundraising activities to support this work. Rather, we managed mainly through collaborations with other organizations and also time contributions and some donations from team members. This can say a lot about what we can achieve with little resources.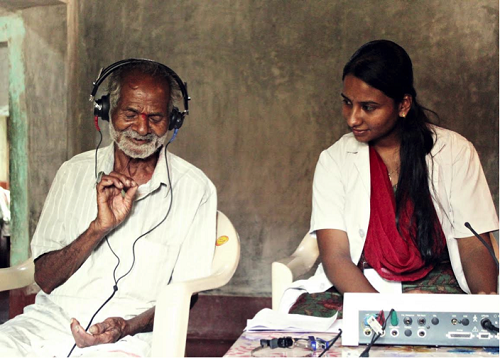 Hearing screening at a community based rehabilitation (CRB) camp at Udupi, India during March 2015.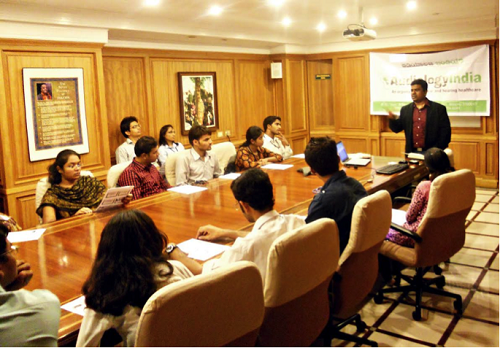 Orientation program for schoolteachers to help them early identify hearing loss in children held at Bangalore, India during June 2011.
Carolyn: What are your goals for the future?
Vinaya: We have many short- and long-term goals. The immediate need is to make our organization self-sustainable. In my opinion, our key priority at this stage is building a good team that consists of committed and talented individuals from various professional backgrounds who have interest in developing hearing healthcare in India. We are keen to involve people with hearing loss and their family members who can contribute to some of the organizational and leadership roles. They can help us develop services and initiatives by keeping patients central to everything that we do. In addition, we need to establish reliable funding sources to cover the costs associated with our work. We are interested in learning more about the best method to provide community-based hearing healthcare services with limited resources, so we would like to conduct well-designed studies. In the long-term, we are interested in establishing a good social business model for hearing healthcare in India that can be extended and adapted to other low- and middle-income countries across the globe.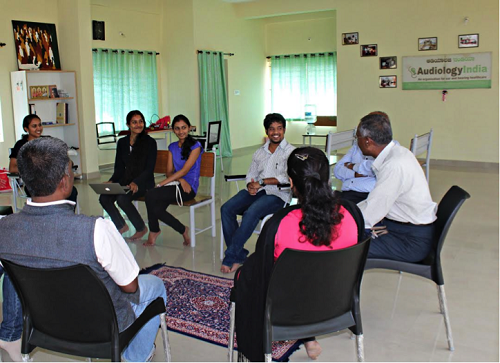 Audiology India volunteers meeting at Mysore, India during December 2014.
Carolyn: What challenges and opportunities do you see ahead of you?
Vinaya: There is enormous need and demand for hearing healthcare services in India. For us, the main challenge is to develop a clear roadmap for our organization's future work. This involves developing a sustainable strategy, contuing to build a good team, and developing and implementing appropriate working methods to increase productivity and improve patient outcomes.
Until last year, our team members and volunteers worked in evenings and weekends to manage the work. Also, we collaborated with other organizations that covered the costs associated with our activities. However, our work expanded significantly to an extent where we were unable to manage the work in this way. As a result, we established an office and also hired two staff members - an audiologist/project manager and an office manager. This brings new opportunities for us as our work is now more organized and structured. However, as we now have various expenses (e.g., expenses for conducting community based camps, staff salary, etc.) we are now starting to think about funding sources.
For the first time, we are working towards a fundraising activity. This event will include a public concert or what we are calling a musical night. We recently had an audition for this event and with limited advertising we had 98 singers turn up! At this concert, we'll display our work and provide entertainment to the public with the goal of increasing awareness of who we are, what we do, and ultimately we hope, to receive donations. With most of our team members having an audiology background, fundraising is an area where we have limited experience and expertise. We hope this will be a successful event and we will have much to learn from it.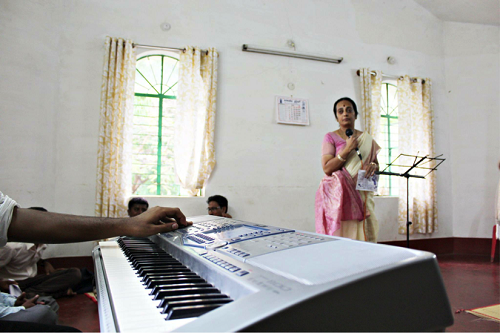 Audition for fundraising musical night at Mysore, India during April 2015.
Carolyn: What can audiologists do to help support this program?
Vinaya: There are lot of things audiologists and hearing instrument companies to do to support this program.
At this stage, we do not have the permission to receive foreign donations. We have applied for government permission and that may take 6 months to a year. However, more than funding we are keen to build a team of committed individuals who can support our organization in meeting the short and long-term goals.
We are currently looking for new board members, advisory board members, sponsor and partner organizations. We would like to hear from anyone who may be interested in such roles. We can provide short-term placements for practicing audiologists and students to participate in our community-based rehabilitation activities in Southern India. In addition, the hearing industry can become our corporate partners/sponsor organizations through their distribution companies based in India. Those who are interested can contact us via our website to find out more about these opportunities.
Many thanks to you and AudiologyOnline for providing me this opportunity to share about Audiology India. I look forward to hearing from the audiology community to continue our work in India and potentially extend this to other parts of the world.
Carolyn: Thank you Vinaya - wishing you much success with Audiology India.
For more information, please visit www.audiologyindia.org