AudiologyOnline: How do I know if a patient is right for teleaudiology (or eAudiology) through Phonak Remote Support?
Michael Blackburn, AuD: Any patient meeting technical requirements for Remote Support may be considered as a candidate for this technology. Patients with a smartphone, and compatible Phonak Marvel™ or Audéo B-Direct Phonak hearing aids meet these technical requirements. In the past, hearing care providers may have only considered their more tech-savvy patients for Remote Support. However, due to current social distancing requirements, many hearing care providers are exploring new ways of providing hearing care to their patients, including those less comfortable with technology.
The use of eAudiology continues to rise. With Phonak Remote Support, there's no in-office appointment needed. You can connect to your patients in real-time, with both audio and video, adjust their hearing aids, and optimize their hearing aids to support your patients' needs. For patients who are less comfortable operating smartphones and apps, consider including family members (and their devices) to facilitate a Remote Support appointment. In addition, all hearing care providers with a Phonak eServices/PhonakPro login are now automatically enabled to invite patients to Remote Support sessions.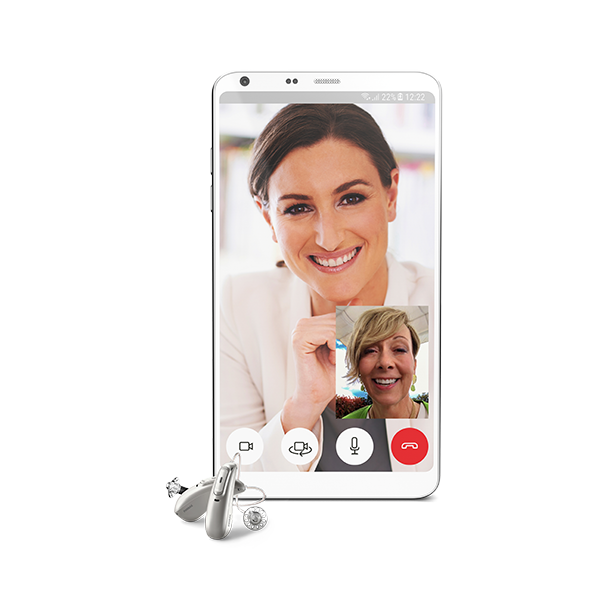 More than ever, your patients are relying on their hearing health to stay connected – hearing their families and medical professionals, talking on the phone, listening to news and television, etc. Many of your patients may be looking for hearing solutions, and they would be interested in Remote Support.
A patient who currently wears Phonak Marvel™ or Audéo B™ Direct hearing aids and who has access to a smartphone or tablet (their own or a family member's) would be able to participate in a Remote Support session using the myPhonak app. You or your front office can reach out through an initial phone call to see how they are doing and then offer support through Phonak Remote Support.
Even though some research and practical experience may still be required, it has already been widely demonstrated that eAudiology works well and offers some definite advantages1. It will never completely replace in-person patient care — but that is not the intention. It may not be suitable for every patient, but it can open opportunities for hearing care professionals to reach patients and offer services that they may not have been able to before.
This not only applies to rural areas where patients can avoid the inconvenience of travelling long distances, but also to urban areas, especially for patients who may have mobility issues or challenges with transportation. eAudiology allows a simpler, more efficient, yet customized provision of hearing healthcare, removing many of the barriers patients face that keep them from treating their hearing loss.
AudiologyOnline: How can eAudiology fit into a patient's hearing care journey?
Michael Blackburn, AuD: The Phonak eAudiology initiative includes a suite of eSolutions, which are designed to support a digital hearing care journey. An eScreener, or online hearing screener, is an initial assessment tool to screen the patient's hearing and inform them if a consult with a hearing care provider would be beneficial to them. The results of the eScreener can provide the hearing care professional a general outline of the patient's hearing loss and the ability to be fully prepared for the appointment beforehand.
After the initial evaluation and hearing aid fitting, Phonak Remote Support becomes a powerful follow-up tool. Remote Support allows convenient follow-up for both the patient and provider. If your patient is concerned about coming into the office due to safety, travel or just time constraints, Remote Support can help. Once your patient is enrolled in Remote Support, initiating a session is simple and based on pre-determined appointments setup by your own clinic processes. You won't have patients calling you through the app at all times of the day or night! Remote Support is designed to save both you and your patient time.
The myPhonak app is another useful tool for any hearing aid and smartphone user. The app allows quick adjustments to volume, custom program settings and activation of accessory devices (TV Connector, Roger, etc.). Phonak Remote Support is also integrated into the myPhonak app, so your patient does not need to think about yet another app to download if they are already a myPhonak user.
AudiologyOnline: What is AudiogramDirect and how does it benefit the patient and the hearing care provider?
Michael Blackburn, AuD: AudiogramDirect is a form of in-situ hearing assessment using Phonak hearing aids. AudiogramDirect has been available in Phonak products since 2011, and it is a reliable way to verify and refine audiometric results. With the latest release of Phonak Target 6.2.8, AudiogramDirect is now available via Remote Support.
Phonak Field Study News has a new addition with "Audiogram and AudiogramDirect: comparison of in-clinic assessments." This important validation of AudiogramDirect instills confidence in the results you obtain to verify your patient's hearing thresholds, which includes:
Retrospective analyses of 167,772 in-clinic assessments compared to AudiogramDirect measurements.
High level of correlation between standard audiometry and in-situ audiometry (AudiogramDirect), suggesting a high level of agreement between the methods.

95% of examined thresholds fell within a range ± 15 dB HL with the average difference between AudiogramDirect and standard audiometry less than 1 dB HL.
AudiologyOnline: When would hearing care providers perform AudiogramDirect?
Michael Blackburn, AuD: When a patient or the audiologist is concerned hearing may have changed AudiogramDirect allows the provider to do a fast and accurate check of pure-tone audiometry thresholds. This can be useful to determine if there may be a change in hearing requiring further evaluation. In the meantime, the provider can use this new data to configure the hearing aid gain settings to the patient's current hearing status.
During the COVID-19 pandemic, providers have been able to utilize AudiogramDirect as a safe alternative to an in-person hearing test. It should be noted that AudiogramDirect does not replace an in-person test, and it is expected that a full audiologic evaluation be conducted as soon as possible.
AO: How does Remote Support fit into a practice as audiologists begin to head back to business?
Michael Blackburn, AuD: Phonak Remote Support will fit into return to business in a variety of ways, but may look different for each patient. There are various tools available that can support audiologists as they begin to reopen their practices and incorporate Remote Support. For example:
These guides review Phonak Remote Support, use of Personal Protective Equipment (PPE), digital service delivery and other adapted services, such as curbside care and in-home care.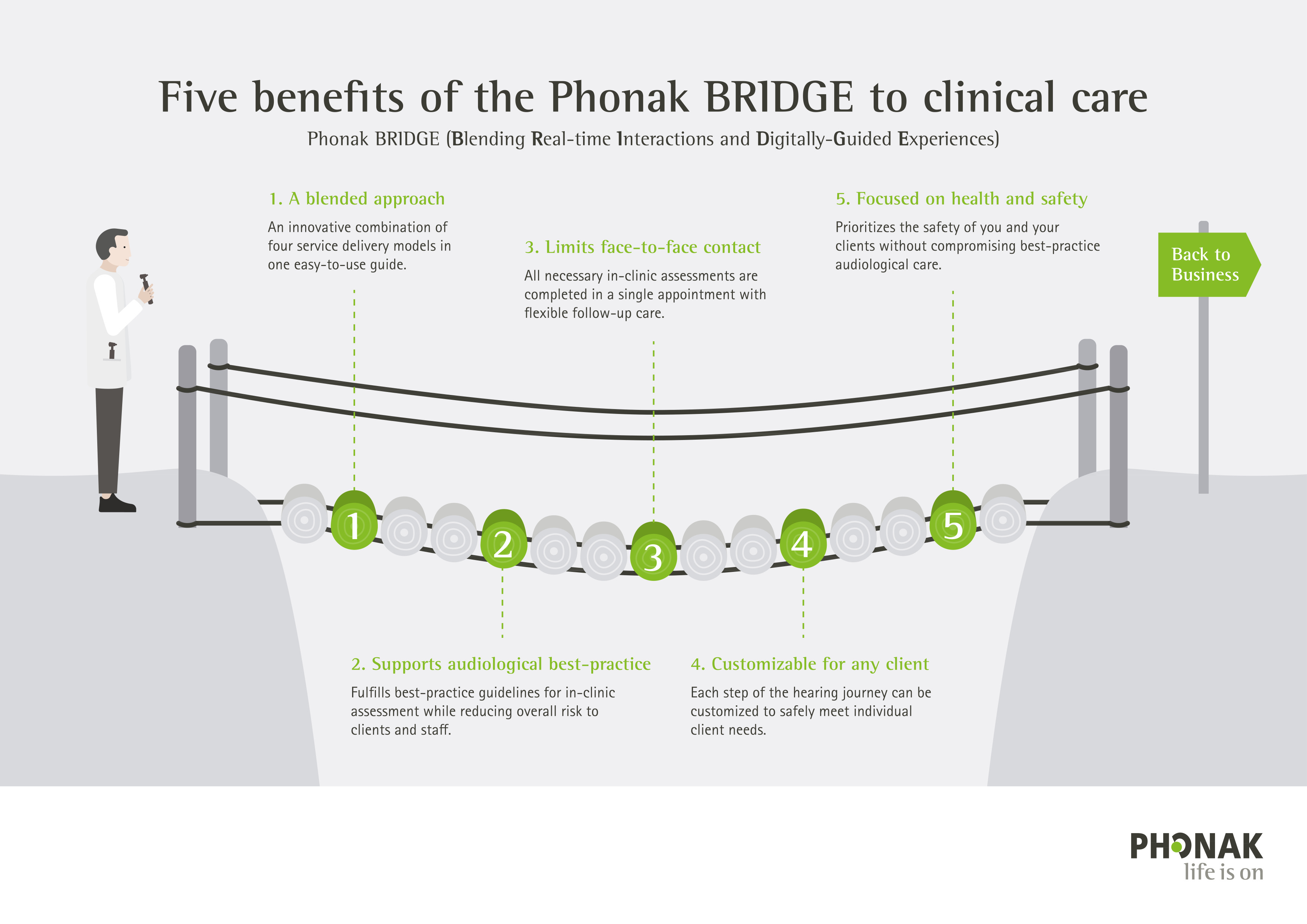 AudiologyOnline: What are some tips to having a successful Phonak Remote Support session?
Michael Blackburn, AuD: Venturing into telehealth, or eAudiology, might seem like a daunting task. However, it is fairly easy to provide your patients with remote hearing care. Here are three tips to get you started with Phonak Remote Support.
Practice, practice, practice! Becoming familiar with Remote Support will make you feel more confident and ready to handle questions from your patients. So, grab a colleague (virtually, of course) and try out Remote Support between the two of you. Make sure to try it multiple times to get a feel for how the process works.
Smile, you're on camera! Have you thought about how you and your surroundings will look to your patient? While you are practicing with Remote Support, take a few minutes to think about the following:

Positioning

Make sure your face is centered so it is not blocked by the self-view the patient sees.
Put your camera on top of your monitor so you are looking straight ahead and not down.
Double and triple check your background! A distracting background will interfere with communication.

Lighting

A well-lit room with multiple light sources is going to be ideal. If there is a single light source in the room, like a window or standing lamp, make sure it is behind the camera. A window or light behind you (or in front of the camera) will cast a shadow, making it difficult for the patient to see your face. Adjusting your surroundings will make your face and those all-important visual cues easier to see for your patient.

Sound

As hearing care providers, we know well that communication is easiest in a quiet environment. Think about your environmental sounds and reduce them as much as possible. A headset with a microphone will provide your patient with a much better sound quality and less environmental noise than the one built into your laptop or camera.

Engagement

When speaking, look at your camera lens! Our natural tendency is to look at the patient during a video chat, but to them, it seems like you are not making eye contact. If you stare directly at the lens, it will appear to the patient that you are fully engaged with the conversation. It's okay to break eye contact with the camera occasionally, but when they are talking or you are talking, it's best to maintain that engagement as much as possible.

Remember it's all about the patient's experience! The goal is always the highest-quality hearing care we can provide. eAudiology is a great way to keep your patients safe, but it's also a convenient option, both now and in the future.
AudiologyOnline: What are some of the steps a patient will need to take to have a successful Remote Support experience?
Michael Blackburn, AuD: Patients will want to make sure they have followed these steps to have a successful Remote Support experience:
Verified they have a scheduled appointment for their Remote Support session. A live Remote Support session will require the provider and patient to connect at the same time.
Ensure they feel comfortable with the instructions on how to connect with their provider and if not, they should reach out to their provider before the appointment.
Check that they are on a Wi-Fi network or in an area where they can receive good 4G cellular coverage.
Involve a family member if they do not feel comfortable with smartphones and using the myPhonak app.
Utilize the Getting Started with Phonak Remote Support guide.
Sources
Phonak Field Study News | Benefits and technical feasibility of providing remote hearing aid support for follow-up appointments.
Phonak Field Study News | Audiogram and AudiogramDirect: comparison of in-clinic assessments.
Phonak Field Study News AudiogramDirect: In-situ hearing tests at their best