Carolyn Smaka: Hi Carrie, thanks for your time today to discuss the recent ruling from the Centers for Medicare and Medicaid Services (CMS) on bone-anchored hearing implants. Before we get into the details of the ruling, can you talk about why CMS would even consider excluding them from coverage?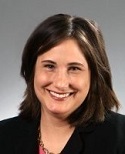 Carrie Hart: To understand the recent ruling, it's important to know the history. In 1965, the Social Security Act specifically stated that hearing aids were excluded from Medicare coverage. From time to time, Medicare has looked at this exclusion to clarify what they call the "Scope of Hearing Aid Coverage Exclusion". For lack of a better explanation, they review what should be included in the exclusion. In November 2005, Medicare first determined that auditory osseointegrated implants, like the Ponto system, are prosthetics. Since that time, there has been coverage in place for these devices.
In July of this year, Medicare published a proposed rule that explained their intent to review and revise this exclusion once again. This time, they indicated that this was due to requests that they have been receiving for the past several years for benefit category determinations. This basically means that they had received requests to see if other new devices on the market fit into a covered benefit category or should be excluded from coverage. The proposed ruling in July 2014 indicated that the agency would interpret the term "hearing aids" to include a wide variety of devices including auditory osseointegrated implants. This proposed classification would exclude these devices from coverage.
Carolyn: This was a proposed ruling, but not the final ruling?
Carrie: Correct. CMS is obligated to publish a proposed rule in the federal register, in order to get public comment on the rule making. The public had the ability to make comments on CMS' website, submit letters, and even take meetings with the agency. CMS considered all of these comments and published their final rule on October 31, 2014.
Carolyn: What was the result of the final ruling?
Carrie: The final rule stated that they were not going to adopt the proposed rule. This means that CMS is not going to interpret "hearing aid" the way that they had noted in the proposed rule in July, which would have excluded osseointegrated devices from coverage. The final rule stated that auditory osseointegrated implants are "functionally and clinically distinct" from the hearing aids excluded from coverage in 1965. This means they are not considered a hearing aid or a technological refinement of hearing aids. CMS is going to stand by the language that was published in November 2005. That language was incorporated into one of the manuals for Medicare, which is the Medicare Benefit Policy Manual. In that manual, they demonstrate what devices are considered prosthetics and that includes auditory osseointegrated implants. That language will be codified, which means it will now be part of the regulations.
The bottom line for audiologists and healthcare providers, from a Medicare standpoint, is that auditory osseointegrated devices will continue to be covered for those Medicare enrollees with qualifying indications.
Carolyn: Wow, what a relief for professionals and consumers.
Carrie: Definitely! The ruling reflects the success of a concerted effort not only by manufacturers and industry associations, but by professional organizations, advocacy groups, and individual professionals and consumers who educated policy makers to the value of bone-anchored implants. The Congressional Hearing Health Caucus and other members of congress also played a role. There was a lot of momentum, and it was very exciting to see all these groups coming together on this issue. Thank you to everyone who took the time to comment – your efforts were recognized and made a difference. The comments ranged from educating on the basics of how we hear and how osseointegrated devices function, to how this proven and effective treatment for conductive or mixed hearing loss and single-sided deafness has a significant impact on quality of life.
Although we talk about this decision in terms of coverage, this issue is really about access. While there are several facets to reimbursement, what ultimately drives us is the goal of providing patients with access to technology that they need. If you look at the patients who are candidates for an auditory osseointegrated implant, you will see it is a very specific group of patients. They have certain indications and typically will not get the same results and the same outcomes from another technology.
Carolyn: Carrie, thanks for bringing us up to date on this important issue and sharing the great news.
Carrie: It's my pleasure.
To learn more about Oticon Medical visit www.OticonMedical.com or the Oticon Medical Expo Page on AudiologyOnline.