AudiologyOnline: What are some challenges patients with severe to profound hearing loss report?
Lisa Hos, AuD: Patients with severe-to-profound hearing loss experience listening and communication difficulties even in quiet 1:1 conversation as well as when even low levels of background noise are present. As the environment becomes more challenging and complex, speech understanding becomes more difficult. These challenges may cause a patient to withdraw from both social situations and feel disconnected from their loved ones or communication partners.
AudiologyOnline: How has Phonak continued to deliver exceptional hearing performance since the first introduction of Naída in 2007?
Lisa Hos, AuD: Phonak Naída has a long history of groundbreaking technological innovation as well as hearing aid features designed to meet the needs of even the most challenging to fit patients. From the very first introduction of Naída to the market in 2007, where we introduced SoundRecover and the first IP57-rated hearing aid, Phonak has continued to deliver exceptional hearing performance features designed specifically with a severe to profound patient in mind. Naída Marvel changed the landscape of universal connectivity for the severe to profound patient in 2020. Now, in 2021, Phonak is excited to deliver an unrivaled hearing experience with Naída Paradise in an Ultra Power and rechargeable models.
AudiologyOnline: How do the new hardware innovations with Naída Paradise elevate sound quality?
Lisa Hos, AuD: Thanks to new hardware innovations, Naída Paradise responds to the hearing needs of power users in countless different listening situations as well as to the hearing care professional by delivering the ability to easily perform more precise customizations. Naída Paradise is built on the Phonak proprietary sound processing chip (PRISM™), which has double the memory of the previous Marvel chip and drives all of the new Paradise sound quality features and supports universal connectivity.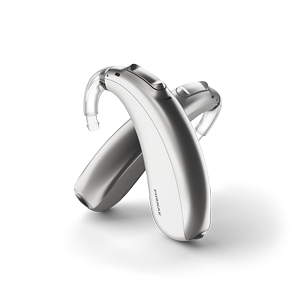 In order to meet the amplification needs of patients with severe to profound hearing loss, each Naída BTE device is equipped with a powerful double-receiver. The receiver in the Naída P-UP delivers up to 141 dBSPL peak output while the Naida P-PR delivers up to 130 dB SPL peak output. Lastly, the Naída P-PR features the motion sensor accelerometer supporting motion sensor hearing features for hearing performance on the go and Tap Control for access to Bluetooth capabilities and controls.
AudiologyOnline: How does APD 2.0 support powerful sound quality in Naída P?
Lisa Hos, AuD: Naída Paradise utilizes the Phonak proprietary fitting formula, APD 2.0, and is designed to balance audibility and loudness as well while providing a naturalness of sound. With the severe to profound patient in mind, APD 2.0 provides more speech contrast to preserve the important contrast between loud and soft sounds, helping those who rely on speech cues. This results in a more dynamic range. APD 2.0 also meets the need for more precise customization and provides flexibility to the HCP with feedback threshold overtuning and an additional kneepoint for increased headroom between loud outputs and the MPO.
AudiologyOnline: Why is connectivity important for patients with severe to profound hearing loss?
Lisa Hos, AuD: In today's world, connectivity is more important than ever. Universal connectivity gives patients access to the world around them and allows them to communicate in many ways, as well as consume media. Naída Paradise UP breaks down connectivity barriers and is the world's first Ultra Power device with universal connectivity, allowing hands-free calls, multiple Bluetooth® connections and RogerDirect™. Not only does Naída Paradise connects directly to iOS®, Android™ or other Bluetooth-enabled devices, it also offers access to the myPhonak app, providing patients access to even more customization of their listening experience. This is all thanks to universal connectivity.
AudiologyOnline: Why is "made-for-all" important for Naída P hearing aid wearers?
Lisa Hos, AuD: We know that the severe-to-profound population struggles with some environments that people with normal hearing, or even those with a lesser degree of hearing loss may not consider difficult. This often means that, patients with severe to profound hearing loss, may rely on technology to connect them or support them in their conversations and as a way of communication. Therefore, it has never been more important to ensure that their hearing aids are able to connect with their wireless technology, regardless of the type of phone, tablet or Bluetooth device they may have. With made for all technology, patients no longer have to worry thinking about if their hearing aids will communicate with the technology in their lives – they can rest assured that it will.
AudiologyOnline: How does Roger™ technology support Naída P hearing aids?
Lisa Hos, AuD: It is impossible to talk Naída sound performance without also talking about Roger. Roger technology is the digital standard for remote microphones proven repeatedly to provide outstanding support in noise and over distance. Roger technology brings the patient into the conversation and helps them to overcome the challenges of a dynamic, and often complex, listening environment. Thanks to Roger's adaptive nature, as the environment changes, the patient is still able to be a part of the conversation while remaining comfortable and connected. Naída Paradise devices enable a seamless integration and a hassle-free connection with Roger devices thanks to RogerDirect™. This also means that the hearing aid itself is smaller, lighter and more comfortable to wear.
AudiologyOnline: What is Naída compatible with?
Lisa Hos, AuD: Naída Paradise offers a complete solution for patients with severe to profound hearing loss and is compatible with Roger ON, Roger Select, Roger TableMic II, PartnerMic, RemoteControl and the myPhonak app. In addition, Naida Paradise connects with virtually any Bluetooth enabled device, opening up a world of possibilities.
AudiologyOnline: Why is the myPhonak App and Naída P important for patients with severe-to-profound hearing loss?
Lisa Hos, AuD: Patients with severe to profound hearing loss and power hearing aids are often more engaged with their hearing experience. With Naída Paradise and the myPhonak app, patients can enjoy an even more personalized hearing experience at their fingertips. The myPhonak app offers remote control functionality, customizable programs, and access to hearing aid information. The myPhonak app also connects the patient with their HCP thanks to Remote Support. This gives the HCP the ability to make remote adjustments in real-time and optimize their patients' hearing aid settings. In addition, with Hearing Diary 2.0, HCPs can create tasks and set goals for their patients, facilitating a more active engagement of friends and family in the fitting process and ultimately the hearing journey.
For more information on Naída Paradise, click here.