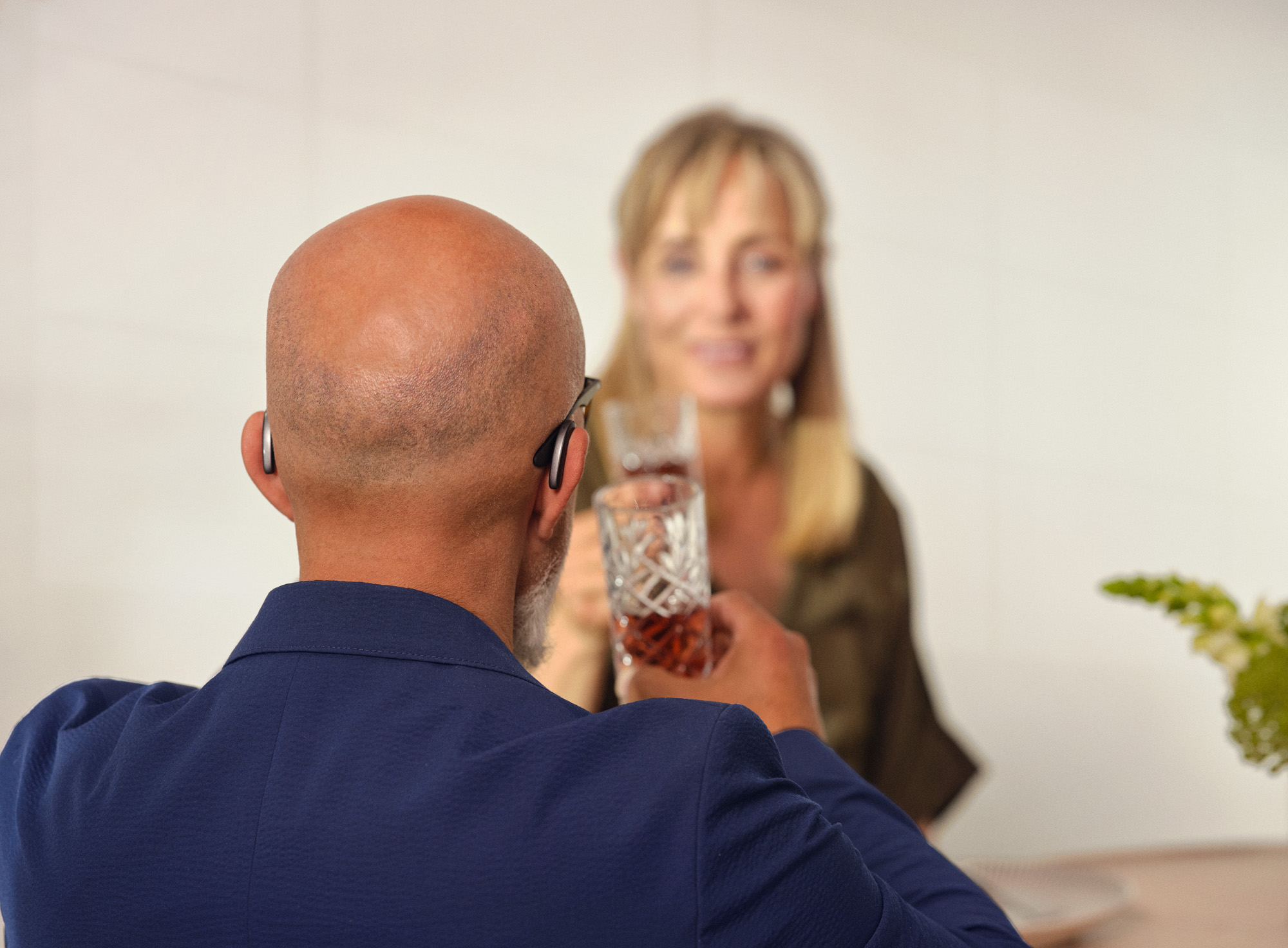 AudiologyOnline: As an HCP, what changes did you notice in how the COVID-19 pandemic impacted hearing loss awareness?
Brian Taylor: During the pandemic, far fewer people complained about experiencing hearing loss because there weren't any large gatherings. For long stretches, most of us were isolated in our homes and the only talking we did was with our "bubble" groups. There was no chatting across the table in a noisy restaurant, no business meetings in conference rooms or hotel ballrooms, and no cheerful banter at crowded social events. For many, there were very few opportunities to notice perceptible signs of hearing loss.
According to a study by the University of Michigan and Apple, the pandemic's stay-at-home orders cut peoples' exposure to noise by about half. Good news for many with hearing loss, who commonly struggle to hear in the presence of noise. But now, on the other side of those quieter months, the volume has returned to normal, and we can expect those struggling to hear to struggle anew.
And if they weren't struggling to hear in noise before, there are signs that many are struggling now. Having lived in relative silence for so long, observers have noticed that a good amount of people say they're more sensitive to sound, from music to loud conversations, and audiologists have begun weighing in.
The fact is, we as hearing care professionals (HCPs) can expect to deal more with patients who have difficulty hearing in noisy situations as the public grows more aware of the issue.
AudiologyOnline: What changes has Signia made to better support HCPs and patients post-pandemic?
Brian Taylor: Signia has been working diligently to ensure that HCPs and patients nationwide are supported by Signia. Through product launches and technology upgrades, Signia's product portfolio is stronger and more diverse than ever. In addition to product updates, Signia is committed to delivering more reliable and timely service to help HCPs' businesses run even better. In addition to training new staff and enhancing system functionality, this spring, Signia will open its new office in Iselin, New Jersey to better serve HCPs through dedicated support, service, and new solutions designed to help them succeed.
AudiologyOnline: Now that busy gatherings are back in full swing, how does Signia better support hearing aid wearers in loud, demanding social settings?
Brian Taylor: Hearing technology has come a long way in its ability to improve hearing in noisy situations. From directional microphones to advanced signal processing, today's hearing aids can discern unwanted ambient noise from speech. They can tell where the noise is coming from and diminish its impact. Similarly, they can sense where desired sound is coming from and enhance it.
At Signia, engineers have developed what's called Own Voice Processing (OVP), now in its second version, which learns to recognize when the wearer is speaking, particularly in noisy situations. Not only does OVP process the speaker's voice to sound more natural, it does so separately from all the background noise, using unique Augmented Focus™ split-processing technology that processes speech and background noise separately to create a clear contrast between the two. This means the wearer actually can hear people talking to them at parties and feel confident in social situations.
Signia has also recently improved its AX Soundscape Processing, which leverages new technology to provide more optimal processing of not only the wearer's own voice but of the entire sound environment, including the voices on which the wearer wants to focus.
OVP 2.0 even supports a new My WellBeing smartphone app that helps people understand how engagement in regular conversation leads to a healthier life, among other crucial health metrics such as activity, steps, and weartime.
AudiologyOnline: In addition to developing OVP and split-processing technology, how has Signia responded to user concerns to encourage socialization?
Brian Taylor: Signia has taken that challenge seriously, recently making its most advanced Augmented Xperience (AX) processing platform available across more price points and performance levels. To accommodate as many types of patients as possible, Signia continuously develops its AX platform, and, since its release, has added several new feature enhancements. So, as HCPs begin to see more patients who are struggling with the reintroduction of noise to their daily lives, they'll have more options for creating the hearing experiences that foster greater social engagement and minimize the risks of social withdrawal.
AudiologyOnline: Does Signia offer any new charging solutions to suit the needs of patients that are more mobile post-pandemic?
Brian Taylor: The Multi Charger, which will be available this summer, is Signia's most diverse charger to date, featuring flexibility to use in an HCP's office and on-the-go for Signia patients. The charger is compatible with a wide range of Signia hearing aid models, and promotes increased user experience and ease of use for patients.
AudiologyOnline: How has Signia prioritized form-factor and design to encourage increased hearing aid weartime?
Brian Taylor: Signia strives to create form-factors that align with patient lifestyles and break through the stigma associated with hearing loss. Gone are the days of the conventional, bulky devices that many people envision when they typically think of hearing aids.
In September 2022, Signia launched Styletto AX, an innovative hearing aid featuring the award-winning SLIM-RIC form-factor. The attractive, comfortable design is preferred by 8 out of 10 consumers, and its 12 unique color combinations makes it one of the most fashionable hearing aids on the market.
AudiologyOnline: Why is the combination of top quality technology and modern design a priority of Signia?
Brian Taylor: Today's hearing aid wearers value not only cutting-edge functionality, but also premium, stylish design. Styletto AX delivers on this demand by combining world's first technologies that optimize both hearing performance and general health & wellness, packaged in an ultra-thin, contemporary form-factor that patients will be proud to wear.
Creating solutions that fit these needs is important to Signia's continued dedication to helping (HCPs achieve the best fit for patients with a complete portfolio of iconic innovations that, in turn, provide patients with optimized listening experiences.
AudiologyOnline: What impact does weartime have on the health and experience of the patient?
Brian Taylor: Studies show that usage time can help determine perceived benefit, with six or more hours of wear time per day seen as a threshold. People tend to be more active when they can better hear environmental cues during their workouts. They engage more with others when they're confident in their ability to hear and communicate.
Our data has shown a positive correlation between hearing aid wear time and physical activity, as detected by the sensor technology in our hearing aids. And in terms of wellness aids specifically, early research into Signia hearing aids with My WellBeing indicate even moderately active people (those reporting detected physical activity roughly one-third of the day) tend to wear their hearing aids one to one-and-a-half hours longer than less active wearers.
AudiologyOnline: How can patients make the most out of the MyWellbeing platform?
Brian Taylor: Consumers can use this information to enhance their lifestyles in ways that can improve their mental, emotional, and physical well-being. My WellBeing also encourages consistent hearing aid use by bringing awareness to just how significant healthy hearing is to maintaining overall health and wellness.
AudiologyOnline: How is Signia addressing the total wellbeing of patients with upgraded technology, and why is doing so essential?
Brian Taylor: Signia's wellness tracker is called My WellBeing and it capitalizes on the innovations we've made in hearing health to address general health.
All hearing aids on Signia's AX platform now include My WellBeing, a capability that goes beyond better hearing to empower consumers to stay healthy in mind and body. Wearers who enable the function within the Signia app can actively track their level of social engagement (My Conversations), how consistently they are wearing their hearing aids (My WearTime), how many steps they've taken (My Steps) and level of physical activity (My Activity).