Carolyn Smaka: Great to speak with you again, Eric. Why were these new Siemens products developed – what was the market need?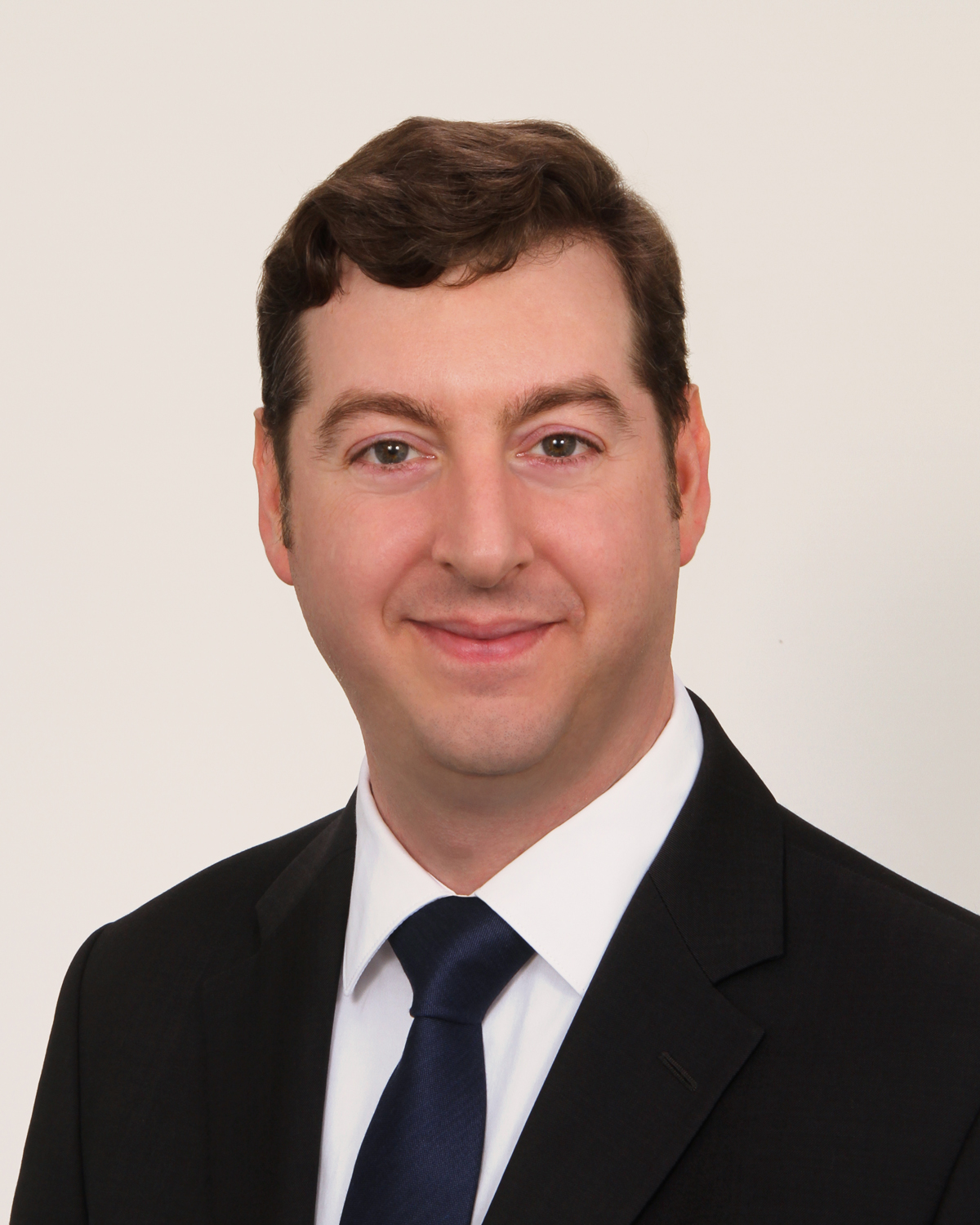 Eric Branda: Our patients are surrounded by smart devices - smart phones, smart cars, smart TVs, smart watches. And there's a reason why they're so popular. Smart devices are easy and intuitive to use, they anticipate your needs and desires, they can interact with you, and they can connect and work with your other devices. So we want to bring these advantages to hearing aid wearers, too. With Siemens BestSound™ Technology, we've entered into the age of wearable smartHearing technology, and we offer the broadest portfolio of the world's first smart hearing aids, as well as a comprehensive smartHome solution.
Carolyn: What makes Siemens hearing aids smart, and why does Siemens offer a broad portfolio of smart hearing aids?
Eric: Our smartHearing aids are able to outperform normal hearing in noisy environments; they have connectivity with audio devices that everyone uses like TVs, phones, computers; they enable greater discretion and control through apps; they learn wearer preferences and adapt automatically.
There are three elements of smartHearing. First, all except one of our products feature smartConnect, which provides wireless connectivity for streaming audio directly to your ears and controlling your hearing aids via your smartphone. With smartAdapt, both hearing aids are synchronized to work as a single system and determine the listening situation you are in, adjusting themselves for greater personal comfort. And finally, the premier aids in our smartHearing portfolio offers smartSound, which replicates natural binaural hearing processes to suppress unwanted background sounds and improve spatial perception for outstanding sound quality. In other words, we offer smart hearing aids not only in the Premium segment, but also down in the Essential segment. And our smart hearing aids come in all models from the tiniest Invisible-in-the-Canals (IICs) and Completely-in-the-Canals (CICs) in Insio binax to the versatile Motion binax Behind-the-Ear (BTE) models.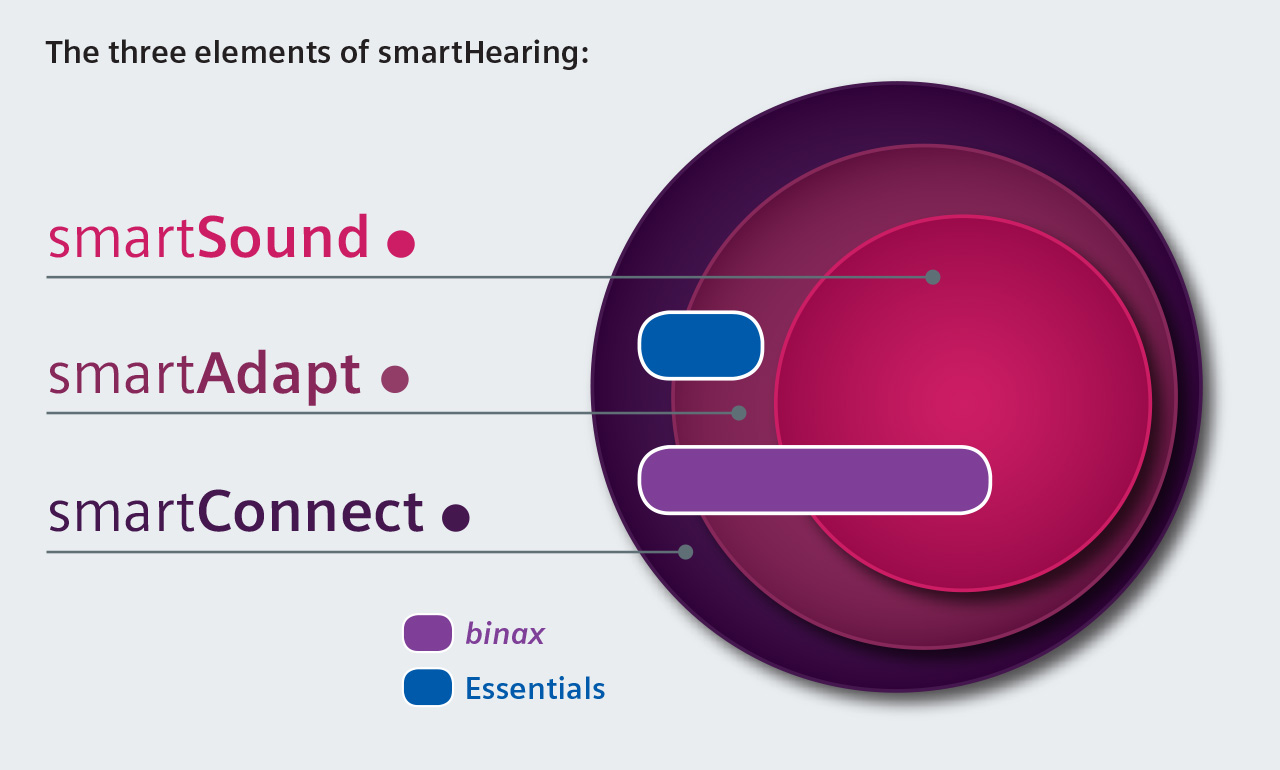 Carolyn: You mentioned that hearing aids in your Essential segment are also smart. Can you tell me more about the products?
Eric: With the latest upgrades to our Orion 2 and Sirion 2 Essential line of BTEs, Receiver-in-Canal (RIC), and customs, our Essentials wearers can now enjoy a few premium features that had previously been exclusive to higher performance levels; and we are also introducing a new Orion 2 RIC 10.
In addition to the current features in Orion, the new Orion 2 offers binaural synchronization, wireless streaming with easyTek and the easyTek App, and the ability to use the touchControl App to discreetly control volume, treble, and program changes without any intermediary device. Plus, Orion 2 is equipped with eWindScreen and Automatic and Adaptive Directional Microphones.
Sirion 2 adds a few new features including Automatic Directional Microphones and Frequency Compression, and is now compatible with the touchControl App. In fact, Siemens Essential line is the only one that offers e2e wireless plus audio streaming and useful apps.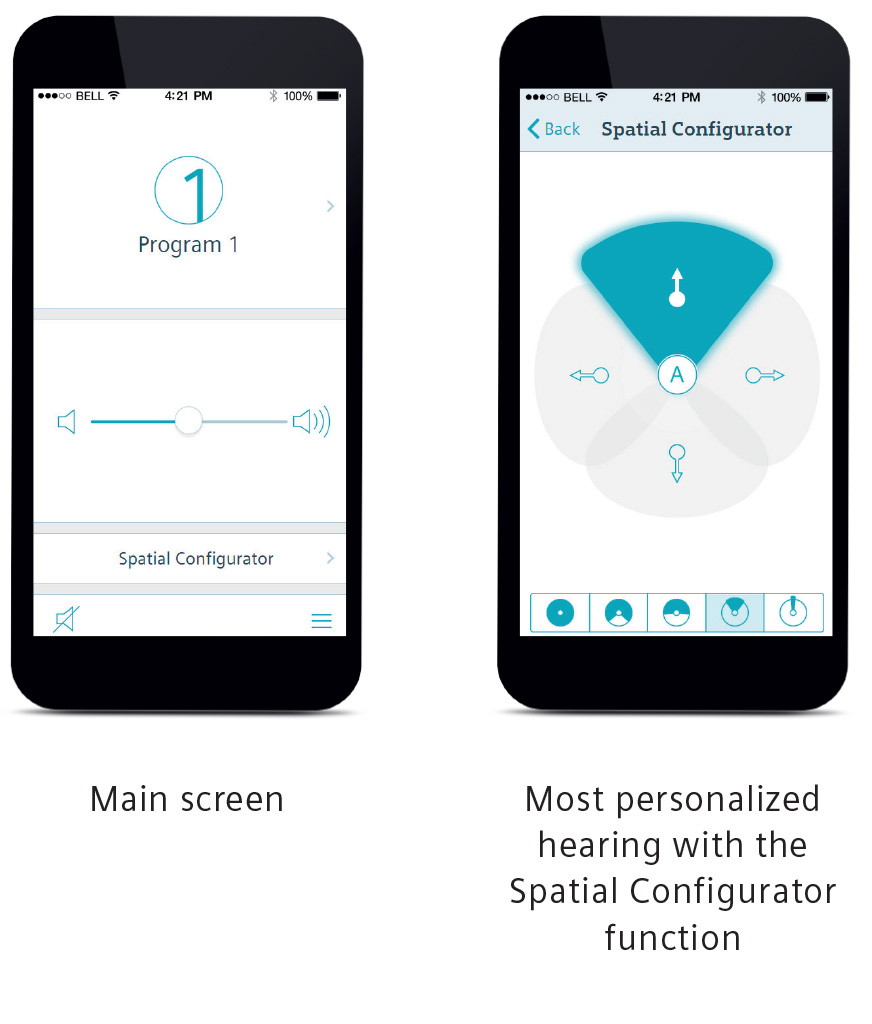 Siemens touchControl App.
Carolyn: What's new with your custom line of smart hearing aids?
Eric: Our Insio binax family is now available with a power matrix for those with severe to profound hearing loss. Insio now delivers up to 65 dB of gain along with all the benefits of our binaural OneMic directional microphone system—down to tiny CICs and even IICs. The Insio binax smart design enables a higher fitting rate while offering industry-leading binax features such as Narrow Directionality, Spatial SpeechFocus, and eWindScreen binaural. Until now, these features were previously unavailable for people with severe to profound hearing loss who preferred a custom hearing instrument.
Carolyn: What else is Sivantos introducing?
Eric: In addition to smartHearing aids, we also worked together with Bellman & Symfon to deliver smartHome solutions. This technology delivers special signals to Siemens wireless hearing aids, alerting the wearer in a number of critical situations. Through specially designed easy-to-set-up sensors, transmitters and monitor, the system enhances the safety and independence of the Siemens hearing aid wearer and loved ones. The smartHome solutions are a small footprint, and energy-efficient technology that leverage the smart connectivity of Siemens wireless hearing instruments to transmit signals directly to the hearing aids via the easyTek wireless streamer. This includes: when a phone is ringing, when a doorbell is chiming; when the smoke detector has triggered; and when a loved one asks for assistance via a room monitor or uses a push-button transmitter.
Carolyn: Does smartHearing Technology offer additional benefits to professionals?
Eric: Today's consumers are very tech savvy. That's why smartHearing is a great way to talk about hearing instruments, especially to baby boomers who are familiar with the many smart devices available today. Patients would also appreciate that the professionals can offer them more than just hearing aids, but also compatible and complementary smartHome alerting devices for their home.
Carolyn: Where can professionals and wearers find more information about smartHearing Technology, the new Insio Power, and smartHome?
Eric: Siemens hearing aids featuring smartHearing technology are available now. For more information, visit http://usa.bestsoundtechnology.com.