Carolyn Smaka: Thank you for your time today to share your unique insight and understanding of the hearing industry, professionals, consumers, and trends. What was the hearing industry like when you started 40 years ago? What were the similarities and differences from today?

Peer Lauritsen: Forty years ago, audiologists worked primarily in clinics and hospitals and were not allowed to dispense hearing aids. At the time that I started in the hearing industry, audiology was just beginning to change as audiologists became more involved in recommendations for hearing solutions and not just diagnostics. They would try to point out the products that they believed were the best for each patient. They had samples of various hearing instruments but the hearing solution was still obtained in a commercial outlet. Franchise chains dominated the distribution system and the franchise business is a closed system. There is usually only one choice, their product. But as audiologists moved into dispensing practices, the business opened up for companies like Oticon. Audiologists could now recommend the best solutions with the best benefits for the individual patient from a quality point of view. It was exciting time.
Today, the hearing care professional continues to be at the center of the hearing care equation. We rely upon the knowledge and expertise of hearing care professionals to enable our hearing instruments to provide the maximum benefit for people with hearing loss. The professional, face-to-face interaction between the user and the hearing care professional is what we believe releases that potential. The hearing solution has to be personalized to the very individual needs and preferences of the user. Hearing care professionals are still the ones who understand the patient and understand the technology and how it can be applied in the best possible way.
Carolyn: How has your current management style with Oticon been influenced by your years of experience – what do you think you do differently?
Peer: Over the years, you gain experience in many different ways, the good and the bad. You have an opportunity to look at the market and other businesses. And you aim to use that knowledge to make the right choice and the right decisions for the short and long term so that your company manages its position in the marketplace in the right way to attract not only consumers but also the business people you choose to partner with.
A people-focused company is the thing that drives business today. I am fortunate to work for a company that for many, many years has promoted a commitment to People First. We really try to live up to that slogan on a daily basis. We like to say it is in our DNA. Like me, our employees believe it is the right thing to do.
Does staying with a company for many years mean that you go stale? No, it is important that everyone is continually addressing the businesses issues. But there are many ways of addressing those issues and you can always find a more humanistic, people-oriented approach that resonates not only with employees but also with your customers and consumers.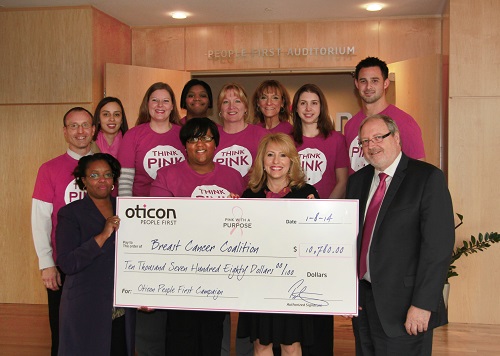 Oticon President Peer Lauritsen presents a check for $10,780 to Daniell Griffin, Director of Development at National Breast Cancer Coalition. The check represents the proceeds from the Oticon Pink with a Purpose campaign.
Carolyn: They say that history often repeats itself, and therefore your experience can be an advantage when it comes to analyzing current and future trends. What do you think are trends we should be watching?
Peer: We've been talking about Baby Boomers for years and all of the demographics are pointing in the right direction. Around the world, hearing aid sales have grown 3-5% consistently. Hearing care in general has increased and that may have improved the incidence of hearing loss. So we may be stable in the population but as the population grows older, the incidence of the number of people with hearing loss increases. We still have a long way to go and I believe the opportunity is there. We have to be sure that we are presenting ourselves attractively enough so that everyone with a hearing problem does something about it. Baby Boomers are more health conscious, living longer and enjoying themselves longer at a higher age and they are not accepting of a deterioration in their quality of life. Health care and hearing care will benefit a great deal from that attitude.
Cognition is another focus area for this demographic. Baby Boomers want to be with it for as long as possible. People are focused on healthy brain function and interpreting or making sense of sound is what the brain does. In recent years, we have introduced hearing solutions that allow two hearing instruments to communicate with each other because this is the way the brain works. At Oticon, we call this approach BrainHearing. We think brain first so that we cater to the brain as much as possible. BrainHearing is the way forward that will unlock future advances in hearing care and unleash even more user benefits.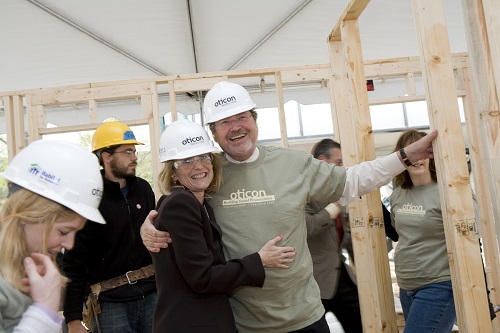 Oticon President Peer Lauritsen is joined by volunteers for a wall-raising challenge for a Habitat for Humanity home donated by Oticon and constructed during the 2008 AudiologyNOW! conference in Charlotte.
Carolyn: Hearing device technology today is light years ahead of where it was 40 years ago. What were some of the exciting highlights in technological breakthroughs over the years and why? Where is the technology going – what do you think is the "next big thing"?
Peer: Consumer convenience that enables people to use their hearing devices in a different way is a significant breakthrough that has many consumer benefits. Connectivity options for the iPhone, cell phone, TV, home or office phone or personal microphone allow people with hearing loss to engage on a daily basis just as a person without hearing loss would. They provide enormous benefit. But we need to remember that communication is the most important function of any hearing solution. And that includes communication when the phone doesn't ring or the TV is off and you just want to connect with another human being. That is when the hearing device needs to live its own life as a solution that gives the best hearing possible without any other device being necessary. The most important function and benefit of a hearing device is when you are just alone with your hearing devices in a social situation or even, just resting – when you are acting just like any other human being. And that is the key to the future of hearing care, to normalize everyday life as much as possible. Providing hearing devices that process sound so you can hear in difficult listening situations and in all aspects of everyday life must always come first.
Carolyn: What advice do you have for young audiologists and students today who are just entering the profession?
Peer: Audiology and hearing care in general present tremendous opportunity for young people today. We know the elder population is growing. There will be increasing opportunity to serve the public and to be gainfully employed. Of course, this opportunity will only materialize if you are totally engaged and are doing as much as you can to understand the technology that is utilized to benefit the users. My good advice to students and to professionals that are coming into the field is continually work to improve you knowledge and understanding of the newest research, audiological techniques and technology advances, so you are on top of things and can present yourself to your clients in the best possible way and be the best guide that they could possibly have. When you are confronted with a demanding consumer, a consumer that wants to get much more out of hearing care than before and rightfully so, you will have the knowledge and skills you need to achieve satisfaction for your client and success for yourself.
Carolyn: What is your vision for the industry 40 years from now? 5 years from now?
Peer: A 40-year perspective is a long time to guess. Five years from now, I believe our knowledge about how hearing loss affects human beings will be greatly increased. A lot of research is now underway and that will translate into technological advances that will empower for people with hearing loss to function more naturally in everyday life. This will apply to all types of hearing loss and to hearing solutions from hearing instruments and bone conduction devices to implants and whatever devices we can imagine in the future. The focus will be, as always, on doing whatever we can do to make life for people with hearing loss less complicated and to enable them to enjoy their longevity going forward.
In an organization like Oticon, we have a long-term perspective. We are already working on solutions that might come to be a reality in five, ten, 15 years from now because that is what it takes to be a leader in hearing care. You have to be out there. You have to have a sense of how to utilize technology for the human being. I can definitely promise you that we have a long way to go before we run out of good ideas to help people.
For more information about Oticon, visit www.oticonusa.com. You can also learn more about Oticon on the Oticon Expo Page on AudiologyOnline.