Interview with Alina Urdaneta and Eric Branda, Au.D., Siemens Hearing Instruments
Topic: Introducing Siemens micon™

CAROLYN SMAKA: Alina and Eric, thanks for your time today to discuss the new Siemens platform, micon™.
ALINA URDANETA: Thank you, Carolyn. We're very excited about the new micon platform that we launched at the EUHA meeting in Germany in October.
CAROLYN: Can you give us an overview?
ALINA: It would be my pleasure. Siemens micon is the new platform behind BestSound® Technology, our technology umbrella for the past few years. With XCEL, our previous platform, we achieved that balance between sound comfort and audibility that we call Soundability, and it received very high market acceptance.
Micon takes Soundability to a whole new level. This is due to a few factors. First, the microprocessing chip has approximately double the processing power of our previous platform, enabling us to combine all of the hearing aid features that hearing care professionals and patients love. In addition, this added capacity enables us to bring forth a myriad of new functions and features that help reproduce natural sound. From a sound comfort standpoint, we know how important that is for the person wearing the devices. It also provides effortless listening.
The new chip has 48 channels and an extended frequency range to 12 kHz. Now, we can have different functions working together to provide effortless listening in demanding environments, like restaurants, for example. We've also built on providing even more personalization, which Eric will go into in more detail.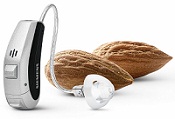 Micon technology is available in three of our most popular products – Pure®, Aquaris™, and Siemens Life, as well as a new product that we're introducing called Ace™. Ace is a tiny receiver-in-canal (RIC) device. We're really excited about Ace because we know that it will have a lot of success in the market.
Micon is a revolutionary new platform, what we think of as an icon. Of course, time will tell, but in essence we are combining all the very best features in the industry into one platform: the best speech enhancement, the best noise reduction, the best amplification even at the higher frequencies, a new frequency compression capability, and better and faster feedback cancellation. The outcome is exceptional clarity and sound comfort for hearing aid wearers.
Another important component of micon is that it delivers an efficient and effective first fit. As you know, with the marketplace in its current state, the hearing care profession has been tasked to do more with less. They are asked to be more productive, and to deliver superb service in their clinics and offices. With micon, the first fit is designed to be the best fit, enabling professionals to be productive and efficient. Micon also enables intelligent devices that learn and adjust automatically, and dependable devices that are robust, either waterproof like Aquaris, or water resistant.
Finally, and most importantly, micon meets the needs of the consumers. Consumer demographics are changing. Seniors are living longer, driving longer, and staying in the workforce longer. They're demanding hearing instruments that help them live their lives to the fullest, help them to stay active and help them participate in their activities. By the same token, Baby Boomers are also starting to find that they need amplification and we need to deliver hearing instruments that keep up with their very active lifestyles.
And so, our charter is to create instruments that have attractive designs that are discreet, that provide natural sound quality that is so important, and also have full connectivity to everything that matters. Siemens is a leader in Bluetooth® wireless connectivity - our hearing instruments can connect to mp3 players, to HD television sets, and to many other devices so that the wearer can appreciate the volume at their own preference without disturbing others. With micon, we're delivering instruments packaged with features that provide a better, natural sound and effortless listening.
CAROLYN: Eric, can you get into the details of some of the features?

ERIC BRANDA: As Alina mentioned, the new chip at the core of micon has much greater capacity. It is comprised of 18 million transistors, processing up to 250 million instructions per second with 12,000 Hz bandwidth processing. It has 48 channels and 20 handles. With micon, we don't have to compromise or prioritize the feature set we want for a particular patient – you can have all those features and processing in one instrument.
This includes frequency compression, in-situ audiogram, an extended bandwidth, higher levels of compression processing, and more. With more natural sound quality and effortless listening, we want people to forget they're wearing hearing aids.
With micon, there are three key components to that idea of Soundability – sound comfort and audibility – and those three components are miSound, miFocus, and miGuide.
miSound refers to the features that shape the sound that's being delivered to the wearer. This includes the extended bandwidth, the new fitting formula, and smarter feedback cancellation.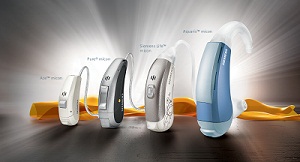 With bandwidth extending to 12,000 Hz, more acoustic cues are available for speech, and music listening may also be much more enjoyable. miFocus includes the features that work together in challenging listening situations to help focus on what the wearer wants to hear. These features include the directional microphone technology working in 48 channels, as well as noise reduction in 48 channels, to deliver a more natural and easy listening experience. We've also introduced some new types of noise reduction. Rather than just the standard modulation-based noise reduction that sets out to determine what is speech versus non-speech, micon incorporates the directional microphones to determine if the target signal is in front or behind the wearer. Then, it can provide additional noise reduction for everything in the rear field, to help improve performance in noise.
miGuide refers to the personalization of micon instruments for the individual wearer.
miGuide reliably detects acoustic situations and smoothly adapts the frequency response and feature settings to how the wearer prefers to hear. miGuide provides dedicated and more precise frequency shaping for truly personalized sound; instruments intuitively learn, adapt, and adjust gain according to the wearer's preferences. It includes automatic situation detection for six different listening environments: quiet, speech in quiet, speech in noise, noise, music and car. It can identify these different scenarios and then make adjustments not only to the noise reduction and directional microphones, but also to the frequency response within the same program.
CAROLYN: Eric, can you give an example of how the instruments might adjust for "car"?
ERIC: Sure, when the listening situation is identified as a car, it can go into a special configuration, such as SpeechFocus™, that will prioritize speech, even if it is coming from behind the wearer. In addition, it will still look for music and the other situations and adapt accordingly.
CAROLYN: Alina mentioned that micon is available in four different housings, including the new Ace.
ERIC: Yes, micon is available in Ace, Pure, Siemens Life, and the Aquaris at our top two performance levels, the 7mi and the 5mi.
With Ace, in addition to the very small size, you'll notice it has directional microphones and a new receiver design. Instead of using a bayonet attachment on the tip of the instrument, the receiver actually connects on the inner curve of the instrument.
The front microphone sits at the very tip of the instrument and the rear microphone sits back by the push button. This maximizes the distance between microphones which enables us to have a high-quality directional microphone system in such a small instrument. And of course, Ace has all the features of the micon chip we discussed, with the exception of wireless capability, due to its very small size.
CAROLYN: With the front microphone at the tip, is there a concern of moisture getting in?
ERIC: The new receiver design includes a silicone seal at the connection point to help keep moisture out, and it has an IP67 rating, which means it's water resistant. I should also mention that the receiver and the instrument have an intelligent communication via a SIM card on the receiver. This helps maximize power usage, because even with a 10A battery Ace offers up to 65 dB of gain.
Ace is very versatile – it even has a tinnitus control feature because, as you know, a high percentage of people with hearing loss also have tinnitus.
CAROLYN: What's new with Pure, Life and Aquaris on the micon platform?
ERIC: The Pure product line has been very successful, as it's the most fully- featured 312 RIC on the market. It has a customizable user control including a rocker switch, for program change as well as volume up/volume down. It has extended bandwidth like all micon instruments, as well as a telecoil with AutoPhone. Pure will provide up to 75 dB gain, and it has wireless capability so it can be used with miniTek®, Tek®, and our other remote control units. It has an IP67 rating for water resistance.
Siemens Life micon maintains the sleek, thin-tube design, and is a great option for people who may not be RIC candidates due to histories of moisture or wax issues. At the same time we're introducing a new semi-open tip, in addition to the standard closed tips or open tips. Life micon uses a 312 battery, has a battery door on/off, a programmable push button, and via the wireless control, this push button can now also be configured to take the volume up or down.
Aquaris micon utilizes its unique bottle housing to keep any water or moisture from getting in. It has a silicone-sealed battery door, extra gaskets at the receiver opening and a watertight membrane over the microphone compartment. We've even enhanced the battery door. We have a membrane for air exchange, as you may recall, that lets air through to the battery, but keeps water molecules out. We've enhanced the size of that membrane to ensure a better transfer of air into the battery compartment.
So, that's one of the major housing improvements or upgrades we've made there, but I think the key thing people have asked for with Aquaris is more gain. Now, we're introducing Aquaris micon with 65 dB gain. And of course Aquaris has wireless functionality and all the processing of the micon technology.
I mentioned the IP ratings, and Aquaris micon now tests to IP68. The 6 refers to dust. The 6 is the highest or best rating meaning that the instrument does not allow dust inside. The Pure micon and Ace micon also have a 6 rating for dust. The key difference now between Aquaris and every other digital instrument available on the market today is the 8 rating. A 7 rating means the instrument can be immersed in 3 feet of water for 30 minutes and can still function afterward. This rating doesn't mean water didn't get into the instrument; just that it could come out and still function. So, instruments with the 7 rating can claim water resistance. However, an 8 rating means the instrument can withstand 3 feet of water for continuous immersion, and no water is getting inside of that instrument. Therefore, the IP68 rating means Aquaris micon is waterproof, dustproof, and shock resistant. Because of these unique qualities, we're proud to mention that Aquaris has just been selected as a Consumer Electronics Show (CES) Innovations 2013 Design and Engineering Awards Honoree in the Accessible and Universal Design Technologies category.
CAROLYN: Congratulations on the award! I'm assuming a new version of Connexx™ will be available to fit micon instruments?
ERIC: Yes, Connexx 7 focuses solely on the micon products, while Connexx 6.5.2 is used for XCEL and other legacy products. Connexx 7 builds upon the Connexx 6 software, maintaining the features that professionals are comfortable with but adding enhancement to the workflow as well as support for the micon feature set.
CAROLYN: Great, thanks for the Siemens micon update today, Eric and Alina. Wishing you much success with the new product launches.
For more information, please visit the Siemens website's Professional Area or the Siemens Expo on AudiologyOnline.
---
---
---