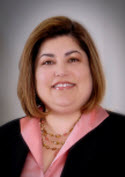 Alina Urdaneta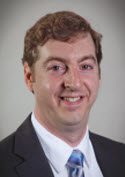 Eric Branda

SMAKA: This is Carolyn Smaka from AudiologyOnline, and today I have the pleasure of speaking with Alina Urdaneta and Eric Branda from Siemens Hearing Instruments. Welcome, and thanks for joining me today.

Before we get into our topic, can you both tell me about what you do for Siemens?

URDANETA: Sure, my pleasure. I am the Vice President of Marketing at Siemens, My responsibilities include marketing, communications, press, product marketing and training.

BRANDA: I'm the Senior Manager of Product Management. I am responsible for our products during the whole product-life cycle, from the development stage through phase-out.

SMAKA: Thanks for those introductions. And now let's get into our topic today, which is a survey that you recently conducted. Alina, how did this survey come about?

URDANETA: As you know, at Audiology NOW! 2011, we introduced a new product to the marketplace called Aquaris™. Aquaris is the first truly waterproof, dustproof, and shock-resistant hearing aid.




Siemens Aquaris

The survey was conducted over the phone in June with 500 people that have been actively using a hearing instrument during the past two years. By "actively" I mean using hearing instruments daily. We asked a number of questions about how their daily life is affected by the fact that hearing aids naturally have some limitations. The purpose of the survey was to ensure we were hearing straight from consumers about their needs and opinions. We also wanted honest feedback about the Aquaris™ product and its attributes.

The survey was conducted in the United States, and we had a number of different market segments represented. We distributed the survey to three different age brackets: under 50 years old, 50-65 years old, and 65 years and older. Of those who responded, 20% were under age 50, 40% were in the boomer segment (age 50 - 65) and 40% were in the sweet spot for hearing instrument users, which is older than age 65. Amongst all the age brackets, we had 50% male and female distribution.

SMAKA: What kinds of questions were included in the survey?

URDANETA: We asked participants a number of questions regarding their daily routines and the activities that they would like to participate in. We also wanted to know what potentially risky activities they participate in while wearing their hearing aids—"Risky activities" meaning ones that would, obviously, damage their hearing instruments. This included showering or bathing, and walking vigorously (95% of respondents), likely because of the sweat and how that may affect their hearing instrument.

We also found that about 30% reported being affected by some kind of weather event like a heavy downpour. In these instances, 17% said that they take their hearing aid off, 9% don't even go outside, and 3% turn off their hearing aid because they think it can save the electronic device. In reality, we know that when a traditional instrument gets saturated enough, it will be damaged, whether or not it's on or off. This was a staggering statistic to us - 30% of these 500 respondents said that because of their hearing aids, they rarely participate in certain activities that they would otherwise love.

SMAKA: Did the survey query what activities they were missing out on because of their hearing aids?

URDANETA: It did. At the top of the list of these activities was water aerobics, with other water activities also high on the list: Taking a spa or Jacuzzi (15%), water skiing (13%), swimming at the beach (13%), swimming at a pool (13%), and snorkeling (8%). The other activity mentioned was woodworking (6%). The results show that one in six people actually forego certain activities altogether for fear of getting their hearing aid wet or dirty.




Click Here to View a Larger Version of Survey Results (PDF)

There is a lot of resistance to hearing aids in the baby boomer segment, even though many boomers have some kind of either mid or high-frequency hearing loss. We know that they don't even want to consider a hearing aid because they usually lead very active lives, and they feel that a hearing instrument will slow them down. These numbers confirm that.

We also learned that wearers are most likely to remove the aids when engaged in the following activities: bathing or showering, swimming at the pool, and swimming at the beach. You know, if someone takes off their hearing aid at the beach and there's some kind of rip current or danger on the beach where they need to hear the warning from a lifeguard, they probably wouldn't hear it. So by participating in these activities without their hearing aids, they might be exposing themselves to some kind of hazardous situation.

Next on the list was the spa or Jacuzzi at 82%, followed by snorkeling and water aerobics. Consumers have to take their hearing aids off if they're going to participate in these activities. Sixty-three percent said it's inconvenient to take their hearing aids off, and 38% said they really missed having the benefit of hearing when they take their hearing aids off.

These results indicate that there are definitely needs that have been unmet by traditional hearing aids that are not waterproof, dustproof or shock resistant.

SMAKA: You mentioned your other goal in the survey was to query consumers' opinions about Aquaris and its attributes. What did you find?

URDANETA: We were very excited about the findings. When asked if they would be interested in a hearing aid that was waterproof, dustproof and shock resistant, 53% of respondents said that they would be somewhat or extremely interested in these attributes.

If you look at the number of people that wear hearing aids - roughly ten million people in the United States - that is equivalent to more than 5 million people who would be interested in a product such as Aquaris.

We thought that we were going to get a lot of interest in Aquaris, and these numbers confirmed that we are really filling a gap in the market with this product.

When we asked what features they would be most interested in or excited about, many of them talked about two or three, with waterproof leading the pack at 71%. Next was a hearing aid being shock resistant at 63%, followed very closely by dustproof at 60%. Obviously we see that there's a need in the marketplace for Aquaris. Not only have we seen a lot of interest coming from the professional community, but also from the consumer standpoint as something they would be motivated to explore and try.

SMAKA: Can we get into the Aquaris' product details a bit?

BRANDA: Sure. Let's first talk about the design of the instrument, because the housing of Aquaris™ is key to the attributes that Alina mentioned. We use the term bottle housing, in that we want to have the fewest number of openings in the housing as possible. The Aquaris' housing is one solid piece with no seams, and no screws or pins. The only points of entrance are the battery compartment, microphones, and the receiver area.

So in the product design we next addressed each of those areas. There's a silicone seal that prevents any water from getting inside of the battery compartment. Keeping in mind that the battery needs air to breathe and function, there's a waterproof membrane that still enables the transfer of air into the battery compartment to support the battery.

The microphones are also covered with a watertight membrane and an extra cover on top of that to help deflect water or prevent any damage to the membrane. If we look at the receiver, there's a gasket around the base to prevent water from getting inside of the receiver opening. The receiver itself has a nanocoating on the grid, which prevents water from seeping in, working in conjunction with a thin tube or standard tube with earhook and earmold.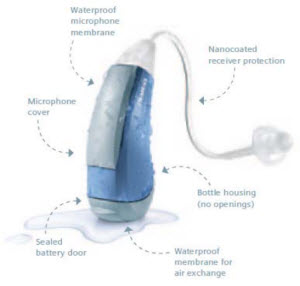 Anatomy of Siemens Aquaris.

SMAKA: I see in the product documents that Aquaris achieved an IP57 rating. What does that rating refer to?

BRANDA: To help prove and support what this housing is doing, we put it through an Ingress Protection rating test. Aquaris™ passed at an IP57. This is an international standard, and the numbers have relevance. The five in IP57 means that it is dustproof. The instrument is put into a dust chamber, essentially with talcum powder blowing around it, for eight hours, and it still has to function completely satisfactorily when it comes out of that chamber. The seven in IP57 means that the instrument can be submerged into three feet of water for thirty minutes and come out and be completely operational.

You can view more details about these tests and actually watch them being performed in a YouTube video, entitled Siemens Aquaris, tested tough. There are a number of videos on Aquaris, including the IP57 test, also on our website.

Aquaris is also made to be more secure on the patient's ear. The housing itself has what we call soft-touch lacquer, so there's a little more grip, and it's a non-sliding surface. When it's worn behind the ear, it's not going to slip around. For even further security, there's a Sport Clip that clips right onto the back of Aquaris, and has a little piece that wraps around the bottom of the ear to hold the instrument in place while the wearer is moving about.

SMAKA: In terms of technology, is Aquaris available in different levels?

BRANDA: Yes, it is available in both our 701 and 501 levels.

Aquaris features BestSound technology. This includes: FeedbackStopper™, which is an industry-proven feedback cancellation system; SoundLearning® 2.0, which is going to help wearers find the most comfortable loudness preference in a multitude of situations; and SpeechFocus™, which optimizes intelligibility no matter where the speech is coming from, even if it's coming from behind. All these features come together for the best hearing experience in a variety of situations.

To make things even easier, we offer a variety of accessories. We have remote controls such as ePen™ and ProPocket™ for turning the gain up, changing programs, and with Tek™ and miniTek™ we introduce Bluetooth and a world of connectivity. With miniTek™, there are connections for cell phones, TV, stereo, and even direct audio input.

In addition to the Sport Clip that I mentioned, other accessories include Aquapac, a waterproof accessory pack that can store different audio components inside. It has an excellent waterproof ratings as well, so it can seal up pieces like the miniTek™ and an iPod, for example. A wearer can use Bluetooth to transmit music to the hearing aids while they're swimming with the Aquapac holding the MP3 player. It really opens up their opportunities to just do the things they love to do.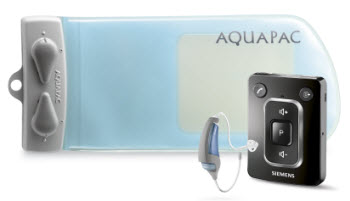 Aquaris shown with Sport Clip, Tek™ and Aquapac accessories.

SMAKA: If you have your iPod and Tek™, and you're streaming to your hearing aids while in the Jacuzzi, then you're doing something that someone without hearing aids can't do.

BRANDA: Exactly. It's one of these cases where we open up more flexibility for people wearing hearing aids than for people without them.

SMAKA: I know this is an old-school question, but what's the gain and output on Aquaris, or what level of hearing loss can it fit?

BRANDA: It has 55 dB of peak gain, and the peak output is 127 dB SPL.

SMAKA: In listening to Alina describe the survey and the things that many people with hearing aids report that they avoid, I was thinking that those activities are everyday activities for a lot of us.

URDANETA: Yes. If you look at the activities that these people have been avoiding, they are precisely the activities that make them healthier. That means that Aquaris is not only serving them from the standpoint of allowing them to enjoy leisure activities that they couldn't do with their hearing aids before, but it is also promoting a healthier community by enabling them to once again engage in these activities.

SMAKA: Is Aquaris applicable to pediatrics?

BRANDA: Not to the very young pediatric population, as there is no battery door lock. For middle school-aged children, because you've got direct audio input capabilities with miniTek™, it really opens up possibilities. Aquaris' features would be very appealing to parents of older children who participate in sports and worry about sweat and durability, too. One thing to note about the pool and swimming is that we do recommend a fully occluding, non-vented earmold in those instances because otherwise there still is a passageway to the receiver. Despite the nanocoating on the receiver, you still want to keep water out of that area as much as possible.

SMAKA: So you would simply swap out earmolds for swimming?

BRANDA: Yes. You would have two different custom earmolds: one for everyday use and a fully-occluding mold for swimming. The wearer could switch those out very easily for either the thin tube or the standard earhook configurations.

SMAKA: For people that want more information, to where should we direct them?

URDANETA: They can contact their Siemens Sales Representative, or visit our website, www.usa.siemens.com/aquaris

SMAKA: Eric and Alina, thanks for taking the time to discuss Aquaris and the survey results.

BRANDA: Thanks, Carolyn.

URDANETA: Thanks Carolyn, it's been a pleasure.

Learn more about Siemens by visiting the Siemens web channel on AudiologyOnline.