Jan Metzdorff
Don Hayes
CAROLYN SMAKA:
Jan, it's a pleasure to meet you. Can you tell me about your background and how you came to Unitron?
JAN METZDORFF:
Certainly. I'm from Denmark and currently living in Switzerland. I came to the hearing industry14 years ago with Philips. This was when digital hearing aids were just introduced. Shortly thereafter Philips was sold to Beltone and I moved to Canada and became General Manager. In 2044 I had the opportunity to join . the Sonova Group and after serving 5 years as Managing Director for Phonak and Unitron in the UK, I was invited to go to Switzerland to set up an international sales division for Unitron. I established the international sales team in the Swiss office, as Switzerland was a logical central hub for travel within Europe and other international markets. The Unitron headquarters in Canada is the global development centre which includes our R & D, Audiology, Corporate Marketing, and Product Management teams.
In October, I was appointed as President of Unitron. My background is in commercial and business development, which aligns well with my current role.

SMAKA:
What is your vision for Unitron?
METZDORFF:
What attracted me first to the international VP position and now also to the President's role, is that fundamentally Unitron is a company with great people, as well as great technology and products. These are the core ingredients necessary to move any company forward. If you don't have these fundamentals, it's going to take a lot of effort and a long haul to get the basics right to be able to springboard from there.
Unitron is part of the Sonova family, as you know, and so we have access to the latest chip technology. We know we have good products. We have an innovative R&D team in Kitchener developing uniquetechnologies like SmartFocus, SpeechZone and other r proprietary algorithms. I'm absolutely convinced that we have one of the best product portfolios in the market today, if not the best, from a feature and technology point of view.
Unitron has been modest or humble about all it has to offer, and we have much to be proud of. We're continuing to sharpen the company culture, and subsequently you'll see us be more vocal and visible in the market.
We are working on the "soft values" around products. These are things like our relationships with our customers and how we support them. I know all companies claim to focus on service, but I'm referring to actually establishing a customer-centric culture. In addition to great products, customers are looking for help in marketing, lead generation, and other value-added programs to support them in the in their success with their patients.
We are in a relationship business. Yes, developing products and features that deliver real life benefits will always be our focus - although we believe how we do business is just as important. And it starts with building relationships and understanding what our customers require to be successful with their patients. We have new functions in the organization establishing processes and services which will support our customers, whether it be a business support service or tied to technology.
A great example of providing value added services is what we can offer with Sona. You probably know that Sona technologies and service were transferred to Unitron about six months ago. The Sona business model is quite different. It's not just a different kind of product but it's a service model. The possibility to upgrade your hearing aids to different technology levels, automatically replenish stock, and so on. So we are looking at how we can complement that model with Unitron product and worldwide distribution power. There are certain features in the Sona model that are very unique and very service driven and may make sense to implement within Unitron.
So those are some of the many things I am excited to be working on as President of Unitron.
SMAKA:
Thanks for that explanation. You mentioned that you are still focusing on developing products and features, as can be seen by your recent product introductions.
METZDORFF:
Yes, last summer we launched the Era platform with the Moxi and Quantum families on this new platform. The whole platform has been very successful and well received in North America as well as in Europe and other markets.
This spring, we're now launching new additions to our Quantum and Moxi product lines, a new micro CIC and our new premium Pro series. I'll start with our new microCIC. What is unique about it, apart from the size, is that we are using a new set of transducers that no one else in the industry is using.
So we are first company with what I seriously believe is the smallest CIC solution available.

The new Quantum micro CIC
One of my philosophies is that in everything we do we should really keep the hearing care professional in mind. From the moment we begin to develop products we need to ask ourselves, "How is this going to benefit the hearing care professional? How will this help him or her in their business to better serve their clients?" If we cannot answer this question we need to either stop what we are doing, or re-focus our efforts.
The new micro CIC was developed based on this philosophy. We know that half the people who walk in to see a professional because of hearing loss walk out without a hearing aid because they're not convinced, they don't want to pay the money, they don't like the idea of having hearing aids, or they don't like the cosmetics of current solutions. There are a number of barriers our customers face and if we can help break down those barriers down by offering cosmetically appealing products, for example, we will add real value to the professional. That's a part of building trust and relationships.
The next product development to share is our new first class hearing instruments called Pro.
SMAKA:
Usually product launches come out in the premium segment first, then the middle and entry segments next. You launched the Era platform in reverse.
METZDORFF:
We started at the mid-level segment, what we call Business Class segment and Economy segment. That's where, as an industry, we have most of our business. So we decided to go with full impact and focus our resources on delivering great products into our core segments first and this has proven to be very successful. So now we are launching our First Class hearing instruments, Pro.
Pro provides technologies to further address the number one complaint faced by people with hearing loss which is understanding speech in noise. SpeechZone is the newest feature in Moxi Pro and Quantum Pro, enabled by Unitron's new binaural spatial processing capabilities. SpeechZone activates maximum directionality when the hearing instruments determine that speech is coming from the front in a noisy environment. Listening becomes easier as both hearing instruments automatically zero in on speech regardless of its direction, with no need for a wearer to adjust their hearing instrument controls. We've achieved this using special detectors that result in better performance of the directional microphones in dynamic environments.
With SpeechZone in the Pro products at the top of the portfolio, I think we have a nice package of solutions with great features that deliver amazing natural sound quality. I'm very optimistic about where we're going to go in the future.
SMAKA:
Thanks so much, Jan. Don, can you go into more detail about SpeechZone?
DON HAYES:
As Jan indicated, spatial listening requires two hearing aids. Nobody else in the industry is using binaural spatial the way we are processing. By using the two mics on each of the two directional hearing aids, or a total of four microphones, we can pinpoint where in space speech is coming from.
If you think about a traditional directional mic, it gives you lots of amplification from in front and less from the back. It doesn't care what's behind or what's in front, and it doesn't do anything more creative with those signals than applying directional gain rules. However, if you have detectors that can determine the location of speech, noise or speech in noise, you can make more intelligent decisions about how to selectively apply directionality.
With Quantum Pro and Moxi Pro, if the speech that's being detected by the two hearing instruments is from within 45 degrees re: either side of your nose, then it determines, "That speech is coming from in front." It's in the target zone of the directional mics. The directional mics will then be very aggressive and cut out the environmental sounds from all other directions If you listen to our demo, you'll notice that when SpeechZone comes on the speech doesn't change, but the environmental noise just kind of disappears.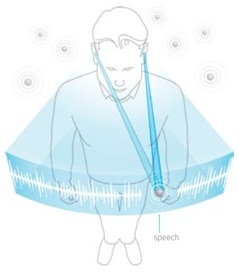 SpeechZone activates maximum directionality when the hearing instruments determine that speech is coming from the front in a noisy environment.
While that's pretty cool, consider this scenario. You and I are riding in a car. I'm driving and you're sitting in the passenger seat, talking away. In this case, the speech isn't coming from the front, but from the side. SpeechZone knows the direction of the speech is relative to where I'm facing. I don't have to turn my head to get you into the target zone of the directional mics because the target area opens up when speech is not from the front. Since the microphones become more omnidirectional, the speech from the side becomes more audible. We're using these SpeechZone detectors to be more intelligent about the way the automatic directionality functions.
SMAKA:
And the two hearing aids are communicating wirelessly?
HAYES:
Yes. However, we don't stream audio back and forth, we send data or information. When you stream audio you increase your battery current drain by as much as four times. Also, the hearing aids don't need to poll each other constantly.
When you go into a speech in noise environment and when your SmartFocus control is set for clarity, then we know that you're looking to use SpeechZone. When one hearing aid detects that you're in listening speech in noise environment it will contact the other one and compare information. If the two agree, then SpeechZone comes on. Then they don't need to communicate again until one of them detects a change indicating you've moved out of that environment. It polls the other hearing aid to compare and goes back and forth in that manner. In that way, there is only a two percent increase in battery current drain over the life of the battery. It's an extremely minimal impact in terms of battery current drain but the benefit is the full impact of SpeechZone.
SMAKA:
And while I have you here, let me ask you how you designed that new micro CIC to be so small, in addition to the new transducers.
HAYES:
The smaller transducers are definitely part of it - we have a smaller microphone, and a smaller receiver so we can trim back the faceplate significantly. We also use a better RSM technology for building the shell. We can use slightly different materials to make the shell a bit thinner and so that the hearing aid doesn't require a deep impression. A good
CIC impression would work. As you can see, it is really tiny in the ear.
SMAKA:
How is the fit rate?
HAYES:
The fit rate is very good. We have above an 80 percent fit rate with the faceplate inside the opening of the ear canal. These are true micro CICs that are seated deep down the ear canal. If we have a decent impression we will routinely make it well into the second bend. It uses a 10a battery and is available in Quantum 6 , 12 and 20.
SMAKA:
That makes it easy for professionals to offer it, as it is available across technology levels. That, and the standard CIC impression. Well Don and Jan, thanks so much for the updates. It's been a pleasure catching up.
HAYES:
Thanks, Carolyn.
METZDORFF:
Thank you, Carolyn.

For more information, please visit us at unitron.com or on the Unitron Web Channel on AudiologyOnline.