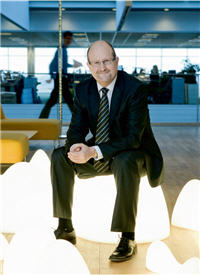 Jes Olsen
CAROLYN SMAKA:
This is Carolyn Smaka from AudiologyOnline and today I'm speaking with Jes Olsen, CEO of Oticon Medical. Thanks for your time today, Jes.

JES OLSEN:
Thank you, Carolyn.
SMAKA:
Jes, can we begin with your background?
OLSEN:
Sure. By training I am an electronics and acoustics engineer and I have been working for Oticon for 23 years. Initially I was employed as an R&D engineer and project manager, then as a special projects manager and technical coordinator in the marketing group. I also spent four years in Stockholm as General Manager of the Oticon sales company, and for the last 13 years I have been Vice President of R&D at Oticon's headquarters near Copenhagen in Denmark. I think that the mix of R&D, marketing, sales and management makes an excellent background for what I am doing now. Managing Oticon Medical is giving me a unique opportunity to try something completely new, utilizing my many years of experience from the hearing aid industry. Most important, I get to do something for a group of users that cannot benefit from traditional hearing aids.
SMAKA:
Oticon has built its reputation in air conduction hearing aids;why has the company decided to move into bone anchored hearing systems?
OLSEN:
Entering the field of bone anchored hearing systems gives us an opportunity to help a new group of end users. This type of product is rapidly gaining acceptance as an effective and proven solution for patients with conductive/mixed hearing losses or single sided deafness, who cannot benefit from wearing traditional air conduction hearing aids. In fact, with an annual growth rate of 20-25%, the market for bone anchored hearing systems is the fastest growing segment of all hearing solutions. We made this move because we have the ability to significantly improve the performance of implant sound processors.
Strong synergies exist between the two fields, not only in terms of technology and audiology but also in manufacturing and distribution. Technology-wise, much of the advanced technology used in conventional hearing aids can be applied in bone anchored hearing systems. From an audiological viewpoint, decades of setting new standards for traditional hearing aids have made an excellent starting point for improving amplification schemes for bone anchored hearing systems. Last but not least, many of the specialists fitting and dispensing bone anchored hearing systems are already Oticon customers. Even though there are significant differences in sales, training and support tasks it is often possible to piggyback on existing distribution structures. And where service is concerned - whether it concerns training, fitting and systems support or turnaround in service and repairs - Oticon Medical intends to provide the same high level of service for which Oticon is so renowned.
Ponto bone anchored hearing system
SMAKA:
What are the Oticon Medical core competencies?
OLSEN:
Oticon is probably the company that invests most resources in gathering new audiological knowledge and developing new technologies for making amplification more beneficial. The days where hearing aids functioned as simple amplifiers are long gone. Today the most advanced products can manipulate sounds in countless ways to improve speech intelligibility, sound localization and overall sound quality. They can also limit wind noise and reduce discomfort from strong background noise. All of this happens fully automatically without any need for user intervention. Designing such advanced features into commercial hearing systems requires a thorough understanding of the audiology, the desires of the user, and the possibilities offered by the various technological platforms. Oticon Medical products are based on the RISE platform, which also powers prime performance Oticon hearing aids like Epoq and Dual. This has allowed us to introduce highly advanced features that from the very outset have been tried, tested and proven to enhance speech intelligibility and overall sound quality.
SMAKA:
How did you go about acquiring the specific competencies necessary for the bone anchored hearing system market?
OLSEN:
We began by hiring three highly-skilled implant experts. Having been involved in the design of some of the earlier implants for bone anchored hearing systems in Gothenburg, they were able to help us climb the implant learning curve very rapidly. Getting these specialists on board even enabled us to focus on designing new and interesting features into our implants from the very beginning. They are also our customers' guarantee that the Oticon Medical implant system is just as safe to use as the alternatives. In sales, clinical support, audiological support and training we are handpicking some of the most competent people in the industry. On top of their skills these specialists are adding a strong element of market orientation and collaboration with key university clinics, which I believe will enhance the quality and further development of the treatment. Remember that Oticon Medical is a long-term commitment;just as Oticon has been in traditional hearing aids for over a century we plan to be in hearing implants for the next 100 years. That's why we are teaming up with experts who are dedicated to improving the treatment and the outcome for users and professionals alike.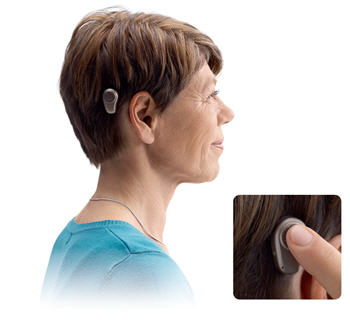 Ponto = bridge. "Ponto" is the Latin word for "bridge", which describes a system that's designed to bridge obstacles in the middle and outer ear.
SMAKA:
What makes the Ponto product system different?
OLSEN:
Oticon and Oticon Medical are strong believers in user-oriented product development. Research has taught us that design, size and ergonomics are very important. The shape of the processor is therefore completely new. Ponto is relatively small and closely follows the shape of the head and ear. The processor is also simple to use. Take the program button, for instance. The large size makes it easy to access, and the fact that the button is outward-facing eliminates any risk of accidentally clicking the processor off the abutment when switching programs.
We also have taken great care to make the vibrator and coupling extremely durable and easy to use. In tests the coupling has been subjected to up to three times the wear one would expect during its five-year lifetime, and the coupling forces are still almost unaffected. Ponto can be dropped on a concrete floor from a distance of at least one metre without affecting the mechanics or electro-acoustic performance. Last but not least we have used our best competencies and experience from traditional hearing aids to ensure that the Ponto processors work in all situations without feedback or other side effects.
SMAKA:
Which features are the most important, and how will they be of benefit to the users?
OLSEN:
A very important feature is the 10 kHz bandwidth, which captures a much wider range of sounds. There is also 15-channel processing with 10-band frequency response flexibility, which promises a much closer match to the patient's individual hearing profile or personal preferences.
Through the fitting system Genie Medical, Ponto offers dedicated fitting modes for conductive losses and for single-sided deafness to make fitting as intuitive and accurate as possible. The Genie Medical fitting software is based on the Oticon Genie software, making it easy for audiologists to transit and learn how to get the very best results for their patients. Other advanced processing features include TriState Noise Management, Automatic Wind Noise Reduction and Automatic Multiband Adaptive Directionality. We are particularly proud of the automatic wind noise reduction feature because it significantly reduces a very serious problem experienced by many users of bone anchored hearing systems. Also, the fact that the directional system automatically makes use of the unique split directionality mode means that users can benefit from directionality in many more situations.
Features of Ponto and Ponto Pro.
SMAKA:
Why is sound quality so important for this particular patient group?
OLSEN:
Users of these devices often have at least one normal cochlea, and one of the things we learned from working with them is that they are more sensitive to sound quality and sound artifact than users of normal air conduction devices. This means they are very critical but also that they can really benefit from the inherent sound quality parameters in the RISE platform. Our internal patient tests indicate that Ponto Pro users, compared to their previous bone anchored device, experience a 25 to 30% increase in speech understanding, significantly better sound quality and much higher satisfaction when using the product outdoors.
SMAKA:
It sounds like many of the features in the Ponto system are new in bone anchored hearing systems - are there any risks involved?
OLSEN:
The Ponto system is based on the Brånemark principles of osseointegration, which for decades has been a safe and proven technology.
The Ponto system has been thoroughly tested and verified. The implant system has of course been tested by users and surgeons over the last 4 years, but equally important is that we have conducted sophisticated technical verifications to prove that the Ponto implant system will perform at least as well and be at least as safe as the alternatives. This documentation was a key feature in the FDA clearance of our system for use both in adults and children. Oticon has a long standing reputation of conducting product development in an evidence-based, scientific manner. We also have a reputation of not using the market as a test site for new product features. We do our utmost to establish how things are going to work before putting them anywhere near the market. Much of the shape and basic operation of the product is based on user input, and numerous R&D studies involving users over the last four years have enabled us to evaluate and optimize all the details of the sound processor and its advanced sound processing features. Recently we are also beginning to see very positive results of external clinical tests performed by clinics around the world. The results in general support our own findings that the Ponto system is the first choice in bone anchored hearing systems and that all clinicians who want to offer ultimate user performance can safely do this with the Ponto System.
SMAKA:
Will surgeons need extra training to use the new implant system?
OLSEN:
Ponto implants are designed in such a way that surgeons with experience in bone anchored hearing systems can use existing surgical procedures. We have introduced a number of innovations that are designed to improve osseointegration and reduce skin irritation but overall, surgeons with experience from other bone anchored hearing systems will not require special training in order to learn how to perform the surgery using the Ponto implant system.
SMAKA:
How has the market responded so far?
OLSEN:
Since the pre-launch in October, feedback from customers and clinics has been extremely positive and we are eagerly looking into getting more users and professionals to use the product. Oticon Medical is in this for the long run and we intend to introduce the Ponto system more broadly as soon as we have verified that it meets both customer and user expectations in the pre-launch markets. In addition to giving professionals and users more of a choice and users clearer access to the sounds they want to hear, I believe that Oticon Medical can contribute to increasing awareness among professionals and society in general of what can be achieved with bone anchored hearing systems, so that more patients can get the help they deserve.
SMAKA:
Jes, thanks for your time today. It was a pleasure speaking with you.
OLSEN:
Thank you, Carolyn.
For more information about Oticon Medical and Ponto, please visit:
www.oticonmedical.com