Carolyn Smaka: Kathy, I'm excited to talk to you about Sonic's newest product line, Bliss. What products comprise this new line?
Kathy Landon: Thanks, Carolyn. Bliss is a set of custom hearing instruments and a miniBTE. It is built on the same signal processing platform and includes many of the great features that we introduced with the Flip miniRIC. When we launched Flip, professionals began asking about getting the same technology in custom instruments and other styles such as BTEs. We listened, and that is exactly what we have done with Bliss.
Carolyn: Does Bliss include Speech Variable Processing?
Kathy: Yes. Speech Variable Processing is the foundation of the signal processing.
Carolyn: What makes Speech Variable Processing different from other signal processing systems?
Kathy: There are many unique aspects to Speech Variable Processing. As you know, all manufacturers today have wide-dynamic range compression (WDRC) systems. WDRC is widely accepted as a good way to process sound, and you may think that all WDRC systems are pretty similar. However, when you look at the specifics of each system out there, you will see some significant differences.
One of the things that is very important to us at Sonic is sound that is natural. It is part of our 4S Foundation, which is the cornerstone of all that we do. The key to making our sound processing natural is the speed of the processing. We are able to quickly and accurately identify what is going on with the incoming signal, first by accurately measuring the input level. Speech Variable Processing addresses the dynamic nature of speech. Speech Variable Processing quickly and accurately encodes what is coming into the hearing aid, but then also provides very fast processing once the sounds have been identified.
One important differentiator of this system is its attack and release times. Systems that use slow release times tend to either overshoot or undershoot the amount of gain that they apply to the signal, and either way accuracy is lost. They may be accurately monitoring what is coming in to the system, but if they are slow on their release of the gain that is applied, then they are not going to be accurate. Speech Variable Processing uses a very fast attack and fast release time, whereas most other systems on the market tend to be fast-attack, slow-release systems, which is why other systems do not sound as natural. We put this video together to help professionals to understand how the system works.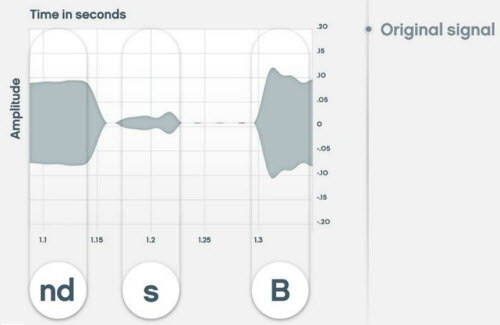 Speech Variable Processing - Speed
Another important difference with Speech Variable Processing is that it is designed to preserve frequency contrasts between sounds, because it is these contrasts that contribute to clarity. You can think of frequency contrasts as the difference in amplification across the frequencies for an incoming sound. If you look at individual phonemes, each one has a different fingerprint. Each phoneme has a particular shape to it at different output levels across the frequencies. If you cannot accurately replicate that fingerprint, the sound will not be as clear. Many traditional multichannel compression systems split the signal into different frequency bands, and then they measure the signal at different levels in each of the bands. The system may apply a certain level of compression or amplification at that particular frequency band. It adjusts the signal and then puts all the bands back together. However, the spectrum tends to get flattened and you end up losing the contrast that exists across the frequencies.
Speech Variable Processing applies gain to the entire wideband acoustic signal; it maintains the frequency contrast across the spectrum because it does not split the signal into bands, process each band and then put it all back together. By preserving the frequency contrast, Speech Variable Processing is able to maintain the clarity of the signal. This short clip illustrates how the ratio between the peak and valley in a speech signal is maintained with Speech Variable Processing, as compared to a multichannel system.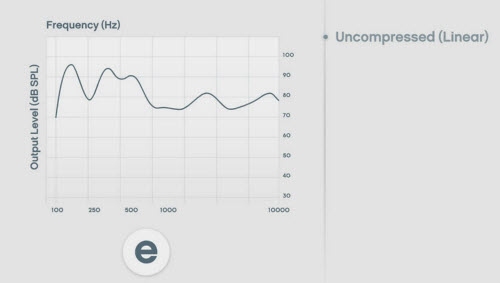 Speech Variable Processing - Frequency Contrast
Carolyn: You mentioned Bliss includes many of the great features available in Flip. Can you provide an overview?
Kathy: One key feature is connectivity to external devices. In terms of connectivity, Bliss is available in an ITE and an ITC as well as a miniBTE that offer connectivity options. The miniBTE is very small, but it uses a size 13 battery and so it gets approximately 200 hours of battery life, which is great considering it has wireless connectivity as well. It is interchangeable between an ear hook and a thin tube. The intention is that this will replace our Velocity line at the top end, because it does have the connectivity feature.
Our tried and true SoundGate system provides wireless connectivity to external devices. It is the same system that is used with Flip, and it has been very easy for people to use and for professionals to configure. It is a known technology; we know it works, we know it is reliable, and we're excited to offer it to more patients now with Bliss.
SoundGate device (center) allows wireless connectivity to other everyday electronics
Carolyn: For patients who aren't interested in SoundGate, does the wireless feature in Bliss offer benefits?
Kathy: Absolutely. In addition to connectivity to external audio sources via the SoundGate device, the wireless feature includes binaural coordination between the devices and synchronized program changes.

Bliss instrument line up
Carolyn: Excellent. Is Bliss available in different technology levels?
Kathy: Yes. Bliss is available in Bliss100 and Bliss80. Bliss100 takes further advantage of the binaural coordination to get a 360 analysis of the soundscape. Both hearing aids are communicating to determine the listening environment. Because speech understanding in noise is something that is important to Sonic, we prioritize speech in noise when there is a discrepancy between the hearing instruments. We always prioritize for speech in the environment.
We have taken great efforts to ensure that Bliss delivers on all four of our 4S Foundation items: Sound that is natural; Speech understanding in noise; Simplicity in all we do; and Style that stands out. As we discussed, Speech Variable Processing is the key to providing sound that is natural. Speech Priority Noise Reduction helps deliver speech understanding in noise. This system is not just about making things comfortable; it is about enhancing speech. It is designed to address steady-state background noise and leave the speech signal intact while applying some amplification to help with speech understanding.
In terms of simplicity, Bliss enables the wearer hands-free operation. The universal programs adapt to the environment. The miniBTE has a push button to change between programs should the listener need to access a specific program for specific listening situations. And with the binaural coordination features, you only have to touch one hearing aid. The same thing holds true with the SoundGate and the other connectivity devices that we have; they are very simple for people to operate.
Style that stands out is our fourth 4S Foundation item. The miniBTE is a beautiful instrument based upon the popular Velocity miniBTE. We have done a bit of external styling to that device, and we have introduced it in some nice, new colors, including fourmetallic options. We really try to make sure that everything we do at Sonic adheres to this 4S foundation, and Bliss is certainly is a shining example of that.
Carolyn: We are starting to see a shift or upswing in the market back to custom products. As far as the custom products go, how small does Bliss get?
Kathy: I'm so glad you asked! With Bliss, we offer four custom models: a CIC, CICP (power), ITCPDW (power, directional, wireless), and an ITEPDW. We are going to be adding some additional custom models over the next several months as well. The CIC is what you have come to expect from Sonic: small and beautiful. All of our custom instruments in the United States are made in our Eagan, Minnesota facility, and we have a very talented, experienced staff building these devices. The CICP with the power receiver is a nice option for people who do not want something as visible as an ITC and their ear canals can accommodate a larger receiver. The ITCPDW and the ITEPDW are loaded with features. As the names indicate, they have a power receiver, directionality and the wireless coil.
Carolyn: That sounds pretty comprehensive for a beginning launch portfolio.
Kathy: We tried to identify the trends of the models that have been selling so that our offering is aligned with what our customers and their patients want. That is why we have made sure that we can cover all angles with the CIC. It is not quite a micro CIC because of the receiver and the gain/output that we offer, but it still enables us to build a small, elegant CIC. The ITC is a very popular option. It is still small enough to be discrete, but can accommodate two microphones for directionality.
We actually have two other enhancements with Bliss that you will not find on the Velocity system. The first is a new wax protection system called ProWax. It is very similar to the NoWax system we use on Velocity, but it is a little smaller, which allows the instrument to be built a little bit smaller. The new ProWax filters are treated at the molecular level with a substance that makes them resistant to moisture. We also have new microphone covers on all of our custom instruments, which do a good job of keeping debris and moisture out. These new protection features improve the reliability and the overall quality of the devices.
Carolyn: Tell me about Bliss training opportunities and support for professionals.
Kathy: Our Audiology Support, works together with technical support to provide very flexible training and teaching options to our customers. If the customer calls in to our main number, 888-423-7834, and asks for Audiology Support, we can review the product with you or walk you through the software. This is really nice for first fittings when you want some extra help fitting it or making sure you have accessed all the features for programming. As long as you have an Internet connection, we can even hop on your computer remotely and walk through the software with you. In addition, we have an introduction to Bliss recorded CEU course on AudiologyOnline.
We are extremely flexible in the ways that we can provide training. We know that this is a big part of making you comfortable with the product. We have a library of materials that customers can use to help with marketing efforts, whether in their local newspapers or on their websites.
Carolyn: I always look forward to your colorful, marketing campaigns. What can we expect with Bliss?
Kathy: Thank you. We have a nice introductory video where you can see the creative campaign.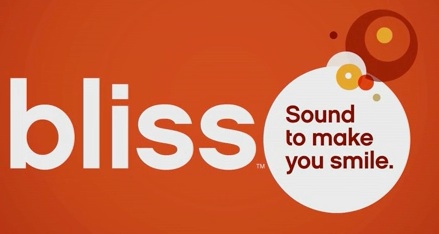 Meet Bliss!
In addition to the creative work we've done, we have a new way to demonstrate our technology so that people can actually listen to it. We know that with the array of hearing instruments on the market, it is hard to get really excited about them just from reading a marketing brochure or spec sheet. When you actually listen to the device, this is where the rubber meets the road, so to speak. We have invested in a new system to help us demonstrate our technology and we'll be showcasing it in our booth at AudiologyNOW! in Anaheim. You'll be able to listen to the Speech Variable Processing and Speech Priority noise reduction. We'll demonstrate how Impulse Noise Reduction can really make a difference and how the connectivity works. If you are listening to a hearing instrument that is in a universal environment, where all the features are on from the get-go, it sounds good but you do not really know why. However, when you break it out and you can highlight what the different features are doing, then you can more aptly explain the benefit to your patient. I invite everyone who will be at the convention to come by our expo booth and hear how fantastic Bliss is for themselves.
Carolyn: That sounds great. Best wishes for a successful product launch and thanks for talking with me today.
Kathy: Thank you.
For more information, visit http://sonici.com/ or the Sonic Expo Page on AudiologyOnline.