AudiologyOnline: At this year's American Academy of Audiology Conference, Ida Institute unveiled a new program for hearing care professionals that generated a quite a bit of interest among conference participants, can you tell us about Inspired by Ida?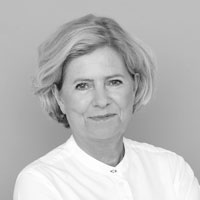 Lise Lotte Bundesen: We were very pleased with the response to Inspired by Ida, a new program that allows hearing care professionals to enhance their counseling skills and differentiate their practice through person-centered care. This is a free program that offers practitioners and clinics training on how to apply person-centered methods and tools. By completing the program, they receive the Inspired by Ida label – a benchmark of quality that signals their dedication to person-centered care.
AudiologyOnline:​ What inspired Ida Institute to develop Inspired by Ida?
Lise Lotte Bundesen: The philosophy behind Inspired by Ida is that people are more satisfied with their care when it is based on a person-centered approach. The body of evidence that demonstrates the benefits of person-centered care continues to grow. Person-centered care allows people to better articulate their needs and enables them to play a more active role in their own care. This leads to better outcomes and helps people manage their hearing loss more effectively – which ultimately entails a higher degree of patient satisfaction.
Through Inspired by Ida, we aim to create an opportunity for hearing care professionals and clinics to upgrade their counseling skills and, through the Inspired by Ida label, to signal to their patients and communities that they are dedicated to applying person-centered care in their practice.
AudiologyOnline:​ How do hearing care professional get involved in the program?
Lise Lotte Bundesen: It is easy to get involved in the Inspired by Ida program. Hearing care professions simply register for a free Ida Institute membership and then go the Ida Learning Hall to complete two required eLearning courses: "Getting Started with Person-Centered Care" and "Client Engagement and Ida Motivation Tools."
Upon completion of the courses, practitioners are given the option to claim their personal online verification label, which they can share through their social media channels, website and emails.
AudiologyOnline:​ Can clinics participate in the program or is this only for individual hearing care professionals?
Lise Lotte Bundesen:​ Hearing care professionals can earn Inspired by Ida status for their entire clinic. This requires that at least 80% of the staff (audiologists and front-end staff) at any time have completed the training program. Clinics who have earned the special Inspired by Ida label for clinics will receive a marketing kit with suggestions for how to promote their clinic as person-centered.
AudiologyOnline:​ Is the Inspired by Idalabel renewable?
Lise Lotte Bundesen: Every year, practitioners participating in the Inspired by Ida program will be asked to complete an additional eLearning course to maintain their Inspired by Ida status and renew their label. And of course, they can also choose to upgrade their person-centered skills further by completing other courses available in the Learning Hall. We hope that their positive experience with person-centered care will inspire them to do just that!
AudiologyOnline:​ Is there a cost for participation in the program.
Lise Lotte Bundesen: Participation in the Inspired by Ida program is free of charge for individuals and for organizations that register before 1st January 2019.
AudiologyOnline:​ And Inspired by Ida is just one of many offerings that Ida Institute makes available to hearing care professionals!
Lise Lotte Bundesen: That's correct. For more than 10 years, Ida has developed a large portfolio of counseling tools and resources addressing various issues -- from client motivation and engagement and adult and pediatric rehabilitation to more specific issues such as tinnitus and balance disorders. More recently, we've developed a telehealth platform, Ida Telecare, that allows professionals to extend their services beyond the appointment.
At the core of all of these initiatives is our work with hearing care professionals worldwide to enhance the quality of hearing care, specializing in the development of methods and counseling tools based on person-centered care.
With the many benefits of patient-centered care including better outcomes and helping people to manage their hearing loss more effectively, our work to promote and enable hearing care professionals to deliver person-centered care is more relevant than ever!
AudiologyOnline:​​ Thank you for your time today, Lise Lotte.
For more information on about the Inspired by Ida program, visit www.idainstitute.com/inspired.