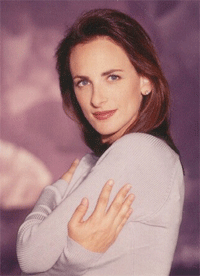 Beck:
Hi Marlee. It's an honor to speak with you again.
Matlin:
Thanks, Doug. I am happy to be with you too.
Beck:
If you don't mind, I'd like to read a few notes from your bio, to help the readers recall some of your accomplishments. Ms. Matlin received the Academy Award for Best Actress for her motion picture debut in Paramount Pictures' "Children of a Lesser God." At age 21, she was the youngest recipient of the Best Actress Oscar. In 1986, Marlee won the Golden Globe Award for Best Actress in a Drama. You've worked on, produced or appeared in so many movies...Eddie's Million Dollar Cook Off (2002), Dead Silence (1996), It's My Party (1995) , Against Her Will: The Carrie Buck Story (1994), The Man In The Golden Mask (1990) and more than a few television shows too....Law and Order, The West Wing, The Practice, Judging Amy, ER , Spin City, and so many more. You're everywhere!
Matlin:
Thanks Doug. I just like to keep busy!
Beck:
I know you lost your hearing at a very young age...Can you tell me a little about that?
Matlin:
Sure. I was deafened at 18 months old, grew up in the 70's in Illinois, went to public schools and had great parents and friends that supported me through it all. That made a tremendous difference! I learned to speak first, and then later, to sign. I have never really known what it was like to hear, so I can't compare hearing aids to normal hearing. All I really know about hearing is that I'm deaf, and without my hearing aids I know I hear absolutely nothing at all! In my own mind, I really have no sense of what you (Doug) can hear. Hearing is something that I am really not familiar with.
Beck:
I know when you were on Oprah recently, you chatted about cochlear implants and hearing aids. Can you tell me your thoughts on those issues please?
Matlin:
Yes. I wear hearing aids and they are fabulous. I am proud to be working with the Starkey Hearing Foundation to raise money to donate hearing aids to needy people. I told Oprah that if I were offered a cochlear implant today, I would prefer not to have one. But that's not a statement about hearing aids or cochlear implants or whether one signs or speaks -- it's about who you are and how happy you are with your life. I am very happy, and I have made the choices that work best for me. I know I cannot please everyone, and that's fine.
Beck:
With your hearing aids, can you understand the words I speak?
Matlin:
No. I can hear you and I can watch your mouth move, and then I put together the sounds and the visual image and I can understand the words as I actively integrate the two signals. But without the hearing aids I hear nothing, and with the hearing aids, I hear sounds. But to really get the words, I have to use my eyes and ears together!
Beck:
It sounds exhausting. You must work very hard to understand what's going on around you?
Matlin:
Yes, I really do! When I take the hearing aids out, I hear nothing at all, I am totally lost. The hearing aids are very helpful for speech reading. Even though I am deaf, when I hear the sounds from the hearing aids, it is extremely helpful for me, and I can use the tiny bits of hearing I have to put together the communication message. Without the hearing aids, it is very much more difficult to communicate, my voice becomes very loud, and I cannot control the quality of my voice without the hearing aids. So the hearing aids are vitally important to me, and I never misplace them!
Beck:
I recall seeing you dance in a movie, and I know you're a music fan. Can you tell me...who's music do listen to?
Matlin:
I listen to Billy Joel. He is fabulous. I saw him with Elton John when they toured together, it was so great, and of course, I really love Elton's work too. I only wish I had a lyric sheet for Elton's performance so I could have followed the words a little better! I was less familiar with his music, but it was totally enjoyable, and he was very impressive!
Beck:
Yes, I agree. Elton's performance at the Starkey Gala was among the most memorable events I've ever seen. It was just amazing. Marlee, if you could change one thing about your hearing aids, what would it be?
Matlin:
I would absolutely love it if you didn't have to ever change the batteries. I am so cautious about that, I even keep batteries with me all the time, but during Elton's performance, my battery ran down, and it was exactly the wrong time for that to happen! So I missed some of the show while I was hunting around for a battery!
Beck:
How often do you have to change the batteries?
Matlin:
They last about three weeks...but I need to have a battery with me when it finally needs to be changed - and I didn't!
Beck:
What I usually tell patients to do is find out how long the battery typically lasts in their instrument, say a week, two weeks or three weeks, and then change the battery about 2 days before you think you'll need to change it - and that way it's very unlikely it'll poop out on you at the wrong time!
Matlin:
That's helpful now...but where were you when I needed a size 13 battery during the show!
Beck:
Do you have any new movies or television appearances coming up soon?
Matlin:
Yes, I have a new movie coming out called "What the Bleep Do we Know?" and it opens in major cities on September 10th and then across the country through October, 2004. I was also nominated for an Emmy for a Law and Order: SVU episode which aired this past Spring.
Beck:
And once again, you're a new mom? I think the baby was born about 6 months ago?
Matlin:
Yes, that's right! And I am writing my second novel for children for Simon and Schuster.
Beck:
Thanks so much for your time Marlee. It is a real joy to speak with you.
Matlin:
Thank you too, Doug. Always fun to be with you too.
------------------
For More information about Marlee Matlin, visit
Marleeonline.com
or
Marleematlinsite.com
.
For More Information about Starkey Hearing Aids,
CLICK HERE
.