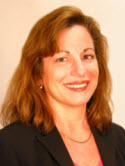 Pamela Burton, Au.D.

CAROLYN SMAKA:
This is Carolyn Smaka and today I'm speaking with Dr. Pam Burton of Siemens. Pam, thanks for coming on today.
PAM BURTON:
Thanks for having me.
SMAKA:
Congratulations to you and the team from Siemens Hearing Instruments who participated in the recent Walk4Hearing in NYC to benefit the Hearing Loss Association of America (HLAA). Why did Siemens decide to get involved with the walk?
BURTON:
As you know, the Hearing Loss Association of America's mission statement involves opening the world of communication to people with hearing loss. To accomplish this mission they provide information, education, advocacy and support. As a major manufacturer of hearing instruments, we felt very strongly at Siemens that we should form a team and raise money for this important cause.

HLAA's Walk4Hearing is the largest walk for hearing in the country. It serves not only to support individuals who may have hearing loss, but also to increase public awareness about the cause. At Siemens, we believe as HLAA does, that everyone should have a great understanding of hearing loss. We look to get involved in opportunities such as the Walk4Hearing, because we believe education is key in addressing the misunderstanding of hearing loss that you see in today's world. Events such as these can help to make hearing loss an issue of national concern.
SMAKA:
Who was the 'Derek Jeter' or the captain of the Siemens' Walk4Hearing team?
[Laughter]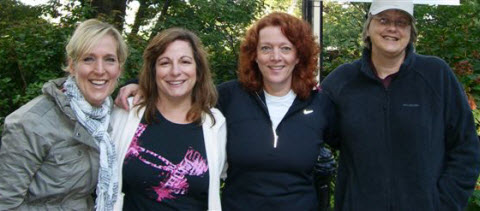 Left to right: Julie Mistove, Pam Burton, Manuela Eichner and Cathy Dorando were among the Siemens employees, friends and family members who participated in the Walk4Hearing in NYC.

BURTON:
I served as the captain this year. We organized programs within the company to gather people who were able to participate in the event, as well as to raise donations from friends and family. In just a few short weeks we have already raised several thousand dollars, and we are still gathering donations for the next two weeks. We walked with a team of about 30 people.
SMAKA:
What was your experience like during the walk?
BURTON:
As you may know, Walk4Hearing is held in multiple cities around the country. The New York City Walk4Hearing is the largest of them and raises the most money. The money raised from Walk4Hearing is shared between the national organization and local walk sites, which is great. Our team arrived with our matching Siemens caps and our Siemens sign, and we gathered together at the starting line. Walk4Hearing is a 5K (3.1 miles), so it's a rather short walk, enabling most anyone to participate. Most of our team finished in well under an hour, including people that were walking at a more leisurely pace and enjoying conversation along the way. It was a wonderful experience to bring the issue of hearing loss to the forefront, raise money to support an important cause, and to also build camaraderie within our team outside of our day to day work.
SMAKA:
It looked to me from the photos I saw of the Siemens team that it was not only employees, but also friends and families of employees. Is that right?
BURTON:
Yes. A number of our employees had immediate and extended family members participate on our team. So we had husbands and wives, children, grandchildren, and brothers and sisters-in-law, all walking as part of Team Siemens. It was a lot of fun.
SMAKA:
Where in NYC was it held?
BURTON:
It was at Riverside Park, on the Upper West Side. It is a lovely location in and of itself, and it was even lovelier on the day of the walk with exceptional fall weather. We were also pleased to hear that approximately 1,000 walkers overall participated in the event.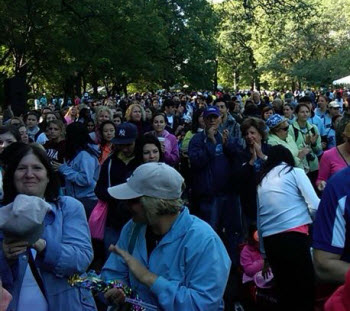 Participants gathered at the start of the NYC Walk4Hearing

All in all, we had a great experience, a lot of support and were excited that even the weather cooperated for us. We would encourage everyone to get involved in a Walk4Hearing or similar event to educate the public about hearing loss in their community.
SMAKA:
Thanks, Pam. How is everything else at Siemens?
BURTON:
We are doing great. We're so pleased with the Siemens product lineup and our continued focus on personalization. We are committed to offering hearing instruments for every type of hearing loss and lifestyle. The recent Aquaris launch was a huge success, and it's thrilling to see the product so well-received. We will be offering an Aquaris Starter Pack this coming season, which is an ideal gift package for a loved one during the holidays. We're also gearing up for what's sure to be an amazing fall product launch, so be sure to stay tuned.
SMAKA:
It was great catching up today, Pam. Thanks again for your time.
BURTON:
My pleasure, thanks Carolyn.
For more information about Siemens, visit
www.medical.siemens.com
or the
Siemens web channel
on AudiologyOnline.