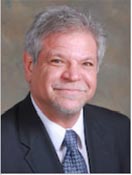 Robert W. Sweetow, Ph.D.
CAROLYN SMAKA:
Today I'm speaking with Dr. Robert Sweetow - Dr. Sweetow, thanks for your time today.
ROBERT SWEETOW:
Glad to be here.
SMAKA:
Our topic is an upcoming Virtual Conference on Audiologic Rehabilitation that you organized. Can you give us the details?
SWEETOW:
Yes. We're very proud to be bringing in many of the pioneers and some of the most well known, distinguished experts in the area of aural rehabilitation (AR) for this conference on AudiologyOnline. It's happening the week of February 8 - February 12, with one presentation daily from 12pm - 1pm EST (9am - 10am Pacific), and a roundtable discussion with some of the presenters as well as other experts in the field on Friday at 1:30 - 2:30 EST (10:30 - 11:30 Pacific).
It's very timely because clearly there's been a resurgence in AR;however, this resurgence seems to still be somewhat restricted or limited to the "true believers" of AR.
So, we designed this conference not only for those professionals who have an interest in AR, but also hoping that it will attract new advocates, and those professionals who have questions about the validity and importance of AR.
The conference is free, and it happens during the lunch hour for many folks, and first thing in the morning for those of us on the west coast. At these times, it may be possible for people to arrange their busy schedules to attend some or all of it. In addition, each presentation is going to be recorded, so you can listen to the entire online conference and roundtable at your convenience if you aren't able to attend the live presentations. Of course, if you can attend while it's happening, you'll be able to ask questions, make comments and otherwise interact with conference faculty.
I'm hoping this conference will reinforce some of the relevance and validity of AR as well as get some people intrigued into looking at research and clinical areas where AR can be expanded.
SMAKA:
You mentioned a distinguished faculty that includes some of the pioneers of AR. Can you tell me more about the faculty?
SWEETOW:
Yes. We're really excited that these leading experts in AR are taking time out of their busy research, clinical and professional schedules to contribute to this conference. I will be hosting the sessions each day, and the presenters include
Donna Wayner
, Ph.D. on Monday, who will be speaking about a proven AR program called Learning to Hear Again. This systematic program was implemented over the course of 24 years at The Hearing Center at Albany Medical Center. Donna will present outcomes data as well as strategies for professionals to implement a similar program in their practices.
Tuesday's presentation features
Dr. Theresa Chisholm
. Terry is Professor and Chair in the Department of Communication Sciences & Disorders at the University of South Florida, and as you probably know, she has been an audiologist, educator, and leading researcher in AR for over 25 years. Her presentation will review some of the evidence for the use of FM systems in managing hearing loss in adults, as well as ways to facilitate successful use of FM systems with this population.
On Wednesday, we have the Academy of Rehabilitative Audiology's president elect,
Dr. Joseph Montano
who will speak on the foundation of AR, counseling. Joe is an excellent presenter who combines a theoretical perspective along with practical, clinical know-how.
SMAKA:
Dr. Montano was my AR professor in graduate school, and one of the best instructors I've ever had. I'm excited he is a part of this conference. What's the agenda for Thursday and Friday?
SWEETOW:
On Thursday,
Dr. Gabrielle Saunders
will be presenting on a topic that most audiologists see every day in clinical practice, but one where there is surprisingly a dearth of research information for our profession - dual sensory impairment.
SMAKA:
Combined vision loss and hearing loss?
SWEETOW:
Exactly. Dual sensory impairment is increasing. Aging results in changes to the peripheral vision and auditory systems. Central changes associated with aging and traumatic brain injury result in central dual sensory deficits. Gaby's presentation will address some of these issues, looking at research needs, and also provide suggestions for AR with people with dual sensory impairment based on what we do know from the available literature.
Friday's session will feature
Donna Geffner, Ph.D.
discussing the evidence regarding outcomes of treatment for central auditory processing disorder (CAPD). Given the myriad of symptoms of CAPD, and the heterogeneity of the population with CAPD, it is difficult to conduct quality studies in this area. Donna will review the studies and help us sort through the data and its clinical implications.
Also on Friday, Gaby Saunders will be back with us for a
roundtable panel discussion
along with invited experts John Greer Clark, Ph.D., Jill Preminger, Ph.D. and Linda Thibodeau, Ph.D. It will be a lively dialogue on current topics in AR, and we will be eliciting debate and discussion from participants as well.
SMAKA:
What an amazing array of topics and presenters;this is a great opportunity for professionals to have access to this wealth of information! I should also mention that all presentations are free, and they are also all CE eligible as part of AudiologyOnline's CEU Total Access Program.
Dr. Sweetow, you are now past president of the
Academy of Rehabilitative Audiology (ARA)
. Tell me about that organization.
SWEETOW:
Yes, as of this month I am past president of ARA;the new president is John Greer Clark, who, as I mentioned, will be part of the virtual conference roundtable discussion. The ARA has been around for decades. And, it's always been made up of a small (by small, I mean several hundred individuals) core group of people who are strong advocates of AR. We've really pushed the whole concept that every aspect of audiology and fitting hearing aids is part of AR. It's not the other way around. It's not that AR is a follow-up to other things we do such as hearing aid fittings. ARA really tries to get the word out to people, and to be able to give AR professionals a forum and a home for expressing their views and exchanging information.
We hold a conference every year in the fall where we bring in top speakers, such as the ones who are presenting in the Virtual Conference at AudiologyOnline. It's also an inexpensive organization, which is important given all of the membership fees, dues and the like that we all encounter. ARA is a great organization, and one that we hope will continue to grow, expand and develop in the future.
SMAKA:
Dr. Sweetow, thanks again for your time today and for putting together this amazing conference.
SWEETOW:
My pleasure. I'm looking forward to the conference.
For further information or to register for one or more courses in the upcoming Audiologic Rehabilitation Virtual Conference,
click here
.