CAROLYN SMAKA:
Today I have the pleasure of sitting with Sam Westover, Chairman and CEO of Sonic Innovations. Welcome, Sam.
SAM WESTOVER:
Thank you.
SMAKA:
Sam, can you tell me about your background?
WESTOVER:
Sure. I've been the CEO of Sonic now for three and a half years, and I've been on the board of directors for seven years. I began my career as an accountant at Price Waterhouse, and after that have always been involved in health care. Before coming to Sonic, I was the CEO of CIGNA dental, which is a three billion dollar company, and I also managed CIGNA Healthcare's one billion dollar Small Business Segment. I had previously founded an orthodontic company with about 350 orthodontic practices that I took public and sold to another orthodontic company. In addition, I was the CEO of a pharmaceutical company, and CEO of some health insurance companies. I started out in health insurance as a Chief Financial Officer.
SMAKA:
A lot of diverse experience, all related to health care.
WESTOVER:
I think healthcare is the most interesting segment of our economy.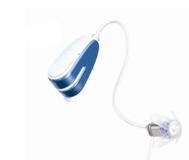 SMAKA:
Sonic launched an exciting new product at AudiologyNow! called Sonic Touch™. I'm holding one in my hand now. This is
small
.
WESTOVER:
Yes. We're very excited about Sonic Touch because it's our launch into receiver-in-canal products and it's the smallest of all of the receiver-in-canal hearing aids available on the market today. Frankly, it's pretty hard to find a non-custom hearing aid in the history of hearing aids that's as small. We're also excited because of the performance;we've been able to put all of Sonic Sound™ in Touch. There are two microphones, full directionality, adaptive feedback cancellation, voice alerts, and more. It's a power-packed piece of hardware, and it's amazing that you can get that much sound into such a small package.
SMAKA:
And it even has a push button.
WESTOVER:
Yes, and it is a large push button so it is easy to find when you're wearing Sonic Touch™. Almost the entire top of the hearing aid is one large push button, so even though the hearing aid is very small, the push button is easy to use.
SMAKA:
You mentioned some of the technology in Touch. Would you elaborate?
WESTOVER:
Sure. Like our Velocity product line, Touch has three different product classifications - Touch 6, Touch 12, and Touch 24. Those numbers correspond to the number of channels in each of the devices. So Touch 24 is a 24-channel device, and it has a few more features, such as Voice Alerts, than Touch 12.
SMAKA:
Excellent. A friend of mine who is a clinical audiologist remarked that she was surprised how small the actual receivers for Touch are.
WESTOVER:
Yes, that's true. In designing this, we knew a small receiver would be critical. If you have a large receiver, you can lose some of the benefits of truly open fittings, as well as preclude candidacy for some patients who might otherwise benefit.
SMAKA:
Touch is available in a lot of fun colors.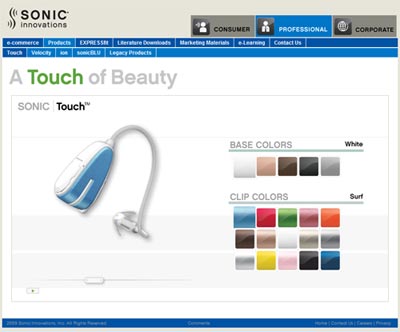 WESTOVER:
Yes. It's a different design than anyone else has ever done. There are five base colors that are natural colors that match hair and skin tones. And then we have 15 different clips that you can put on each of the five different base colors, so there is a total of 75 color combinations. You can have Touch in your favorite color, or you can match your favorite sports team. The names are interesting too. Yesterday we were talking to an audiologist who said that she definitely wanted to buy a pair of Touch immediately, and that she wanted them in white and "tutu", which is pink.
SMAKA:
When I think of the name Touch, I think of the iPod Touch, because I'm an avid iPhone fan. Where did the name Touch come from for this new product?
WESTOVER:
It came from a quote that we think is very meaningful, and that is, "sound is touch at a distance." We think that this quote really addresses the personal issue of relationships and the comfort of hearing aids in people's lives. And as we started thinking about it, we found that it also could describe the Touch product in many ways: "a touch of beauty";"a touch of innovation";"a touch of brilliance". There's also "A touch of simplicity", because the product is so easy to work with and so easy to dispense. Ease of use is one of the core features that we focus on when we develop new products.
SMAKA:
It's also unique due to moisture resistance, correct?
WESTOVER:
Absolutely, Touch has unparalleled moisture resistance. We've done head to head competitive testing, and found that Touch outlasts the nearest competitor by 44 percent. We knew that the design of Touch would have wide appeal, including to younger people with active lifestyles, so a lot of engineering effort went into making Touch very robust and reliable.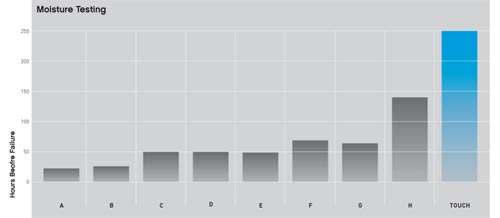 The ASTM B117-03 standard, originally created for use in the automotive industry, helps determine potential device failure from metal corrosion. When hearing devices are subjected to these tests, they are placed in a 97° F environment with very dense atomized fog created from 5% salt water solution.

Sonic Touch and nine other commercially available receiver-in-the-ear style products were tested under this condition until an audible failure was detected. A higher score in these ASTM B117-03 test results is better.
SMAKA:
In addition to Touch, what else is new at Sonic?
WESTOVER:
We're going to be changing our parent company name. The change will be transparent to customers as we're continuing with the Sonic Innovations brand, but our new parent company name will be Otix Global. That will allow us to have different activities underneath our parent company in addition to Sonic.
SMAKA:
Did I also hear something about collaboration with Bose?
WESTOVER:
Recently Sonic licensed some of its technology to Bose, who as you know makes noise-cancellation headphones and other high-performing audio products. I won't say what Bose is going to do with it, but they bought some of our technology to advance their product line. It has been a good opportunity for us to work together with such a top notch company.
SMAKA:
Interesting, I'll be looking forward to hearing more about that.
Sam, last question - when will Touch be available?
WESTOVER:
Touch will be available in mid-April.
SMAKA:
Thanks for your time today. I always enjoy talking with our friends at Sonic and hope to have the opportunity again soon.
WESTOVER:
Thanks, Carolyn. We're really excited about Touch and we're happy to share our enthusiasm.
For more information about Sonic Touch™, please visit
www.sonici.com
, or the
Sonic Innovations Web Channel
, on AudiologyOnline.
For continuing education courses on Sonic Touch™, please visit:
www.audiologyonline.com/ceus/index.asp?partner_id=12
About Sonic Innovations
Sonic Innovations is a global provider of superior hearing solutions. The company is passionate about quality, technology, and improving lives through enhanced hearing. Sonic Innovations is dedicated to the growth and success of their hearing-healthcare partners.
Sonic Innovations, headquartered in Salt Lake City, Utah, has international offices and manufacturing centers across the globe. In conjunction with their distributor partners, Sonic Innovations has provided hearing care services and solutions in more than 25 countries. Sonic Innovations is listed on the NASDAQ Global Market System (SNCI) and can be found online at
www.sonici.com
.