Interview with Thomas Powers, Ph.D., Vice President for Compliance and Audiology, Siemens Hearing Instruments
Topic: New Releases from Siemens - Motion® 100 MX, Nitro® SP, and the Explorer® 500M
Dr. Thomas Powers
CAROLYN SMAKA:
This is Carolyn Smaka from AudiologyOnline and I'm pleased to be speaking with Dr. Tom Powers from Siemens. Dr. Powers, welcome back to AudiologyOnline.
Can you start today's talk by telling our readers about your role at Siemens and your background?
DR. THOMAS POWERS:
Sure. My PhD is in Audiology from Ohio University. Following that, I worked in private practice in West Virginia and then joined the hearing aid industry. For the past 27 years, I've been here at Siemens, and most recently, my role is the Vice President for Compliance and Audiology. This position encompasses the training of our customers and staff. As for the compliance portion of this role, I ensure that we follow both the external laws and the internal guidelines within Siemens on how we operate and do business, both here and abroad.
SMAKA:
Thank you for that background. I heard the news that Siemens launched new products at the Academy of Doctors of Audiology Convention. Can you tell us what those are?
POWERS:
Sure. We have three product line extensions, which are additions to our current families of hearing aids. In addition, we have a couple of other additions within our CONNEX® programming software.
I'll start by discussing the Motion® extensions. The Motion® line is one of our families of products designed to help a broad range of patients that are looking for solutions, not only in the technology area, but also for comfort. This line is available in both behind-the-ear (BTE) and custom hearing instruments and is designed to accommodate almost any patient, regardless of whether they are more or less concerned with cosmetics and more or less concerned with technology. In all of our product lines, we have transitioned to a numbering system where we have the different technology levels numbered 100, 300, 500, or 700, where 100 is the entry level and 700 is the most advanced. This helps simplify the technology issues and naming conventions that exist in the industry. In the Motion 700 product line, we have introduced non-wireless custom models, to provide even smaller custom instruments for those that do not necessarily need wireless accessories, but still want to experience the top of the line signal processing features like SoundBrilliance, TruEar, and SoundLearning. Also, we have added something to our Motion 100 product line. Motion® 100 is at the entry level, and it is a feature-rich entry-level product line. Motion® 100 MX is our new BTE model which has a push button and volume control on board. It is also compatible with remote control, both our ePen® and ProPocket™, which is unique in an entry-level product. It's an automatic, get up and wear type instrument, so we're really excited about Motion® 100 joining the Motion® family.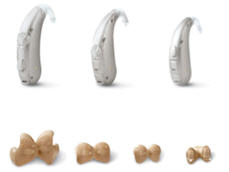 Siemens Motion® BTE and Custom Options
Siemens ePen® and ProPocket™ Remote Control Options
SMAKA:
Can you give a profile of a patient that would be an ideal candidate for the Motion® 100 MX?
POWERS:
It would be someone with mild through moderately severe hearing loss, who might be a first time user, but wouldn't have to be, and someone without a tremendous lifestyle demand. This type of patient may still need technology, but not have high demands on listening. This person is probably not as concerned about cosmetics because the Motion line consists of BTEs and traditional custom instruments, which we would contrast with an open or RIC type user, more concerned with cosmetics. These patients are looking for that entry level instrument yet, with good quality and with a lot of features: feedback blocking to prevent feedback issues, a relatively complex compression strategy, noise reduction, and a directional microphone system for intelligibility.
SMAKA:
And compatibility with a remote control. That definitely sounds like a lot of features in an entry-level product. Let's talk about the two other new product line extensions, starting with Nitro® SP.
POWERS:
Nitro® is a family of super power instruments, and the Nitro® SP introduces two new BTE models for severe to profound hearing loss. This family is designed with a lot of intelligent features. Although there may be a few new users with severe to profound hearing instruments, with adults for the most part, people with this degree of hearing loss are existing users of hearing instruments. So we really needed to make sure that the Nitro® SP has all of the advanced features that they may have had in previous instruments, or may need now if their hearing loss is progressing and their listening needs become more demanding.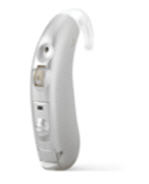 Siemens® Nitro BTE
The Nitro® 700 SP BTE has an automatic, multi-channel adaptive directional microphone system, SoundLearning, and many other high-end features. Nitro 300 SP SP BTE is a mid-range product with automatic, adaptive directional microphone. These models contain our e2e® 2.0 wireless technology, which is our second generation wireless that provides a real binaural experience. e2e® wireless 2.0 synchronizes the signal processing and the directional microphones between ears to try to improve speech intelligibility and comfort in listening environments like a cocktail party or other noisy environments.
Nitro® SP BTEs are also unique because they are the first in their class of instruments and power level to have Bluetooth® connectivity using our Tek® device. Tek® is our wireless system that allows cell phones, MP3 players, and other Bluetooth enabled devices to stream to the hearing instruments. One of the many advantages this provides that especially is important for those with severe to profound hearing loss is the ability to hear the telephone binaurally. Nitro® SP products are also compatible with our ePen® and Pro Pocket™ remotes that enable discreet volume and program adjustments.
Nitro® SP BTEs are very exciting products. They offer a lot of options and a lot of signal processing for those patients in this hearing loss category.
SMAKA:
If I fit my patient with a Nitro® SP today, can I add the Tek® at any time?
POWERS:
Yes. Tek doesn't have to be fit initially with the instruments, and in some cases we see that hearing professionals will wait until after the initial fitting to introduce Tek, depending on the patient. This may be the case when someone moves into a new technology or a new device and takes a bit of time to adjust to the new instruments. Tek as well as our ePen® and Pro Pocket™ remotes are simple to use, and they offer the flexibility to be added to the fitting at any time, whether it is at the initial fitting, or once the patient is accustomed to the instruments.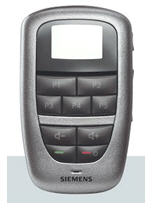 Siemens Tek® Bluetooth Wireless Hearing Aid Remote Control System
SMAKA:
Do Nitro® SP BTEs use a proven Siemens design or is it a new design? I assume it uses a 675 battery.
POWERS:
Yes, these instruments have a 675 battery, but they are very competitive in size for instruments with this amount of power. And they do pack a lot of features into that size. This is a housingthat we have experience with, and it's a very reliable and robust design.
SMAKA:
Let's move on to the third new device, the Explorer® 500M.
POWERS:
Explorer® is our family of products that was primarily designed for the pediatric market, although, I use that term loosely. It isn't just for babies;it's designed for patients from birth through adolescence with moderate to severe hearing loss, and even adults are using these products. The Explorer® 500M adds a new product to the family that already included the Explorer® 500 P. When designing the Explorer® 500M, a smaller Explorer model, first and foremost, it had to have the feature set that's required for fitting children today: noise reduction, directional microphones, audio boost capabilities, and FM compatibility.
We also had to ensure that the design was tough and robust. Kids are tough on everything, so every effort had to be made in the development to achieve a very solid device. Safety is another important issue, especially when fitting smaller children. There's a child lock for the battery door that opens with a small tool, to ensure that, until the child is old enough to change and take care of the battery themselves, an adult is taking care of that. In addition, all of the controls are rounded with no sharp edges and are not prone to break off. In terms of durability, we used a nanocoating process in the manufacture of the case. Nanocoating isn't a coating but a process, and when used during the mold injection process of the case manufacturing, it provides a tremendous amount of protection against dirt and moisture entering the case. Nanocoating improves the reliability of the instrument, as both the case and each of the seams have extra protection against moisture and debris.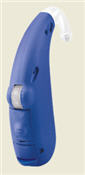 Siemens® Explorer Hearing Aid
The other cool thing about the Explorer line is that there are many "fun colors";everything from pink to purple to all of the vibrant colors that you can imagine children like to wear. We also have the standard hair and skin tone colors, such as beige, tan, brown, black, etc. Although Explorer was designed from the ground up to be a pediatric instrument, it doesn't mean that adults can't wear it. If adults have the durability requirements or color preferences of the Explorer, it could be that the Explorer is their choice as well.
Furthermore, the Explorer® 500M is completely compatible with FM systems. I mentioned this earlier, but as you know, use of FM systems in the classroom as well as for personal use is an important part of audiologic management of pediatrics. And, last but not least, Explorer 500 is compatible with Tek®, for wireless connectivity. Most kids probably know more about technology than some of us adults do in terms of using an MP3 player, computer, Game Boy, Wii, etc., and it is impressive how many of them just figure out how to stream all of these devices using Tek® without anyone showing them. We're excited that the Tek® is compatible with the new Explorer® 500M;it really gives these children the opportunity to fully participate in all of those kinds of activities.
Overall, the Explorer® 500M is a product that we think adds another dimension to the Explorer® family, and so we're really excited that it's going to join it.
SMAKA:
I can definitely relate to your point about children being more intuitive about technology than adults - that's true in my house. Now, you mentioned that the CONNEXX® software also has new features.
POWERS:
Yes, CONNEXX® has two new tools that are very interesting for both the professional and for the patient. One is a Hearing Loss Simulator module and the other is a Real-Time Display.
The Hearing Loss Simulator is exactly what it sounds like. CONNEXX® can now take a variety of signals and, if you will, play them through a pre-entered hearing loss or pre-defined audiogram configurations. This gives the significant other, spouse, child, a powerful impression of what the person with hearing loss might be going through. There are a variety of typical hearing loss configurations to choose from that can be simulated through the software.
It is very interesting to see the reactions of people when they hear for the first time what their wife or husband with hearing loss hears. They, almost literally, listen with their mouth open like, wow, I had no idea that's what it was like. It's a very valuable tool because it is often difficult for other people to understand what the hearing impaired individual experiences, so it's a great counseling and interaction resource.
In addition, professionals can use the Hearing Loss Simulator for other applications using the pre-entered audiograms, such as for health fairs, in-services, teaching student clinicians, etc.
The other new feature within CONNEXX® is the Real-Time Display. This is a graphical display, like an equalizer, that demonstrates the features of the hearing instruments. For example, using the Real-Time Display, you could show how the SoundSmoothing® algorithm works to reduce impact signals. Turn the feature off, create an impact type sound, and watch the display. Then, turn on the SoundSmoothing® algorithm and repeat the process. The patient will hear the difference through their instruments and also see the difference on the display.
You could do the same thing for noise reduction. For example, you could have noise reduction off and turn on a low frequency noise, and watch the increase in the low frequencies on the Real-Time Display. Then, activate the noise reduction and watch it take out those low frequency sounds.
The Real-Time Display is a counseling and demonstration tool that is really important in hearing instruments today. Hearing instruments are very complex, and sometimes it's difficult for patients and even for us as professionals at times to grasp how these features work. The Real-Time Display provides an easy mechanism for the professional to demonstrate hearing instrument technology and explain the benefits to patients.
We're really excited about both of these new enhancements to our fitting software. Counseling and auditory rehabilitation are finding their way back into audiology and hearing instrument fittings, and we think professionals are going to like these new features and will integrate them into their counseling routine to provide a better, overall fitting experience. We've already heard a lot of great, positive feedback from professionals that saw these enhancements for the first time at ADA and are looking forward to start using them in their practice.
SMAKA:
I know that Siemens has
several upcoming courses on AudiologyOnline
for professionals about these new products and software features, as well as some great
courses by Gus Mueller
on using LDL measurements and pre-tests to improve fitting outcomes. Are all courses CE eligible?
POWERS:
Yes. We encourage people to go to take advantage of our courses to learn more about our products and software, and also to view the expert series that we did in conjunction with Dr. Mueller. It's a great series of four courses that discuss some of the pitfalls as well as the positive aspects of fitting hearing aids.
SMAKA:
Dr. Powers, a few months ago I had the pleasure of
interviewing Shawnae Jebbia, Miss USA 1998
, about her experience with her Siemens Pure hearing instruments. I was really impressed with how down to earth she is and how open she is about everything that she went through with her hearing loss and Meniere's disease.
POWERS:
Yes, Shawnae is a great success story of someone being diagnosed with hearing loss, and all the emotions that can bring with it, and eventually finding her way to hearing instruments. They have made a tremendous positive difference in her life. As you mentioned, she is wearing Pure, which is our line of primarily Receiver-in-Canal devices. She's obviously very active. For her, Tek® is a very important part of her lifestyle, as you can imagine, doing press meetings and TV interviews and that sort of thing. You'll be seeing some new PR efforts from us featuring Shawnae Jebbia as she is a great spokesperson both for Siemens and for the industry in general. She's an example of someone who's experienced hearing loss and has had a very positive outcome with hearing instruments.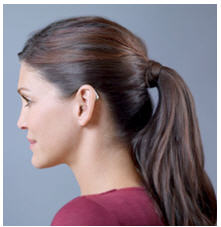 Shawnae Jebbia wearing Siemens Pure
SMAKA:
Dr. Powers, wishing you much success with Motion® 100 MX, Nitro® SP, and the Explorer® 500M, and the new CONNEXX features. More information can be found at
siemens.com/hearing
or on the Siemens Web Channel on AudiologyOnline at
audiologyonline.com/siemens
. Thanks for taking the time to speak with me today.
POWERS:
We're excited about these new offerings. Thank you for the opportunity to talk with you about them.
The Bluetooth® word mark and logos are owned by the Bluetooth SIG, Inc., and any use of such marks by Siemens AG is under license.
---
---