Carolyn Smaka: Don, it's great having you here today. Tell me about Oticon's newest product launch.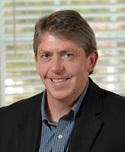 Don Schum: Thank you for asking, Carolyn. In March, we launched the Inium Sense platform, a brand new signal processing platform by Oticon. On that platform, we introduced Alta2 and Alta2 Pro, Nera2 and Nera2 Pro, and Ria2 and Ria2 Pro. It's the first time that we launched a full line of products at the same time on a new platform, which is very exciting.
Carolyn: That is a big launch. Knowing what it takes to launch even one new product, I can't imagine how busy you guys must have been these past few months. I've heard the term BrainHearing™ – what exactly is that, and how does it relate to the new Inium Sense products?
Don: BrainHearing™ is our approach to creating solutions for patients with hearing loss. It starts with the recognition that speech understanding is a cognitive process. As audiologists, we all know that. As an industry, however, I think over the years we've been more focused on creating solutions to correct for peripheral hearing loss. And sometimes that approach has run contrary to what makes sense for the brain.
The goal behind BrainHearing is to deliver to the brain the very best audio signals possible. Those signals should be complete, and in a form where the cognitive system can use the auditory information to enable the patient to perform at the highest possible levels and in complex environments.
Getting a clean audible signal to the patient is extremely important. The details of the how that is done with signal processing in amplification matters. We must ensure that we are processing signals in the most effective way possible for the brain to do its job. And, it's important that signal processing is done in a personalized manner to account for the way each individual experiences sound. Together that's the basis of the BrainHearing concept.
Carolyn: Let's get into the details a little bit. What are the key features of the Inium Sense platform and what benefits do they deliver for patients?
Don: With the new Inium Sense platform, we brought over the great signal processing from Inium, such as our approach to directionality, noise reduction, and other processes. We also are introducing some important new features.
Inium Sense is a brand new platform we built from the ground up. Using modern design techniques, we've increased the capacity of the firmware section of the platform by 30 percent. That's a big jump forward. It's all due to the excellent work of our engineering team in Denmark.
Most of the 30 percent increase in processing resources is dedicated to our newly enhanced feedback cancellation system, the Inium Sense Feedback Shield. We want to give patients the very best opportunity to use these hearing aids without experiencing feedback. Using this new system, we can identify the occurrence of feedback sooner before it occurs, and react up to four times faster. This gives the patient much more protection against transient feedback, and then returns the hearing aid to a good stable state that is feedback free with excellent sound quality. And, it all happens four times faster than we've ever been able to do it.
The new feedback system has enabled the Voice Aligned Compression or VAC fitting rationale to be expanded to the new VAC+. The "+" refers to a new feature, Soft Speech Booster. Soft Speech Booster increases access to soft, high-frequency sounds by at least 3 dB, for approximately 85 percent of the patients.
By increasing access to soft, high-frequency speech sounds by this amount, we're seeing word recognition improvements in some patients as great as 20%. The average improvements across the group are in the range of 7 – 9%. Importantly, consistent with our belief in the need for Personalization, when the patients had the opportunity to try alternative settings on this dimension, the average improvement grew to 13%.
When we refer to soft speech, we're not talking about soft overall levels of speech only. Because of the nature of the long-term average of speech, we're also referring to information above 1500 Hz for moderate overall speech levels.
We analyzed data logging in over 100 patients to determine how often they're in soft, moderate and loud environments with and without speech present. The average overall level, categorized by signal type is shown in this graph. What these data show is that in over 75% of the time that they are in environments with speech, that speech is occurring at soft to moderate overall levels (70 dB SPL or lower) – exactly where Soft Speech Booster will be effective. We estimate that Soft Speech Booster will enhance the understanding of speech in approximately 75% of all conversations experienced by hearing-aid users.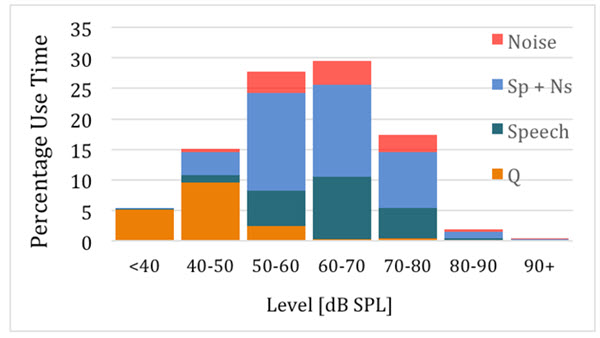 Categorization of sound levels by signal types, based on data logging information from 103 hearing aid wearers (Noise, Speech+Noise, Speech, and Quiet).
Overall, VAC+ is a brand new approach that has pretty widespread applications for patients who get fit with our hearing aids.
Carolyn: How does the VAC+ impact hearing in noise?
Don: In quieter environments, of course, noise is not an issue. Most often when people are in noisy, moderate level environments, however, noise is an issue and it's usually comprised of other voices.
The cognitive system is relatively opportunistic, meaning that it's always looking for speech sounds that help make sense of the speech signal. If you're listening to one talker in the presence of another talker, there's always the likelihood that you might be able to catch high frequency phonemes here and there to help you put together the full message. We believe that this is just as relevant in noisier environments as in quiet environments. The clinical studies that we've completed have borne that out. And as I mentioned, the benefits that we're seeing with Soft Speech Booster include listening to moderate speech in noisy environments.
Carolyn: I noticed that the Inium Sense platform includes Tinnitus SoundSupport™. Why did Oticon decide to launch the Tinnitus SoundSupport and how do you see professionals using this?
Don: We launched Tinnitus SoundSupport™ because, as you know, there continues to be a large group of individuals who suffer from tinnitus. We have cutting-edge solutions for people with sensorineural hearing loss but we haven't reached into the area of tinnitus until now. We're excited to extend the outstanding technologies that Oticon is known for to patients who also need sound generation capabilities within products.
We believe that there is great potential in the marketplace for audiologists to bring good tinnitus care to patients, but we also do not take lightly the fact that managing tinnitus requires additional clinical and counseling skills. There are many audiologists out there who currently provide excellent tinnitus care. They will find that the Tinnitus SoundSupport feature will meet or exceed the capabilities of other like products in the marketplace, and we're very proud of that.
There are also many audiologists who are considering expanding the scope of services they offer, in order to differentiate their practice. We fully support those professionals, and we will be offering a series of courses on AudiologyOnline this spring specifically in the area of tinnitus care. In the meantime, we can help to point them to other independent resources in this area to help them get started.
Good tinnitus management for patients requires more than just excellent technologies. It requires an understanding of the clinical process, as well as the business and marketing aspects involved to be successful. We know that professionals can be successful as we know many audiologists who are, but it doesn't happen without good study and good thoughtful work through the issues.
Carolyn: I just wanted to switch gears over to the design side for a minute, because we know that unfortunately stigma is still very real for some patients. Tell me about the models and designs in this new launch.
Don: By being able to launch at all price levels but also across the full range of styles, we're able to introduce Inium Sense platform products in the most appealing styles that we have, including the DesignRITE and miniRITE. These designs have been extremely well accepted. In addition, we are the fastest growing company in custom styles in the marketplace. This launch includes a full lineup of wireless CIC (Completely-in-the-Canal) and IIC (Invisible-in-the-Canal) products. So for patients who are particularly sensitive to style issues, we have a wide selection.
Carolyn: Can you speak to reliability?
Don: We're proud to announce that all of our over the ear products, which would include the DesignRITE, the miniRITE, and the BTE, are now IP 58 rated. Along with that, we're reaching new levels of reliability in all of the custom products, even the smallest sizes. It's been a big focus area in our research and development over the past few years that has now come to fruition.
Carolyn: The next and the last question is for those people who aren't currently using Oticon products today. Give me the "elevator pitch" for the new Inium Sense platform for this group of professionals.
Don: If you choose to work with the new Inium Sense products from Oticon, you'll get personalized, cutting-edge signal processing that tackles the greatest challenges of hearing loss. We believe that Oticon technology gives you access to the very best signal processor available. That is not something built by an engineer - that's the human brain. Our BrainHearing approach is based on feeding the brain the best information possible, to capitalize on what the human brain does best. It takes in information and allows individuals to navigate in especially complex listening environments. For more information, please visit our new website dedicated to the Inium Sense launch, www.OticonRevolution.com.
Carolyn: Sounds great! Thanks for your time, Don, and wishing you much success with the new Inium Sense launch.
Learn more about Oticon on the Oticon Expo Page on AudiologyOnline.