Carolyn Smaka: Jim, thanks for taking some time to talk with me about Verifit 2 today. Can you first tell me a little bit about Audioscan's company background?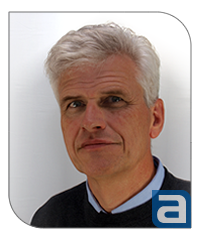 Jim Jonkman: Audioscan was founded in 1989. It was set up as a division of Etymonic Design, which has been around since 1983 - we celebrated our 30th anniversary in November. In the first five years, we did contracted product design, but then we saw an opportunity in the equipment space, so we started the development of the first Audioscan product, the RM500. We introduced that in 1989.
Carolyn: Was the RM500 the first portable hearing aid test box/real-ear system on the market?
Jim: Yes, it was. Real-ear was a fairly new technology, and the products at the time were limited to the desktop and were complicated to operate. Our goal with the first RM500 was to make it portable, affordable, and easy to use. We re-thought the whole process from the audiologist's perspective, which is what drove the product development.
Carolyn: I would think that the RM500 led to the uptake of real-ear measures in general, which set a whole new standard in hearing care. Do you agree?
Jim: Yes. I think people really liked that concept of a product to help them do their fittings. A new standard for objective verification of the fitting was created with real ear measures, and the RM500 made it very simple for clinicians. The market grew, and we grew along with it. It was a very successful release.
Carolyn: Fast forward to today, what is included in the Audioscan equipment portfolio?
Jim: We now have three products. The portable unit is now the RM500SL. We have an office model, the Axiom, which works well for people who want basic capability. Then we have a clinical model, the Verifit. We have recently upgraded that to the Verifit 2.
Carolyn: The original Verifit is still widely used.
Jim: Yes - the original Verifit is now in its 14th year, and even the very first product that we shipped will still run the latest software upgrade. It is important to us that our equipment runs the latest software and is backward-compatible. Our software upgrades are free. We are avoiding the obsolescence issue that you would get if you were using a PC-based system, which will become obsolete in 3-5 years. We try to design a platform for longevity, with a minimum of 10 years. In the case of the original Verifit, it was 14 years.
Verifit 2 has a new platform with capabilities to test the latest hearing aids. In keeping with our company philosophy, we will be developing the software over the next 10 years to meet the needs of hearing aids as they are developed.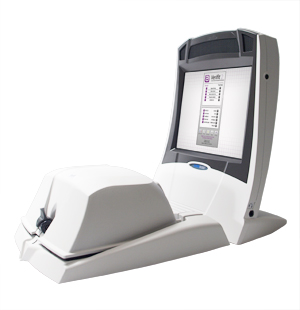 Verifit 2 system
Carolyn: Can you give a few examples of updates to software because of changes in hearing aid technology?
Jim: We added a real-time directional test which became an industry standard. We, of course, kept pace with all the fitting formula improvements over time. We also added tests for evaluating noise reduction, feedback management and we added a function to test frequency lowering hearing aids. In the last year we introduced the first speech-based test for telecoils so clinicians can ensure that inductive and acoustic inputs match, and that audibility is provided in both use cases. Typically, we add two to three features on a yearly basis. Sometimes they are more significant than others, but in all cases they are free and that way we make sure that every machine has the ability to test the latest hearing aid technologies. It's our way of providing lasting value to the customer.
Carolyn: In the last few years we have also seen the emergence of new hearing aid styles, such as the receiver-in-the-canal (RIC), the slim tube, and the invisible in the canal or IIC. Can we test all these different kinds of instruments with Verifit 2?
Jim: Absolutely. You can do real-ear measurement on any device. That part is easy. For the test box we have added a new means to easily couple thin tube and RIC styles. We can certainly test IICs, and we can even test deep-insertion devices such as the Lyric. We also have a new 0.4 cc coupler, which makes coupling much easier than with a 2 cc. With the Verifit 2, test box measures have become a lot more powerful, are much easier to do, and now encompass all instrument types.
Carolyn: And in terms of technology, the hearing aid signal processing today doesn't even resemble that of 14 years ago. What new capabilities does Verifit 2 give us?
Jim: One of the important additions is binaural test capability. Hearing aids are now wirelessly communicating with each other. They are able to exchange signals and control information so they are more than just two hearing aids, they are a binaural system. They need to be tested as a paired system and we will be continuing to develop that capability as we move forward. We think there is also a bigger role for the test box or test chamber. In a very well-controlled environment, you can debug problems and perform more sophisticated pre-fittings.
We now also have a binaural headphone so that you can listen to each side independently and see how the hearing aids are performing. This enables you to troubleshoot each instrument when there is an issue. There may be situations where you fit different hearing aids on either ear in a binaural fitting and you want to listen to whether they are performing similarly or make quality comparisons. There are many opportunities now with a binaural test box to do things that have never been done before.
We have also added wide-band test capabilities to test hearing aids with extended bandwidths. We have extended the bandwidth out internally to 16 kHz which is12.5 kHz in the third octave.
ANSI has come out with a new real-ear-to-coupler difference (RECD) protocol which will result in more accurate results. Audioscan products are the first to implement this new protocol.
We have also added improved ease-of-use features. We have quick-connect couplers. We are not completely putty-less, but very close. You also have the option for the REM portion to be wall-mounted, so that adds some new office configuration options. We have reduced the cabling by consolidating where possible and by adding wireless networking. These things make it much easier to integrate Verifit into your practice and your daily workflow.
Carolyn: If I am familiar with the original Verifit or other systems, will it be easy to get used to the Verifit 2?
Jim: The Verifit 2 follows the same lineage. The software has a lot of continuity to it but we have also modernized the look and feel to streamline operation. Especially with the new binaural Speechmap where you can look at both hearing aids simultaneously. I think you will see that it is very natural. We designed it so that you can sit down and in a short amount of time get up to speed and very comfortable with Verifit 2, especially if you are an existing user.
Carolyn: Hearing aid verification using real ear measures are best practices and part of every hearing aid fitting guideline. We hear notable experts like Dr. Gus Mueller talking about real-ear measurements since their inception yet surveys show that something like 80% of people fitting hearing aids are still not conducting them. How do you think we can change that as a profession?
Jim: We are a Canadian-based company and in Canada, real-ear is done much more frequently. At one time, I think it was not a focus of audiology training programs in the U.S. With the AuD as the entry level degree for audiologists now, we are seeing that changing. As younger audiologists are working their way into the profession, I believe that it is becoming more standard practice to do real-ear measurements.
Carolyn: Will you be providing workshops or trainings on Verifit 2?
Jim: Yes, Audioscan runs seminars on an ongoing basis all over the US. With the launch of the Verifit 2, we are doing 40 seminars between now and November. Dave Smriga presents these seminars and provides a great foundation on real ear measures.
Carolyn: Vanderbilt University provides a wonderful hands-on training that covers all the basics through more advanced uses of probe microphone. It's a small group training where you spend a few days learning why and how and when to perform different measurements and practicing on one another. It's the best training I know to get up to speed or sharpen your skills with probe mic and test box measures. Information about the 2014 workshop to be held in October can be found here.
On another note, if I wanted to purchase a Verifit 2, how would I go about that?
Jim: Verifit and other Audioscan equipment is sold through special instruments distributors. Contact your local equipment distributor, or contact us and we can put you in touch with your local distributor.
Carolyn: When will Verifit 2 be available?
Jim: We are taking orders now and will begin shipping in June.
Carolyn: Jim, it has been great talking with you. Thanks for your time, and all the best for the new launch!
Jim: Thanks for the opportunity.
For more information about Audioscan, visit www.audioscan.com or the Audioscan Expo Page on AudiologyOnline.