AudiologyOnline: What is Storefront?
Elizabeth Thompson, AuD: Storefront powered by Lantos is a new e-commerce portal built for you–the hearing healthcare provider–and your patients. This new platform empowers consumers to browse and purchase custom-fit hearing products that are made-to-order from their own Lantos ear scans, at their convenience. Storefront offers consumers unlimited access to custom-fit devices in categories such as personal audio, sleep assistance, and sports & recreation safety. For the practice owner, Storefront unlocks new revenue streams–without additional administrative effort.
AudiologyOnline: How does it work?
Elizabeth Thompson, AuD: It's as easy as 1, 2, 3! Scan, email, shop! As soon as you upload your patient's Lantos ear scans to the Lantos Cloud, your patient will receive an email that will give them access to your Storefront powered by Lantos. This email will invite them to log in so they can begin to browse custom-fit hearing products, place orders and submit payment.
AudiologyOnline: How do I enroll my patients?
Elizabeth Thompson, AuD: You do not need to do any extra work to enroll your patients. When entering patient information in the Lantos 3D Ear Scanning System, simply fill in the email field. Note that the provided email address must be valid and one that the patient has access to. Then, once you upload your patient's Lantos ear scans, they will get an automated email with the Storefront link and registration information.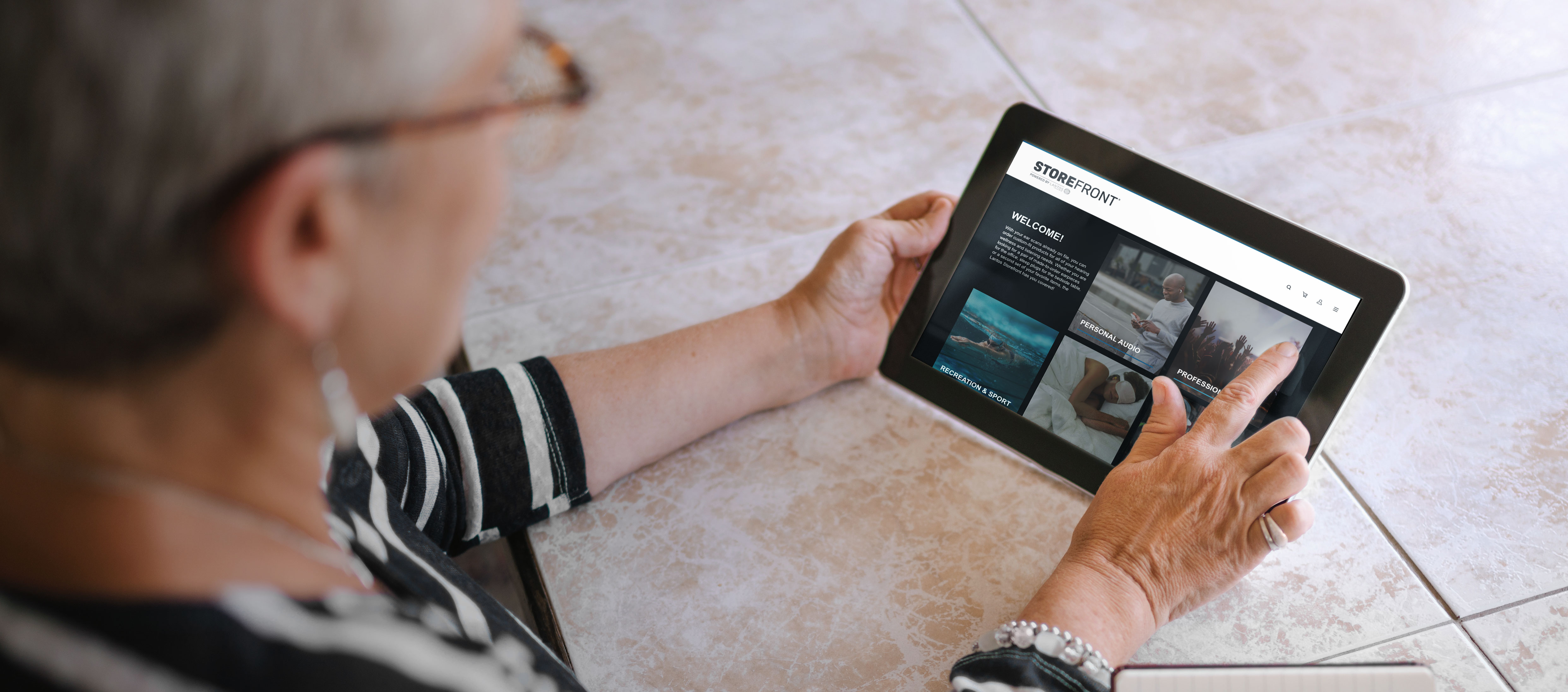 AudiologyOnline: Why should I use Storefront powered by Lantos instead of just ordering product in office?
Elizabeth Thompson, AuD: Why limit revenue-generating options to 9am-5pm? Storefront allows for passive income to be generated outside of your business hours and without additional operational costs. The internet is open 24/7, so your customers can hop on and order personalized hearing products at their convenience—anywhere, at any time. It is another way to exceed your patients' expectations while supporting their hearing health and wellness needs.
AudiologyOnline: Where does the product ship to? And can the patient come see me if the product doesn't fit right?
Elizabeth Thompson, AuD: It's up to you and your patients. The products can ship directly to the patient from the manufacturer or you can ask that the patient enter your shipping address at the time of order. Regardless of where the product is shipped, you and your practice remain at the center of care for the consumer.
AudiologyOnline: ​What categories of consumer products are offered?
Elizabeth Thompson, AuD: Storefront powered by Lantos offers six different consumer solution categories:
Personal Audio
Professional Audio
Recreation and Sports Safety
Sleep Assistance
Work Safety
Hunting and Outdoor
AudiologyOnline: ​What manufacturers are available to order from?
Elizabeth Thompson, AuD: Currently, Storefront powered by Lantos features products from Microsonic, Sennheiser and TETRA. We are always expanding and look forward to adding more of your favorite manufacturers to our ever-growing list.
AudiologyOnline: ​How is the Storefront website branded? Will my patients know it's associated with my practice?
Elizabeth Thompson, AuD: The branding on Storefront powered by Lantos is customized to your unique practice. It will feature your brand's color scheme and logo, along with other customizable options, so your patients will know they are shopping at your business.
AudiologyOnline: ​I already have an e-store. Can Storefront powered by Lantos be a part of what I already have?
Elizabeth Thompson, AuD: Storefront is a stand-alone e-commerce site designed to give consumers access to custom products made from their Lantos 3D ear scan. It currently cannot be integrated into an existing e-store. We are always evolving and this may change in the future!
AudiologyOnline: Is my patient's scan data safe?
Elizabeth Thompson, AuD: Absolutely! Your patient scan data is located in the Lantos Cloud, not on the Storefront website. Similar to when you place orders through the Cloud in your clinic, the manufacturer pulls the patient scan data from the Cloud to match it to their store order.
All patient data is securely stored in an encrypted database within the Lantos Cloud. This data can only be accessed by authorized individuals with use of their private credentials. These security measures allow each clinic to manage their respective patient data per their own standard HIPAA policies. Learn more at lantostechnologies.com.