AudiologyOnline: Let's start with a description of the BONEBRIDGE System.
Christine: Certainly! BONEBRIDGE is a transcutaneous bone conduction implant system. It consists of a second-generation implant, BCI 602, and an externally worn audio processor, SAMBA 2, that is held via gentle magnetic attraction above the implant leaving the skin intact and healthy (Fig. 1). Figure 1. BONEBRIDGE System.
The implant consists of 3 main parts, a coil section, a transition, and the BC-FMT – the bone conduction floating mass transducer (Fig 2). Sound is picked up by the audio processor and sent wirelessly to the implant which transforms sound into vibrations that are sent through the bone directly to the inner ear. The implant directly drives/stimulates the bone. Therefore, we call it an active implant. Because the transducer (BC-FMT) is in the active implant rather than the external processor, it was possible to design a very slim, low profile audio processor.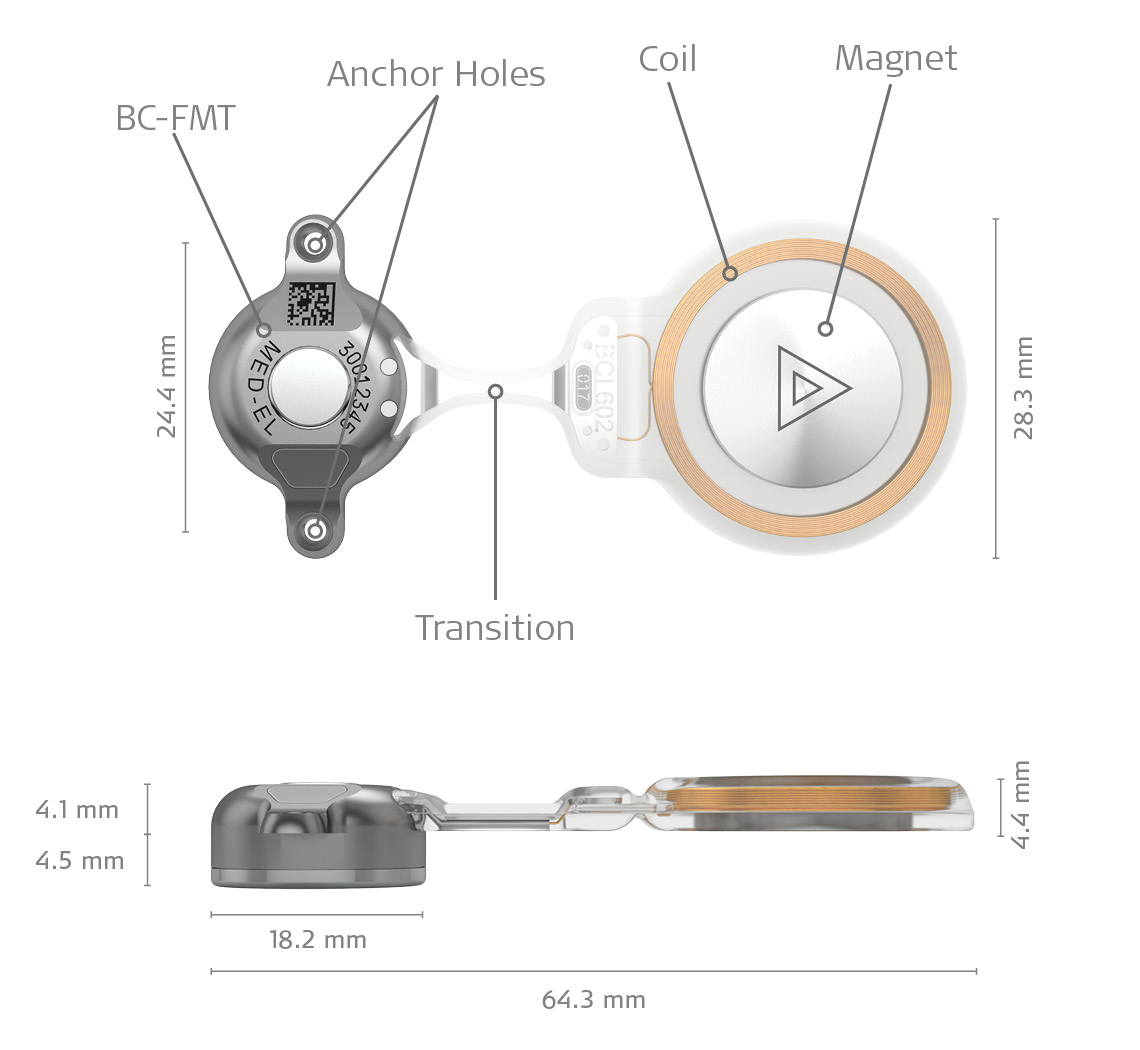 Figure 2. BCI 602.
Each patient is different and challenging anatomies are common in populations who can benefit from bone conduction implants. Therefore, we developed a flexible transition which allows the surgeon to accommodate the implant to the patient´s unique anatomy (Fig. 3). The implant is also recessed and securely fixed to the bone with the 2 screws. This design gives the implant unparalleled stability. Even individuals with complex anatomies may benefit from BONEBRIDGE.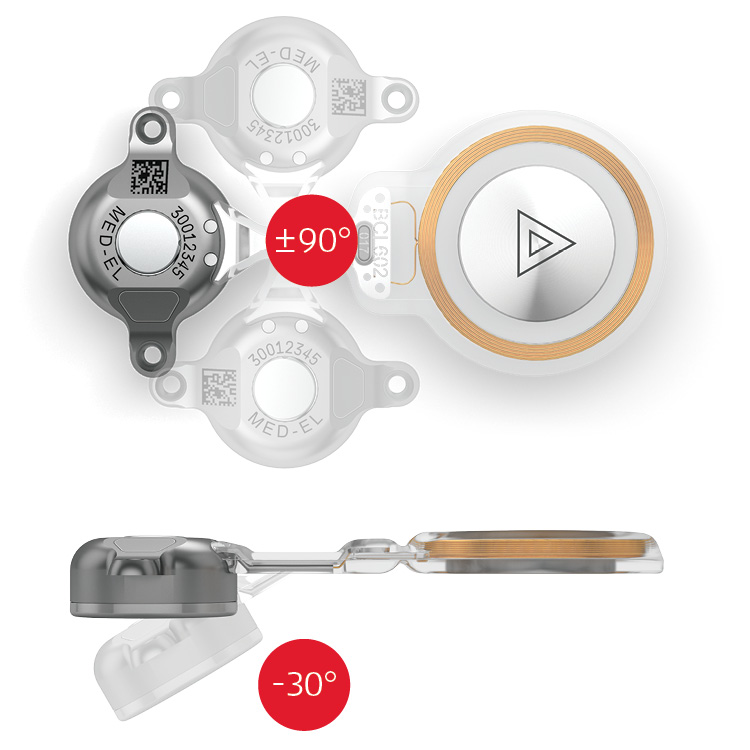 Figure 3. Flexible transition.
After surgery has taken place, activation may occur once the swelling has reduced, and healing has occurred. Clinics tend to have their preferred activation timeline, but it is not necessary to wait for osseointegration to occur.
AudiologyOnline: How is MED-EL celebrating 10 years of BONEBRIDGE?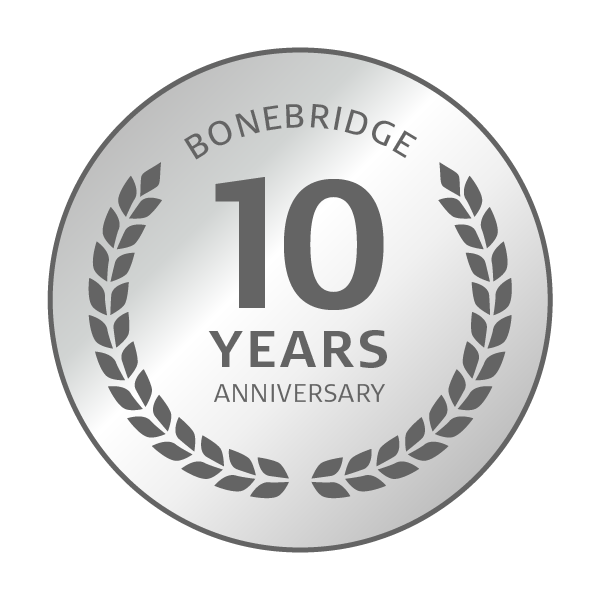 Christine: While the BONEBRIDGE System has only been available in the US since 2018, the first implantation was on June 6, 2011, when the BCI 601 was implanted in Innsbruck by Dr. Georg Sprinzl. Since then, BONEBRIDGE has been introduced in countries around the globe. To celebrate the anniversary, we streamed a live BONEBRIDGE surgery with the same Dr. Georg Sprinzl. In addition to other virtual trainings, events, and this interview, we are pleased to announce a 10-year implant warranty for all recipients implanted April 1, 2021, and beyond. This warranty reflects the excellent safety and reliability profile of the BONEBRIDGE System.
AudiologyOnline: What motivated MED-EL to take such an innovative approach to bone conduction stimulation?
Christine: At MED-EL our mission guides everything we work on. Our mission is to overcome hearing loss as a barrier to communication and quality of life. Our intact-skin solutions effectively yet gently restore hearing. We wanted to offer direct drive bone conduction stimulation in combination with intact skin and a comfortably worn audio processor. It had simply never been done before.
It's clear now that our efforts were in the right direction. The active transcutaneous category is the wave of the future for bone conduction implants.
AudiologyOnline: How does the design of BONEBRIDGE relate to quality of life for the recipient?
Amanda: Quality of life, satisfaction and daily wear time have been looked at in several studies. Across these publications, BONEBRIDGE is associated with positive outcomes and long daily wear time. As an audiologist, I look on daily wear time as a reflection of a combination of overall comfort, subjective benefit, and satisfaction. Average wearing time in the BONEBRIDGE clinical study was 10.6 hours per day.1 This is about 50% higher than reported wear time for passive, pressure-based systems.2 More hours "on the air" means more time each day when recipients are hearing well and can engage easily with their loved ones, thus enhancing quality of life.
Magele et al. (2019) published a systematic review and meta-analysis on BONEBRIDGE where they stated, "Based on the audiological outcomes, high patient satisfaction as well as the low complication rate, the authors recommend the active transcutaneous bone conduction hearing device as a safe and effective treatment for patients suffering from hearing loss within the device's indication criteria."3
AudiologyOnline: Who is a candidate for the BONEBRIDGE System?
Amanda: In brief and from an audiology perspective, in the United States the BONEBRIDGE system is indicated for unilateral or bilateral use in individuals 12 years and older, with conductive or mixed hearing loss (Fig. 4) and for single-sided deafness (Fig. 5). Bone conduction thresholds should be symmetrical in cases of bilateral fitting. More details about candidacy are provided in our trainings and our System Factsheet.
Figure 4. Conductive & Mixed Hearing Loss.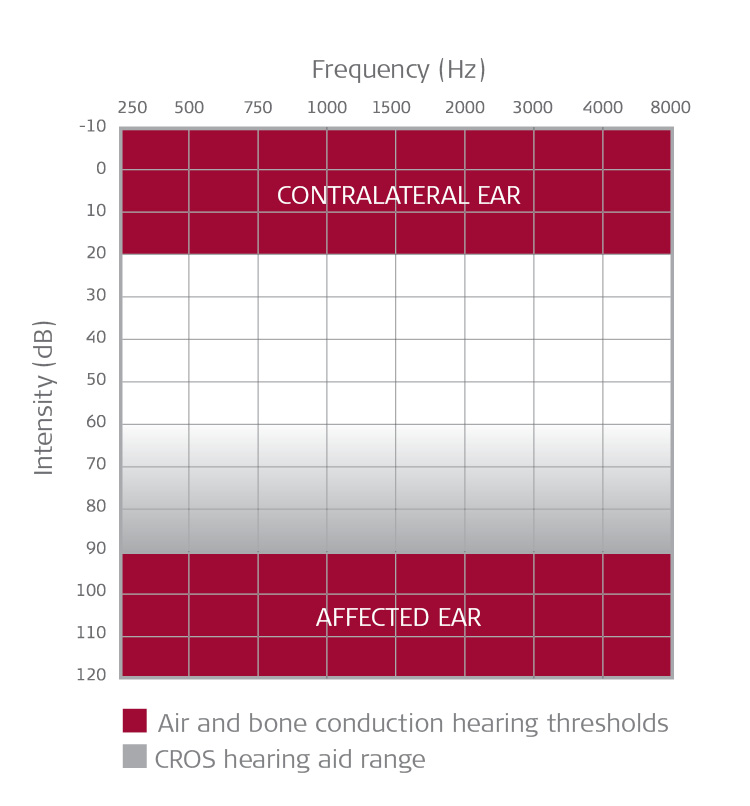 Figure 5. Single-Sided Deafness.
Christine: As your readers may be global, please note that indications may have differences from one market to the next. For example, in many countries the age indication is 5 years.
AudiologyOnline: Tell us a little about the SAMBA 2, launched this year in the US.
Amanda: Yes, indeed! SAMBA 2 for BONEBRIDGE is the third-generation audio processor for the BONEBRIDGE System and is compatible with both the BCI 601 and the BCI 602 Implants (Fig. 6). SAMBA 2 is designed for seamless hearing and ease of use. Everyday handling like changing batteries, streaming audio, or swapping covers to customize your look, is easier than the prior generation. SAMBA 2 is slim and lightweight, and it can be shown off with design covers or hidden discreetly under hair depending on your preference. SAMBA 2 offers the longest battery life of any active transcutaneous audio processor with typically about 8-10 days between battery changes. Recipients don't have to worry about their battery running out every day or two, regardless of their streaming habits.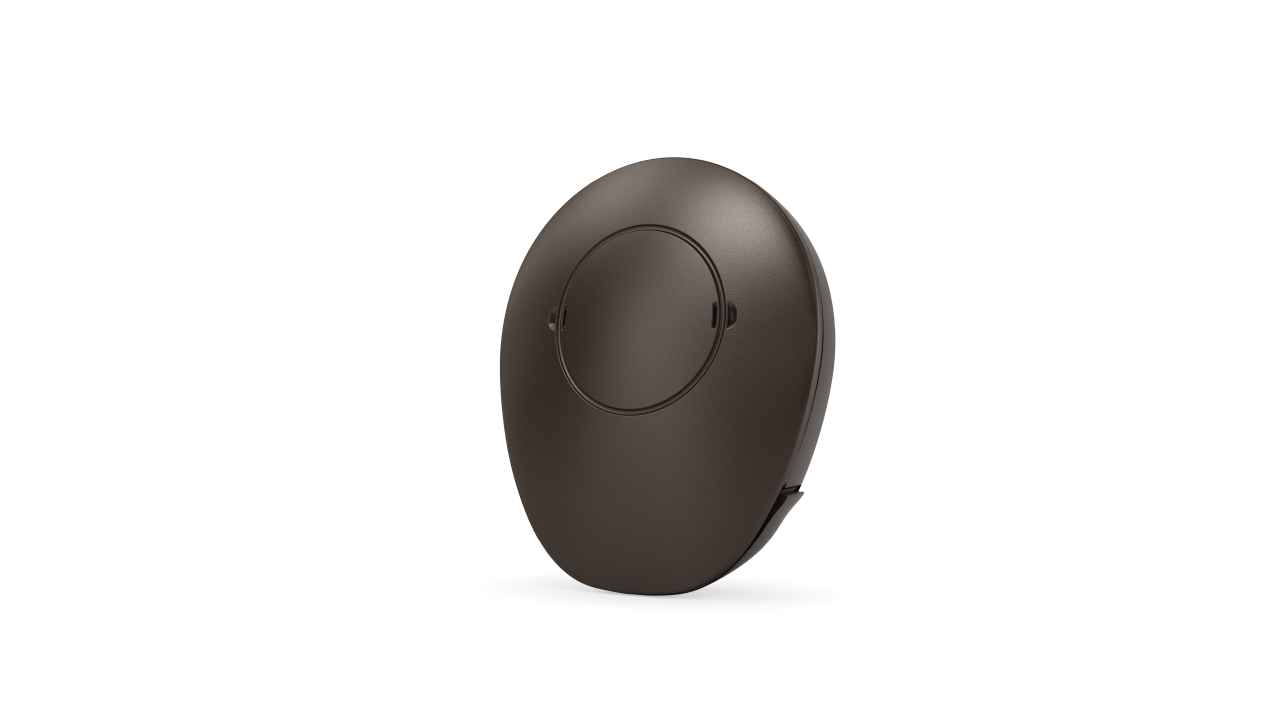 Figure 6. SAMBA 2 Audio Processor.
WaterWear for SAMBA is a lightweight cover that provides complete water protection for swimming and watersports (Fig. 7). No special "underwater" listening program needed, no goggles required and a long battery life.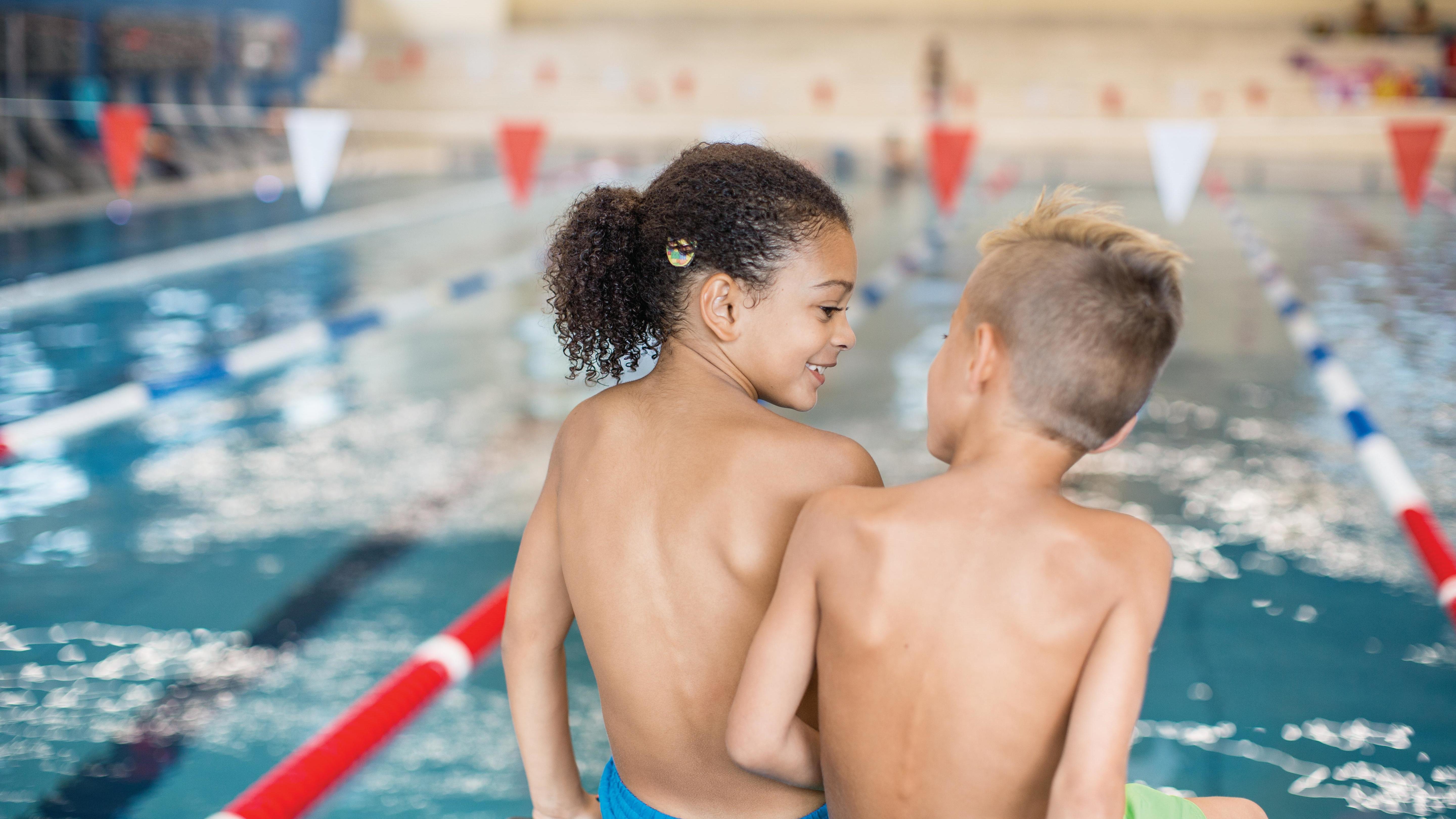 Figure 7. WaterWear for SAMBA
SAMBA 2 is compatible with SAMBA 2 GO for streaming and remote control, as well as the SAMBA 2 Remote, a remote-control app available for iPhone and Android.
We have three 0.5 hour AudiologyOnline sessions that are perfect for clinicians getting started with SAMBA 2.
AudiologyOnline: What is known about the safety and reliability of BONEBRIDGE over time?
Christine: It is very important to get an implant that is safe and reliable.
The BCI 601 has a device-related Cumulative Survival Rating (CSR) of 98.3% at 8.5 years. And this includes external impact. This shows that the implant is reliable over an extended period of time.1
The second-generation BCI 602 has a device-related CSR at 1 year and 4 months of 100%, including external impact.1
Amanda: We also have a systematic review available for clinicians who would like a summary of the safety outcomes associated with all bone conduction implants. The paper looks at all publications reporting on safety outcomes between January 1, 2012, and December 31, 2018, and reports on the number, type and timing of sequelae and adverse events and mean follow-up time.4
AudiologyOnline: Are there peer-reviewed publications reviewing BONEBRIDGE safety or clinical outcomes?
Christine: As BONEBRIDGE was the first implant of its kind it inspired a lot of research studies! These two publications are excellent summaries of the available data and provide a great list of references for the interested reader.
Magele A, Schoerg P, Stanek B, Gradl B, Sprinzl GM (2019) Active transcutaneous bone conduction hearing implants: Systematic review and meta-analysis. PLoS ONE 14(9): e0221484.
Schwab B, Wimmer W, Severens JL, Caversaccio MD. Adverse events associated with bone-conduction and middle-ear implants: a systematic review. Eur Arch Otorhinolaryngol. 2020 Feb;277(2):423-438. doi: 10.1007/s00405-019-05727-8. Epub 2019 Nov 20. PMID: 31749056.
AudiologyOnline: Are there other examples of active transcutaneous bone conduction implant systems?
Christine: Yes, there is one other example commercially available since late 2019 in the US. BONEBRIDGE is an excellent choice for surgeons, audiologists, and candidates because:
it is a device with long-term experience and demonstrated reliability
it offers stability and impact resistance due to a recessed transducer combined with dual-point fixation to the bone
it harmonizes to the anatomy of the patient and the needs of the surgeon, including, for example, rounded edges and a bendable or flexible transition
it offers a long battery life of 8 – 10 days. It is not only more convenient for the users if they do not have to change batteries frequently but is also cheaper and more eco-friendly.
it offers recipients peace of mind because MRI scans may be obtained without additional surgery and downtime.5 Magnet removal is not required, and the implant is covered under MED-EL's Lifetime MRI Guarantee.
AudiologyOnline: Where can our readers find more information?
Amanda:
Professionals may reach out to their MED-EL representative for more information on MED-EL's innovative portfolio of hearing solutions. We also have many CEU'd sessions on AudiologyOnline. Just select MED-EL under View Courses by Company.
Candidates or caregivers may speak with their audiologist or ENT about suitable options for their hearing loss. The MED-EL Clinic Finder may also be used to find local clinics. Many of our recipients appreciate the mentoring and support they obtain from HearPeers, our vibrant community of MED-EL hearing technology users (www.hearpeers.us).
References
Data on file at MED-EL.
An average wearing time of 7 hours was reported for Baha Attract (Cochlear product presentation, LION Broadcast, 10 December 2013).
Magele A, Schoerg P, Stanek B, Gradl B, Sprinzl GM (2019) Active transcutaneous bone conduction hearing implants: Systematic review and meta-analysis. PLoS ONE 14(9): e0221484. https://doi.org/10.1371/journal.pone.0221484
MED-EL (2021). Safety Outcomes of Bone Conduction Implants: A Systematic Review. Innsbruck: MED-EL Medical Electronics.
The BCI 602 is rated MR Conditional and can be safely scanned at 1.5 Tesla without the magnet removed when following the conditions detailed in the Instructions for Use.