Carolyn Smaka: Welcome to Steve Savage, President and CEO of Unitron U.S., and Jason Mayer, Vice President of Sales for Unitron US. Thanks for your time.
Steve, can you tell me about your background prior to coming to Unitron?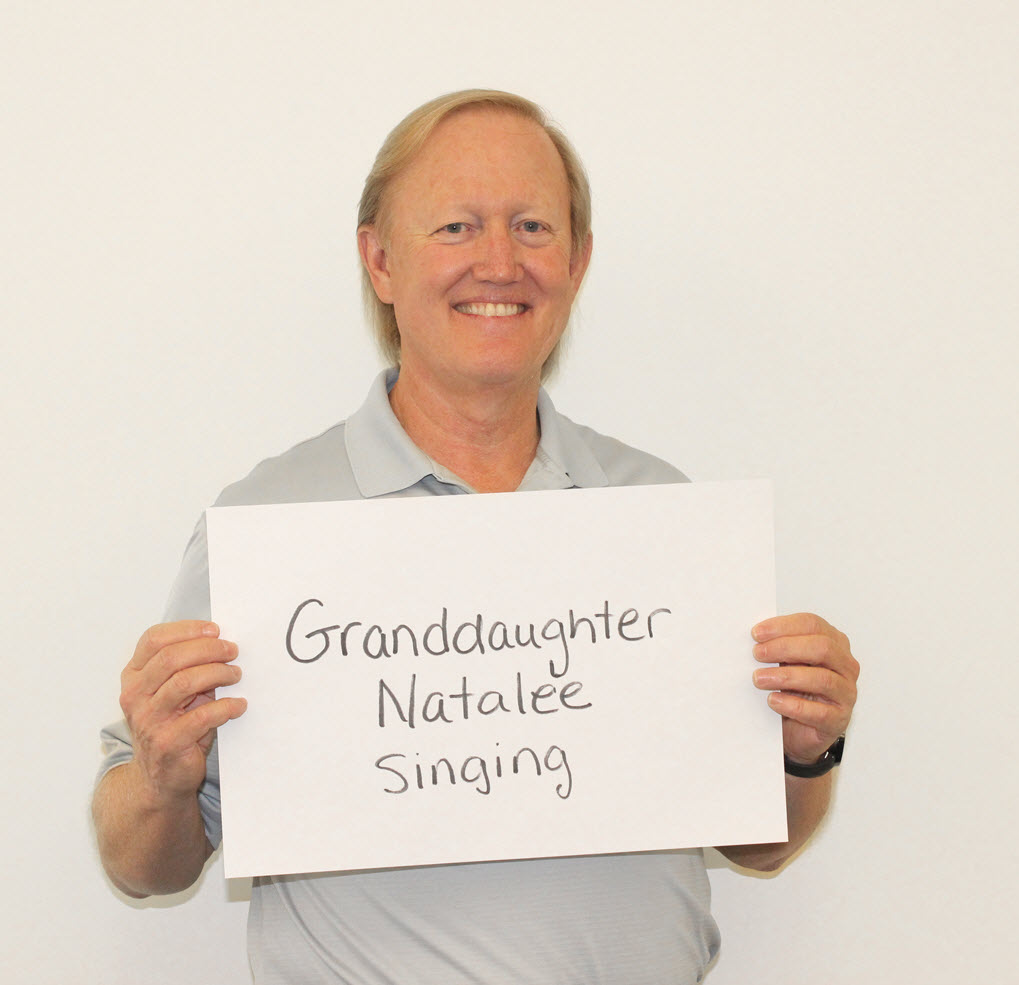 Steve Savage and his favorite sound - his granddaughter Natalee singing.
Steve Savage: I started in the chemical industry, and from there migrated over to energy, construction equipment, and then to the medical device industries. I served in positions in operations, finance, and human resources at global companies such as Monsanto, General Electric and Smith-Nephew. I came to Unitron about three and half years ago to lead the operations organization in Plymouth.
Carolyn: Thanks Steve. Jason, you are also new to your role as Vice President of Sales. What is your background?
Jason Mayer: I was with Phonak for nearly 10 years in the U.K where I have held a number of sales management positions. When I was given the opportunity to work within the Sonova family here at Unitron in the U.S., there was no hesitation on my part. It is a very exciting time at Unitron and I feel privileged to be part of the story.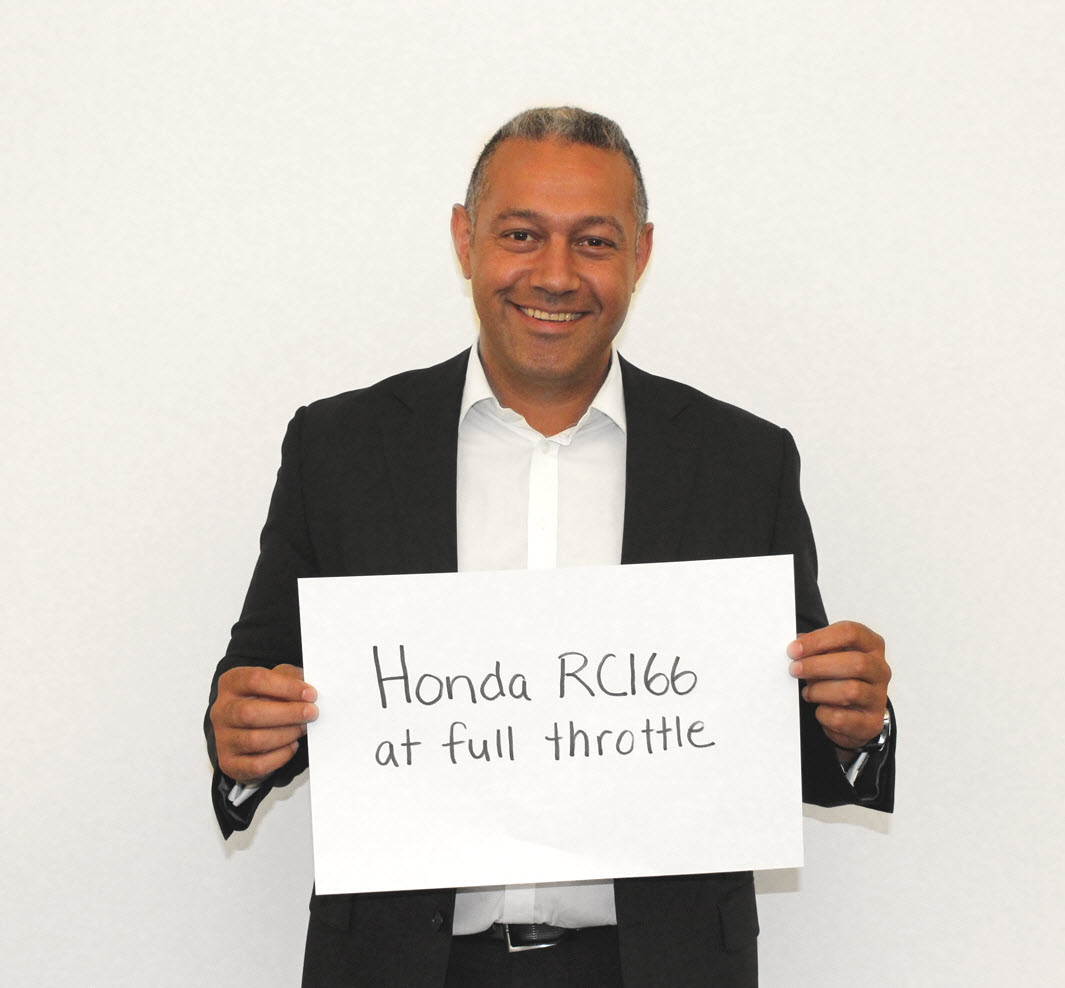 Jason Mayer and his favorite sound - his Honda RC166 at full throttle.
Carolyn: Congratulations on your new roles. Steve, I am interested in your perspective, given your experience in those global companies you mentioned. What have been your impressions of the hearing industry, and what challenges and opportunities do you see?
Steve: It is a fascinating industry. There is tremendous need to be met – we know with people age 65 and over, 1 in 3 have hearing loss and may need amplification.
One of the things I first noticed is the lack of recognition, such as the lack of third party reimbursement for hearing aids. Overall, this is an unmet need compared to vision or other health care issues, and there is an opportunity there. Obviously the economy is a challenge to all of us, including consumers. We are unsure exactly what impact the "Affordable Care Act" will have on healthcare plans in general as for example, more employers are moving toward considering the single payer option through the government. I think the entire industry needs to keep a finger on that pulse and continue to support more government lobbying. In addition, education to the general population as to why hearing instruments are critically important to an aging population is also more important than ever.
Carolyn: You bring up some really good points. How will your leadership at Unitron address those opportunities?
Steve: This past spring was my first time lobbying on the hill with Hearing Industries Association (HIA), and I hope to do more of this. It was interesting to interact with congressional members and their staff. The conversation often begins with, "Do you know someone who has been impacted by hearing loss?" That is a question we can all relate to, and it helps immediately bring an awareness of the tremendous need for our society to address hearing loss. We are starting to see more and more research that hearing loss is related to dementia or Alzheimer's, which underscores the importance of treatment with hearing aids. My leadership will keep a focus on partnering with hearing healthcare professionals in new ways, collectively as a community, to heighten the awareness of the importance of addressing hearing loss.
Carolyn: What do you see as Unitron's strengths?
Steve: Our scale is an advantage. When you work for or with Unitron, you know everyone by name. We truly have a culture that supports a team environment and the hearing healthcare professionals who work with us know that. Our goal is to be a person and a voice and a name to our customers. Our customer service is second to none in the industry. Our technology and products are second to none. And our scale makes us unique, because we offer that personal touch, particularly for professionals who are interested in help to grow their practices. We believe it is important to be more than a product vendor that says, "Here's our product. Here's our technology". We have put a focus on developing products and programs to help our customers enhance their businesses.
Carolyn: Jason, coming from the U.K., what similarities or differences did you notice in the U.S. market?
Jason: One of the topics that comes up often in my conversations with our customers here in the U.S. is their uncertainty about the times ahead, and this is the same feeling of our customers overseas. They are not sure what their role is or what their function will be in the future markets, particularly when they hear about large retailers and other players like electronics giants entering the market. There is a lot of uncertainty particularly for small to medium-sized independent practices. They are worried it is going to become a purely price game, and they will be squeezed out of the picture.
There is something in the DNA here at Unitron that makes us a very good fit for these customers. We are not the biggest company. We cannot outspend our competitors on marketing with larger booths at trade shows or extensive advertising campaigns. So we really have to focus on where our strengths are, which is, truly knowing our customers and offering that personal touch. I believe that is our customers' strength as well. They will never be able to compete with one of the large retailers on purchasing prices or marketing dollars. What they can do, however, is know their customers better than anyone else and give them a unique personal service that someone would not expect in a big box retail environment.
When we look at parallel markets like pharmacy or even florists, butchers and grocers, we see exactly the same pattern. The independent sector, for a short time, seems to go into decline, but the ones who last actually become stronger than ever. It is because the consumer realizes what they miss when they go to a large retail environment. People who value personal service will always look for an independent business. Some people are turned off by a large, impersonal experience and look for someone who really knows them and values their business as a customer, especially with hearing healthcare. I believe that independents have a really bright future.
Carolyn: Steve, can you give a few specific examples of the products and programs that Unitron offers to help customers grow their businesses in these challenging times?
Steve: I would be happy to. We established a customer center of excellence a number of years ago. Dr. Brian Taylor has developed our business development program, which uses a business solutions approach to bringing value to our customers. Through this program, we help customers to leverage trends and to think more broadly from the traditional product/technology side of hearing healthcare. Many practices need help with business planning and marketing.
And of course we also have our innovative Flex solution, which is a whole new way of doing business. It is more than a product. It is changing the way professionals run their practices, ensuring that consumers leave their offices with technology they would recommend without a cost or obligation to buy. It is an exciting time for us, and for our customers.
Carolyn: What kind of feedback have you had from customers using Flex?
Steve: It brings real results. We are seeing close rates double with Flex, as compared to using a traditional dispensing model. One of our most successful customers with Flex recently told us that his close rate with Flex:trial is nearly 100%. This means that for those people who come into the office that need amplification, nearly 100% of them leave with Flex:trial. That is a stunning statistic to think about when you consider that typically close rates are much, much lower. With Flex, consumers now leave the office with a product, and the conversation is not about price. The conversation is about technology and experiencing the benefits of amplification. When they get to experience the different levels of technologies, most will opt for the better technology and the better solution for their personal needs.
In addition to better close rates, the early indicators are also showing lower return for credits, and higher revenue for the hearing healthcare professional.
Jason: One of the overriding emotions that our Flex accounts convey to us is that a lot of their patients now need some reassurance that they are making the right decision when it comes to hearing aids. People are saying that the business is still there, but you need to work harder for it. Consumers are not ready to make a decision until they have really done the research and maybe compared various providers and different technologies. Flex provides that reassurance. We are not asking patients to make a decision based on purely conceptual discussions, but instead we say, "Go and try them". If you are not sure what level of technology is right for you, then try a different technology level.
When we look at other markets, some Mercedes' dealerships now allow you to have a brand-new Mercedes for a week. Victory motorcycle lets you try one of their motorbikes for a month. This kind of approach was previously unheard of, but during these challenging times they have been developed because we recognize that consumers need some level of reassurance before they make the ultimate purchase decision.
Those clients who say, "Let me think about it" are the ones who really appreciate this approach. They are not sure whether amplification is right for them right now. With Flex, professionals can now say, "Why don't you go home and try a pair of hearing aids for a couple of weeks, and then come back and tell us your experience." Clinicians do not have to hard sell. They would much rather give the patient all the information to make an informed decision, and Flex makes it possible to provide the right level of technology for the client to test drive.
Carolyn: Can Flex be used with consumers who already wear hearing aids, and may be due for new technology?
Jason: Yes. Flex provides professionals the opportunity to get current wearers to upgrade their existing technology. We just launched a new range of products that we are excited about, and we know professionals may want to contact some of their clients who are due for new technology. The nice thing for those who do not want to get new hearing aids just yet is that they can consider upgrading their existing technology. It is exciting for the professional to increase the average technology level across their entire database of Unitron wearers. It has been really successful, even based on the controlled rollout we have had so far.
Steve: When you think of running a business in terms of cash flow and inventory, Flex increases efficiency and provides further advantages. Prior to Flex, hearing healthcare professionals might have to stock three different technology levels on their shelf in order to address the needs of the patients who may come in to their offices. With Flex, they do not have carry stock. Once they decide which level of technology is needed for a particular client, they simply order it. So, there are many advantages for both the professional and the patient.
We are really excited for the days ahead as we continue our roll out with Flex.
Carolyn: Steve and Jason, thanks for your time today, and wishing you much success in your new roles.
For more information about Unitron, please visit www.unitron.com or the Unitron Expo on AudiologyOnline.