Carolyn: Tracey, you and I spoke over a year ago and you told me that Advanced Bionics (AB) and Phonak were collaborating on technology – hard to believe the day is now here. Tell me about the Naída CI sound processor.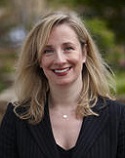 Tracey Kruger: We are thrilled to see this come to fruition. The Naída CI Q70 is the newest sound processor from Advanced Bionics, and is the first product born out of the combined technologies of AB and Phonak. It is a beautiful story in terms of the continuation of hearing healthcare for people who are using Phonak Naída hearing aids and decide to transition to a cochlear implant. These individuals will now be able to take advantage of many of the same hearing aid technologies when using an AB cochlear implant.
It is a nice way to help patients take that next step towards a cochlear implant knowing that they still have access to some of the same features and benefits that they have relied upon as a hearing aid user. In some cases, such as for wireless streaming, patients will be able to use a Phonak accessory to stream to both a compatible Phonak hearing aid and AB cochlear implant at the same time. There are also enhanced bilateral capabilities and many new features that make it easier to hear in a wide variety of difficult, noisy listening situations. The intention is to provide enhanced continuity of care and added patient benefit using combined AB and Phonak technologies.
We are really excited about this new product introduction. In fact, when we first had a meeting with our staff at Advanced Bionics to go through the features and benefits of Naída CI, you could feel the excitement in the room.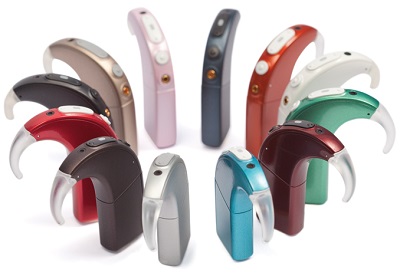 The Naida CI Q70 Cochlear Implant
Carolyn: Can you review some of the features?
Tracey: Years ago when we first were acquired by Sonova, AB and Phonak began collaborating to take some of the fantastic technologies that Phonak had developed, and combine them with the technologies that AB has also become known for. Phonak sees itself and wants to be known as the innovation leader in the hearing aid industry. It is probably one of the reasons why the marriage between AB and Phonak makes so much sense, since AB has also had a strong focus on innovation and hearing performance. We have been working to merge the two technologies to bring something even better to the people who receive cochlear implants.
With the introduction of Naída CI, many of the features and benefits that are available today in Naída hearing instruments will also be available for AB cochlear implant recipients. These features include Binaural VoiceStream Technology™, which includes features that provide more speech and less noise across a variety of listening situations. In addition, the Naída CI is compatible with a number of Phonak accessories such as the ComPilot for wireless audio streaming, which until now has never been available for cochlear implants. The beauty of wireless streaming for Advanced Bionics recipients is that they will be able to stream not only to a CI sound processor or two CI sound processors, but also to a CI sound processor and a compatible Phonak hearing aid. It is really exciting! Other features include Phonak UltraZoom, which allows recipients to focus on sound coming from the front while reducing interference from noise present to the side, or behind, the listener. UltraZoom can be used on its own or combined with AB's ClearVoice™* technology, for even more benefit in very difficult listening situations. As you know, ClearVoice was a breakthrough for AB, because it was the first algorithm to receive FDA approval with a superiority claim, meaning that it is statistically proven to improve speech perception in noise. There is already data from Europe that suggests when ClearVoice is combined with UltraZoom, there is an even more marked improvement in hearing in noise than with either of these features on their own. ClearVoice can also be combined with other Phonak features delivered with Naída CI, such as ZoomControl, which allows a listener to focus hearing to the right or left, and DuoPhone, which streams a phone call simultaneously to both implanted ears.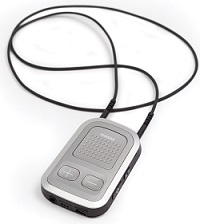 The Naída CI is compatible with a number of Phonak accessories such as the ComPilot, shown here
I think our patients are really going to benefit from many of the new features introduced with Naída CI. If you think about it, children as young as 3-years-old are using the phone today, especially if they live far away from grandparents or other family members. Being able to talk on the phone either wirelessly using Bluetooth or with DuoPhone and hear the signal in both ears is fantastic, especially when children are just developing speech and language and benefit from the redundancy of the signal in two ears, while at the same time blocking out some of the background noise.
Carolyn: Right now, from what I understand, there is no real process to fit bimodally. Will we see some advances in this area in terms of how best to fit a CI and hearing aid together?
Tracey: In my opinion, bimodal fitting is a real need. Right now, the standard of practice is to fit each ear independently for bimodal users. Somehow recipients are able to combine information from both devices and make it work. If we can get to a point where we can actually optimize bimodal fittings in a consistent way, we have the chance of making hearing outcomes even better. This is absolutely an area of focus for the research and development efforts at AB.
Carolyn: Is AB still using the HiRes sound coding strategy?
Tracey: Yes, and with Naída CI Q70 we are also introducing HiRes™ Optima* sound processing, a new strategy that received FDA approval. HiRes Optima takes advantage of AB's proprietary current steering technology to reduce power requirements of the system and improve battery life, without sacrificing performance in any way. It helps us to make smaller devices, with more power efficiency. Our recipients will get better efficiency from the batteries that they use, and it also enables us to support the use of disposable zinc-air batteries, which has been a longstanding request from the field.
In addition to being able to use this new sound coding strategy with Naída CI, HiRes Optima will be backwards compatible to the Neptune™ sound processor, as well as for CII and HiRes 90K implant recipients using the Harmony™ sound processor.
As you know, cochlear implants demand considerably more power than hearing aids. The technology that is needed to drive the internal device simply requires more power than what is needed for acoustic amplification. Advancements like HiRes Optima allow our patients to just live their lives without having to worry about a battery dying in the middle of a day, or having to constantly recharge and replace batteries. There is a cost savings as well. HiRes Optima is something that we have worked towards for a long time and it is nice to finally make it available.
Carolyn: Tracey, it's been great to hear about the Naída CI and the latest news from Advanced Bionics. Thanks for your time today.
*Not approved for pediatric use in the United States.
For more information about Advanced Bionics, visit www.advancedbionics.com or the Advanced Bionics Expo Page on AudiologyOnline.