Carolyn Smaka: Alan, tell me about the new Oticon Medical Streamer. What new features does it offer?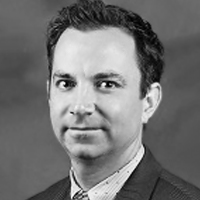 Alan Raffauf: The new Oticon Medical Streamer is an update of our current Ponto Streamer, and it allows the user to connect with a variety of different audio inputs. These include everything from integrated telecoils, to FM system, to computers, telephones, iPhones and more. You can stream to anything with a Bluetooth connection. Think of the new Oticon Medical Streamer as a portal to connect to all of your devices, making it arguably the easiest wireless interface for a bone conduction system available.
In addition, the new Streamer is compatible with the Oticon ConnectLine App, so users now have the option of controlling all of these different functions on either their Apple or Android phone.
Carolyn: What are some of the things they can do through the Oticon ConnectLine App?
Alan: With the App, they can page through all of their different inputs that they use with ConnectLine, such as television, a companion mic, FM, etc., and then use the app to adjust the volume. You can also mute your device. Another neat feature is the ability to adjust the streaming level for each input. For example, you may want your default music setting to be a little lower, or your television setting to be a little higher. Either way, you can customize the settings according to your preferences, all through the App.
You can also customize the names for your sources. There are a lot of options for the telephone, where you can set preferences for voice dialing, call transfers, and call rejects. The App enables you to set all your preferences, without having to return to the audiologist for programming. In the past, if you wanted to change a ringtone, change the default volume of the cell phone, or make other customizations, you would have to make an appointment with your audiologist. Now, you can do all these things yourself right through the App.
The Oticon ConnectLine App is free, and can be downloaded from the Apple App Store and the Google Android Marketplace.
Carolyn: What bone-anchored devices are compatible with the new Oticon Medical Streamer?
Alan: The Oticon Medical Streamer is compatible with any Ponto Plus or Ponto Plus Power devices. In other words, it's backwards compatible with all Ponto Plus devices, but not with the non-wireless Ponto or Ponto Pro devices.
Carolyn: That makes sense. Can we expect that it might be compatible with future devices as well?
Alan: Yes. As we introduce new bone conduction devices or cochlear implant processors in the future, we would expect that those lines would have wireless capability, and the Oticon Medical Streamer would be part of that interface.
I think that's an important part to point out to professionals that if they're already using the Oticon ConnectLine App with their hearing aid patients, then the learning curve is zero. Since it's the same App, they'll be comfortable recommending it for their patients using bone-anchored devices. And whenever the App updates, patients will automatically get any new benefits.
Carolyn: Does the Oticon Medical Streamer have a new design?
Alan: No. It uses the same proven design as the Ponto Streamer, which also makes it easy for professionals and their patients.
Carolyn: Thanks for the information, Alan!
For more information about the new Oticon Medical Streamer, please visit www.oticonmedical.com or the Oticon Medical Expo page on AudiologyOnline.